The Economic Cycle Research Institute, ECRI - a New York-based independent forecasting group, released its latest readings for its proprietary Weekly Leading Index (WLI) today.
For the week ending September 23, 2011:
WLI is 121.9 down from the prior week's reading of 122.2.
The lowest reading for WLI on record was 105.3 for the week ending March 6, 2009.
WLI growth fell to a negative 7.2%, down from last week's reading of negative 6.7%
The lowest reading for WLI growth on record was -29.9% on December 5, 2008. It turned higher months before the stock market [S&P500 (NYSEARCA:SPY)] bottomed on March 6, 2009, at 666.79.
Earlier today, ECRI posted an article on their web site titled U.S. Economy Tipping into Recession where they said:
ECRI's recession call isn't based on just one or two leading indexes, but on dozens of specialized leading indexes, including the U.S. Long Leading Index, which was the first to turn down – before the Arab Spring and Japanese earthquake – to be followed by downturns in the Weekly Leading Index and other shorter-leading indexes. In fact, the most reliable forward-looking indicators are now collectively behaving as they did on the cusp of full-blown recessions, not "soft landings."
A new recession isn't simply a statistical event. It's a vicious cycle that, once started, must run its course. Under certain circumstances, a drop in sales, for instance, lowers production, which results in declining employment and income, which in turn weakens sales further, all the while spreading like wildfire from industry to industry, region to region, and indicator to indicator.
It's important to understand that recession doesn't mean a bad economy – we've had that for years now. It means an economy that keeps worsening, because it's locked into a vicious cycle. It means that the jobless rate, already above 9%, will go much higher, and the federal budget deficit, already above a trillion dollars, will soar.
"if you think this is a bad economy, you haven't seen anything yet."
Chart of WLI and WLI growth vs. GDP Growth - (click charts to expand)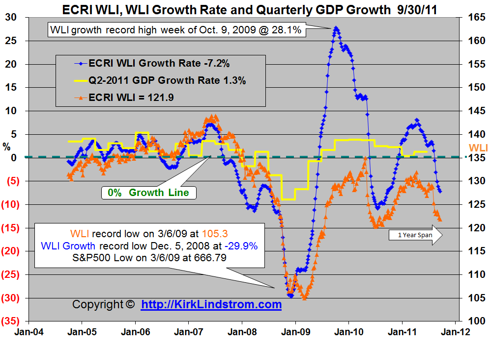 (Click to enlarge)
Since ECRI releases WLI numbers for the prior week and the stock market is known in real time, you can sometimes get a clue for next week's WLI from the weekly change in the S&P500 or its exchange traded fund, SPY. Notably, in the lead-up to the last two recessions, the WLI turned down months before the stock market did.
Chart of S&P500 vs. ECRI's WLI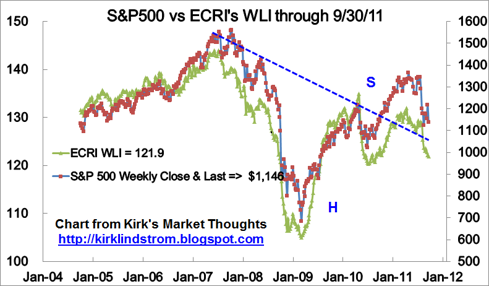 (Click to enlarge)
Note that the chart above of the S&P500 vs. WLI shows a breakout above the dashed blue line that represents the neckline for a "Head and Shoulders Bottom" pattern. This is a very bullish pattern. A pullback to this neckline during a global slowdown projected by ECRI would not invalidate the bullishness of this pattern.
Notes:
Occasionally the WLI level and growth rate can move in different directions, because the latter is derived from a four-week moving average.
ECRI uses the WLI level and WLI growth rate to HELP predict turns in the business cycle and growth rate cycle respectively. Those target cycles are not the same as GDP level or growth, but rather a set of coincident indicators (including production, employment income and sales) that make up the coincident index. Based on two additional decades of data not available to the general public, there are a couple of occasions (in 1951 and 1966) when WLI growth fell well below negative ten, but no recessions resulted (although there were clear growth slowdowns).
For a better understanding of ECRI's indicators, read its book, "Beating the Business Cycle."
SPY is the exchange traded fund for the S&P500 Index.
Disclosure: I am long SPY. If the market rallies, then I plan to sell some of my SPY. I may also add to my SPY position if the market finds support at the neckline shown on my second graph.