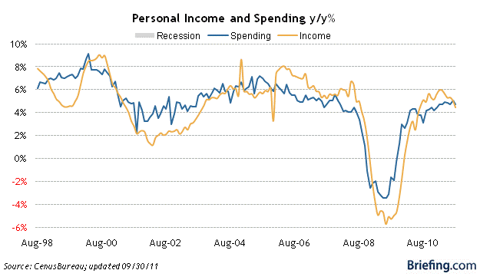 Click to enlarge chart
The market ended Q3 on a sour note that almost seemed fitting for a quarter marked by severe volatility and sharp, sharp pullbacks. The market renewed its selling pressure on Europe's crumbling financial markets that were back to the forefront and rarely showed any strength to end the quarter, setting us up wondering what is in store for Q4. The markets have been unstable and scary during these times, but we may be setting up for another significant market drop-off if we're not careful in Q3. Without stimulus on the way and the situation in Europe stagnant, what is there to get excited about in this market?
Data was mixed today and actually not terrible overall. The Chicago PMI and Michigan Consumer Sentiment Index beat their expectations with Chicago PMI coming in at 60.4 vs. the expected 54.0. Michigan Sentiment came in at 59.4 vs. the 57.5 expectations. Those were both strong, but personal income was weaker than expected, dropping to -0.1% vs 0.1% expectations. Personal spending was at expectations at 0.2%. Data was not bad, overall, but the market ignored it with Europe once again in the spotlight.


There were no major upgrades or downgrades.
We had another good day here as we were able to make some nice money on a couple trades today. We were able to close a USO 33/34 Weekly Bear Call Spread for an 11% gain. We also were able to exit two bull put spreads in Apple (NASDAQ:AAPL) for the week with the 380/375 spread and 375/370 spread for solid 9% gains. We also exited the rest of a Novellus (NASDAQ:NVLS-OLD) short for a 2.3% gain. And we averaged out of the rest of our Winnebago (NYSE:WGO) position for even.

Going into next week, we added a bear call spread on Exxon Mobil (NYSE:XOM) for the 77.50/80 spread at 0.30, which can give us a 14% gain next week if it holds below 77.50. We also opened a short on Ruby Tuesday (NYSE:RT) as we expect weakness to hit the stock next week as we move into their earnings report.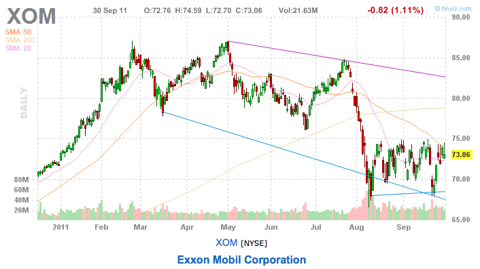 Moving into next week, we are looking a bit bearish. The market failed to even hold onto a window dressing rally, and unless we get some catalyst next week, things are not looking bright. We will be looking to continue to add shorts and bear call spreads if we are going to continue lower.

Moving into next week, here is what we are watching:

Yum! Brands (NYSE:YUM) - Yum! Brands will be reporting earnings next week, and we are pretty excited about its prospects. The company has had very solid back-to back quarters with nice run ups into earnings and great pops out of earnings. We tend to think that this stock should see some solid support moving into earnings. The company has solid growth, and they have been sold off pretty well into earnings. We think they are fairly valued right now, but they should pop into earnings.

Deere (NYSE:DE) - Deere broke its August lows today, and there is no support right now on the green and yellow. With spending down, construction down, and China starting to show some signs of slowing down, the fundamental story is weak on Deere. We think the breaking of August lows is a sign that further break down is headed for this stock next week.
Disclosure: I am long MCD.
Additional disclosure: I am short XOM, RT.I may buy YUM, short DE.