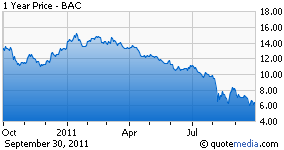 Once upon a time, banks made money the old fashioned way. They took in deposits and lent money in their communities, earning a nice spread between the rates of interest paid to depositors and earned from borrowers. They valued relationships and grew their business one client at a time. Today, however, the bottom-line sometimes trumps common sense, and this week's Bank of America (NYSE:
BAC
) debit fee announcement is eerily similar, and potentially as ill conceived, as the recent fee hike by Netflix (NASDAQ:
NFLX
).
Bank of America announced its intention to close the gap created by Dodd-Frank's debit card fee restructuring. Customers choosing to pay for goods with their debit cards will pay a $5 monthly convenience fee.
The reason behind the increase is simple. The government has capped fees charged by banks to merchants, reducing them to 21 cents per transaction from roughly 44 cents. In the process, the government is making this former bank cash cow less lucrative. And, at capital hungry banks like Bank of America, fees aim to offset the burden.
While it makes economic sense, it does little to engender the bank to its customers. And, with more customers parking deposits at banks than five years ago, its likely entrepreneurial regional banks will make a play for disgruntled Bank of America customers.
There is no question the goal of government is to break the back of the weakest big banks, in the process reducing citizen exposure to "too big to fail." The passing of regulation cutting revenue streams paints a picture of dwindling influence at banks like Bank of America. If so, perhaps we're in the early stages of small bank resurgence, particularly for those doing business the old fashioned way.
Either way, Bank of America's message smacks of Netflix's: We're sorry we're raising fees, but there's nothing you, or we, can do about it because the cost of doing business has changed. It seems both companies believe their customers are sticky. At Netflix, hope rests on apathy, as management bets fewer will cancel than embrace its by-mail service Quickster. At Bank of America, bets are most will avoid unwinding accounts, which have become increasingly intertwined in the post Glass-Steagal world. Instead, the bank assumes clients will simply switch to more lucrative credit cards or pay the fee, boosting its bottom line.
It's a risky bet. And, one unwilling - it seems - to be taken by some competitors, such as Citigroup, who in early September indicated it would avoid such debit card fees. We'll see how this plays out, but if Netflix is any example it suggests more uncertainty at the bank. Instead of looking to buy Bank of America on sale, investors should focus instead on friendlier alternatives, such as fee free PNC Bank (NYSE:
PNC
) or
smaller banks
such as National Penn Bancshares (NASDAQ:
NPBC
) or
Bank of the Ozarks
(NASDAQ:
OZRK
).
Disclosure: I am long PNC, JPM.