The announcement from Amazon (NASDAQ:AMZN) regarding the release of its new tablet has brought a lot of buzz to the company once again. The Amazon Fire will compete with Apple's (NASDAQ:AAPL) iPad line in the tablet category. The Fire is expected to retail at $199, which is much lower than what analysts had expected.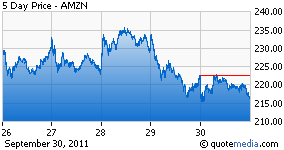 Amazon is retailing the new device at an excellent price that will be extremely attractive to consumers. I expect Amazon to sell 4 to 5 million devices if the company doesn't run into supply issues. In fact I wouldn't be surprised to see the company sell out of the device a few days after the launch. I expect to see a very strong response from customers, especially if you factor in Amazon's distribution and existing customer base. When Amazon first launched the Kindle in 2007, the company sold out in less than a week.

The company is subsidizing the cost of the device to hit the $199 price range. Amazon plans to generate profits from additional purchases that the customers will make from the device. It is estimated that Amazon is losing about $10 on each tablet that is sold because of the subsidy.

I expect this device to be a big hit with consumers and it will probably sell out quickly after the launch. One of the risks of course is if consumers are going to come back to Amazon at a pace for the company to quickly recover its investment. I expect this to be a long term play for Amazon that will ultimately play out, but for the short term it could get a little bumpy.

Amazon is planning to sell music, movies and e-books to tablet customers. This will turn into a big area of future growth for the company and a great revenue generator. It may take time to recover the investment but it will start showing the potential a few quarters after launch.

I'm looking to buy this current sell-off with the expectation of a run-up once the sales numbers are released. The company does have multiple options that it could utilize to turn a profit faster if needed. The company could easily increase the price to $210 and still be highly competitive. One of the concerns investors had was with regard to the losses that Amazon will be taking upon launch. I believe Amazon is taking the loss as a marketing strategy to get the cost below the key $200 price point. This has been a key price for wireless devices and will make the device extremely attractive for customers looking for a cheaper alternative to Apple's iPad.

Disclosure: I have no positions in any stocks mentioned, but may initiate a long position in AMZN over the next 72 hours.