It's rare in investing for the stars to align, and for a stock to be a buy for a variety of reasons -- more significantly for that stock to be a buy right now. One of those moments is currently happening for Cato Corporation (NYSE:CATO), a retailer of mid-market women's clothing across the United States.
CATO had a nearly uninterrupted bull run from its lows in spring 2011, climbing by a third to reach an all-time high of $30.48 per share. Disappointing same-store sales results for June and July slowed the stock, and it has slid back down, closing Friday at $22.56, 25% off the early July peak.
From the chart, we can see the stock making a near-term multiple bottom, around support at the $22-23 range. Click to enlarge: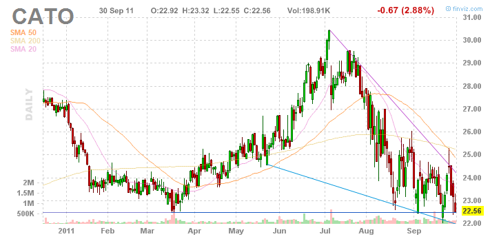 chart courtesy finviz.com
Looking further out to the 2-year chart, we can see that a similar level of support held in the summer of 2010, and that today's levels are near an 18-month low. Click to enlarge: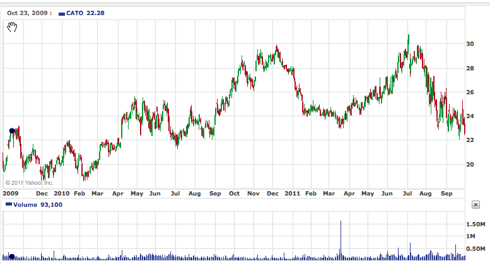 chart courtesy Yahoo! Finance
One of the possible reasons for the recent support is Cato's strong dividend, currently at 92 cents, offering a yield above 4% each time the stock drops below $23/share. Cato gave investors a 24% dividend hike back in May, following a 12% raise in 2010. The back-to-back increases have been welcome news after the company's payout had been relatively stagnant between 2002 and 2009 (including a cut in 2005). The company further bolstered its shareholder-friendly credentials by adding a 2 million share buyback authorization in August, which combined with an existing 300,000 share repo, means the company will buy back nearly 8% of outstanding shares over the next two years.
Investors worried about the sustainability of these initiatives should be calmed by strong earnings and a stronger balance sheet. The company is guiding earnings of $2.15 for 2011, giving a payout ratio around 43%. While this is a bit on the high side, the company's more than $9 per share in net cash should provide plenty of cushion for both dividends and buybacks.
CATO looks like a strong option for income investors, as its yield has surpassed 4%; it looks strong on technicals, as it consolidates at long-term support; and definitely looks strong on a valuation basis. The company trades at a forward P/E of just 10.5, and just 6.2 on an enterprise value-to-forward earning basis. The company grew free cash flow even through the 2008-09 recession, and generated $60 million in 2010 and another $52 million in the first half of 2011. That six-month cash flow represents nearly 30% of the company's current enterprise value of just below $400 million.
Cato should be able to sustain its strong fundamentals going forward, as well. Wall Street was disappointed in summertime same-store sales (down 3%, up 1%, and down 3% for June, July, and August, respectively); the company has grown revenues 2% year-over-year so far in 2011, while YTD comps are flat. This may seem unimpressive at first glance, but is only slightly behind the 3-3.5% revenue growth rate of 2009 and 2010.
Cato is a conservative company that does not open many new stores (only 12 on a net basis in the last twelve months, a 1% increase in the number of locations). It is content to generate cash, improve margins, and reward its shareholders. This "tortoise vs hare" strategy has paid off, as the company has grown its earnings and revenue over the last five years, a period that has been painful at best for many larger and more aggressive retailers.
Indeed, in 2011, the company will have increased earnings by one-third over the levels of 2006 and have better than doubled its cash balance -- yet the stock trades at nearly the same level it did five years ago. It's yet another reason why Cato is undervalued.
Disclosure: I have no positions in any stocks mentioned, but may initiate a long position in CATO over the next 72 hours.