With the double-collapse of the stock market over the last decade, many stocks are trading at low prices. While many stocks are trading at steep discounts to their 52 week highs and 200 day moving averages, I did some digging to find a group of stocks trading at multi-year lows.
The stocks in the graphs below are trading near where they traded up to 20 years ago. The price data in the graphs is adjusted for stock splits and dividends, to give a more accurate picture of stock price movement over time (many stock charts don't do this). Some of these stocks may be value traps, but judging by the growth in earnings before interest and taxes [EBIT] during the same period, some of these stocks deserve a second look.
1. Citigroup (NYSE:C): 1994 EBIT: $3.4b; 2010 EBIT: $40b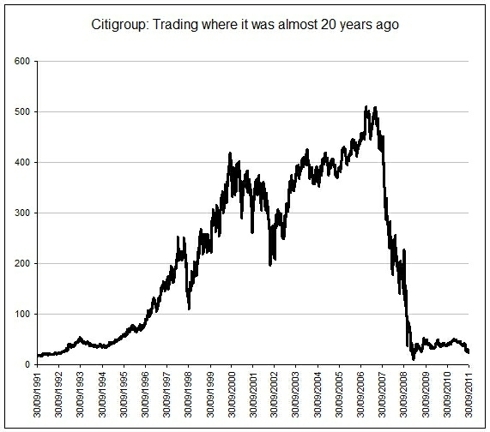 2. Ford (NYSE:F): 1997 EBIT: $21.4b; 2010 EBIT $13.5b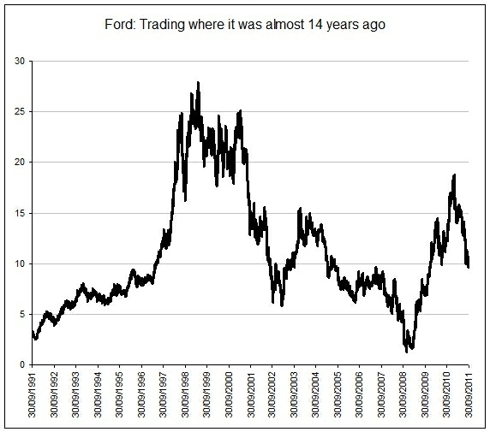 3. Morgan Stanley (NYSE:MS): 1997 EBIT: $15b; 2010 EBIT: $19.8b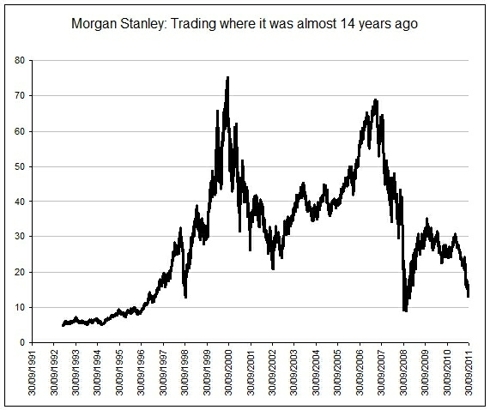 4. Dell (DELL): 1998 EBIT: $1.4b; 2010 EBIT: $2.2b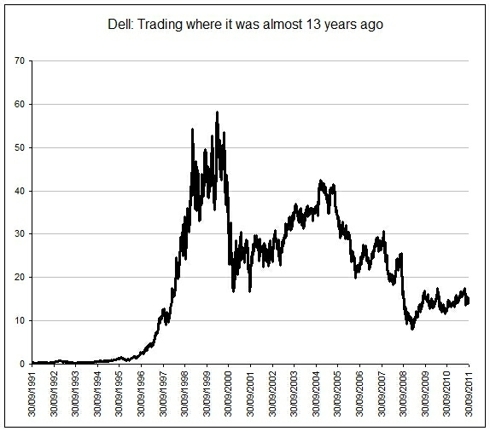 5. Bank of America (NYSE:BAC): 1994 EBIT$7.9b; 2010 EBIT $22.7b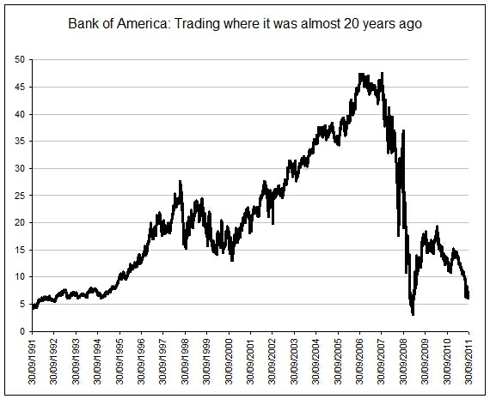 6. Microsoft (NASDAQ:MSFT): 1999 EBIT: $11.9b; 2010 EBIT: $25.2b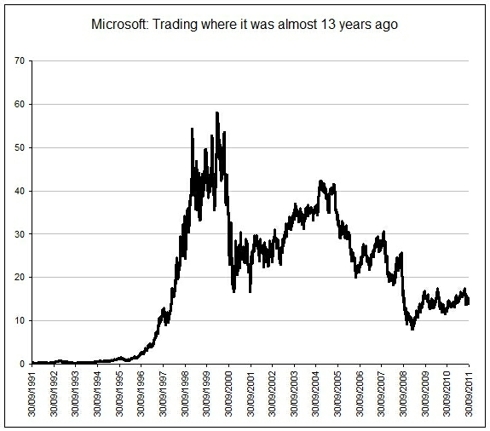 7. Cisco (NASDAQ:CSCO): 1998 EBIT: $2.3b; 2010 EBIT: $10b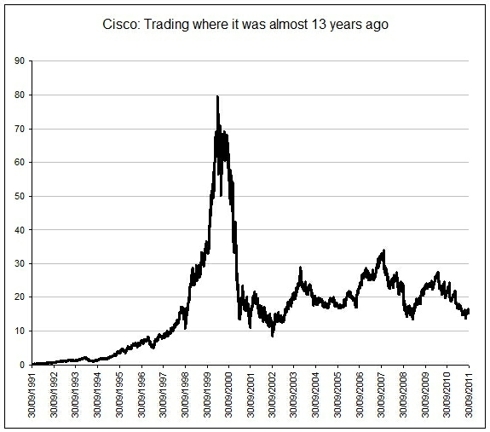 8. Intel (NASDAQ:INTC): 1998 EBIT: $9.2b; 2010 EBIT: $16b
Given the change in EBIT, zero share price appreciation over the past couple decades for some of these stocks hardly seems appropriate. In my opinion, the real standouts are Citigroup, Dell, Bank of America and Cisco - all of which have at least doubled EBIT over the comparable periods. Of course, this is backward-looking data and says nothing about future earnings. For example, another financial crisis could wipe out a bank's tier one capital, and tough competition could put a dent in a computer manufacturer/marketer's market share.
Disclosure: I have no positions in any stocks mentioned, and no plans to initiate any positions within the next 72 hours.
Disclaimer: This is not advice. While Plan B Economics makes every effort to provide high quality information, the information is not guaranteed to be accurate and should not be relied on. Investing involves risk and you could lose all your money. Consult a professional advisor before making any investing decisions.