In the Q2 13F filings, one of the more trafficked stocks by the hedge fund community was Southern Union Co. (NYSE:
SUG
), which "engages in the gathering, processing, transportation, storage, and distribution of natural gas in the United States." The company received a takeover offer from Energy Transfer Equity (NYSE:
ETE
) only to see another rival,
Williams Cos. (NYSE:WMB), come in and with a higher, $44 a share offer. ETE responded with $44.25/share (consisting of cash and stock) and WMB was quiet until reaffirming its offer last month. The share price initially jumped on Jun
e 15th, jus
t a couple of weeks before the end of the Q2 reporting period for 13F filings [ images]:

Below we take a look at some of the top hedge funds to have held this company since 2008 (note: this is a partial list of filers). Several prominent hedge funds initiated new positions in Q2, including Perry Capital,
Paulson & Co
.,
Eton Park
, Allen, York and Harbinger Holdings (affiliated but separate from Phil Falcone's Harbinger hedge fund):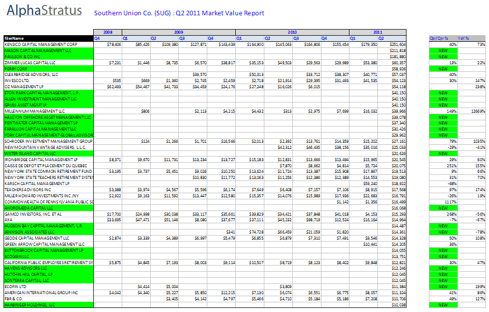 Below is a report of the 'conviction weighting' of this stock shown as a percentage of each filer's total reported long positions. While $181 million dollars is a large initial investment in absolute terms, as a % of Paulson & Co.'s total reported longs, it's only about 1% whereas the $211M position initiated by Mason Capital represents 7% of its reported longs. Obviously, the standard caveats apply (values are reported at the manager level so all of Paulson's funds are included and no shorts are reported). However, this is still a very useful picture of the
breadth
and
depth
of hedge fund interest in this stock
over time.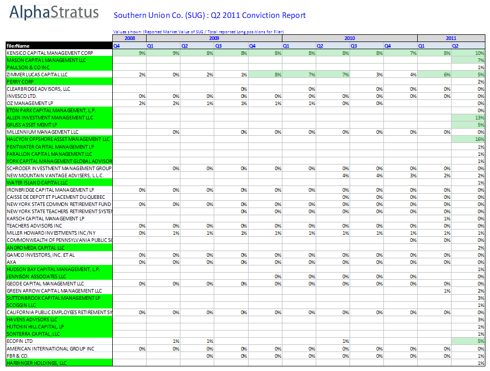 As can be seen, several large hedge funds (many with an "Event" focus) initiated stakes in SUG last quarter and several of them were quite large as a percentage of capital. Allen Investment Management (a Merger Arb shop) likely offset this position with short exposure (Paulson likely did as well). While this stock gained a broad audience with the hedge fund community, not many bet of them bet big. The risks here obviously include a deal-break in the near term as well as continued weakness in natural gas further out. The stock currently yields about 1.5% and is trading at about 2x book. While most of the hedge funds likely bought in pre-bid, there could still be an opportunity to buy into an attractive risk-arb spread on any weakness. If a deal doesn't get done this quarter, it will be interesting to see which hedge funds hold on to their positions and which ones don't.

Disclosure: I have no positions in any stocks mentioned, and no plans to initiate any positions within the next 72 hours.