The Turkish lira continues to decline as central bankers ease policy to accommodate economic activity, and inflation growth. The U.S. dollar has appreciated against the lira by nearly 24% since June, shown below.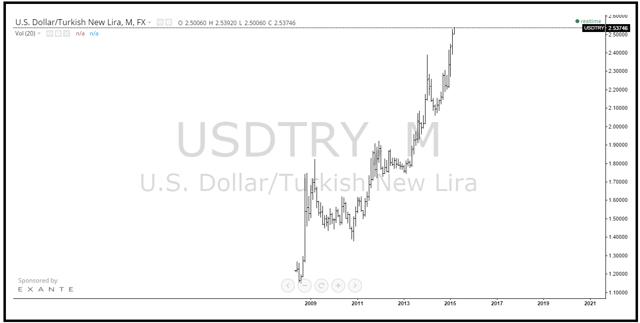 Data provided by Trading View
After raising benchmark rates in early 2014, the Central Bank of the Republic of Turkey began aggressively cutting rates the last few months. In February, Turkey's benchmark rate was cut to 7.5%, 25 basis-points below the previous rate of 7.75%. Over the last year, interest rates were raised from just above 4%, to 10%, and are now being cut again as policymakers initially attempted to deter capital outflows, before realizing it was to the detriment of the underlying economy. The large decline in the lira recently hampered the implementation of further policy easing.
"The government has persistently called for the central bank to lower borrowing costs to boost economic growth since the main rate more than doubled in an emergency meeting in January of 2014. As a result, the rate was lowered by 50 bps to 7.75 percent at January 20th meeting. This cut proved insufficient, forcing the central bank to call for an extraordinary meeting to do more, but its plans were hampered by a drop in the Turkish lira," according to Trading Economics.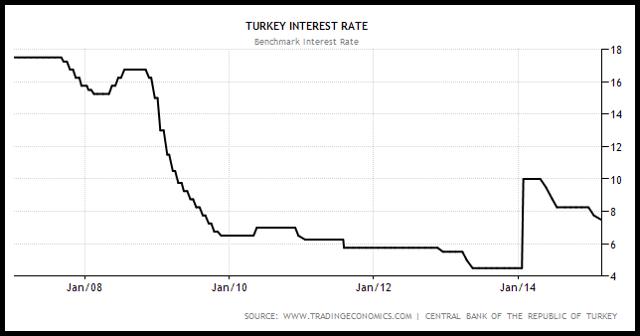 As interest rates fluctuated in 2014, inflation measures experienced heightened volatility. In February, the inflation figure came in at an annual pace of 7.55%, above the previous month's reading of 7.24%, as well as exceeding estimates for 7.03%. Over the last year, however, inflation has fluctuated between as high as 10%, to current levels, shown below. With a falling currency in recent months, prices of many consumer goods, aside from transport costs have risen.
"Year-on-year, food and non-alcoholic beverages recorded the largest increase (+13.7 percent), followed by hotels and restaurants (+12.66 percent) and housing, water, electricity and gas (7.5 percent). Cost of clothing and footwear rose 7.4 percent while prices of furnishings and household equipment advanced 7.37 percent. The only downward contribution came from transports (-1.49 percent), which was not enough to offset the increase," according to Trading Economics.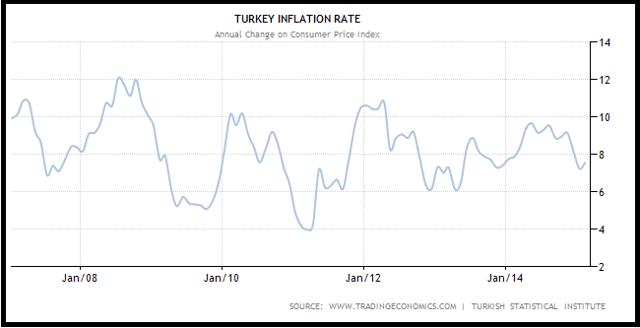 With large swings in prices, consumption has taken a hit, leading to declines in economic activity. In the third quarter, the economic growth figure came in at an annual pace of 1.7%, below the previous quarter's revised reading of 2.2%, while also missing estimates for 3%. Since 2011, economic growth has slowed from over 10%, to current levels. Both private consumption and investment have drastically fallen in recent quarters.
"Year-on-year, private expenditure grew a meager 0.2 percent, following a 0.5 percent increase in the second quarter. Gross fixed capital formation shrank for the third consecutive period by 0.4 percent. Public investment contracted 2 percent while private investment was flat," according to Trading Economics.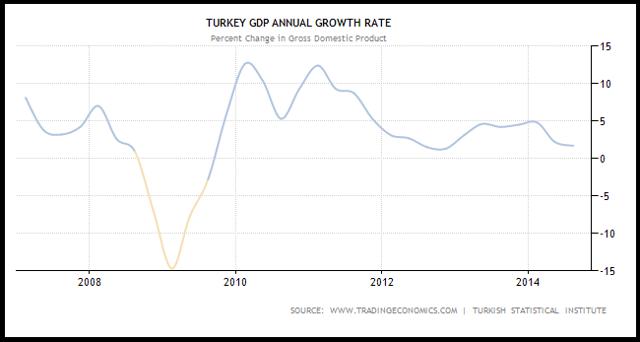 Lastly, employment has been flat over the last decade, slightly decreasing in recent years. In 2013, the employment to population figure fell to 0.97% annual growth, from 1.66% annual growth the year earlier. While these figures may seem a little dated, it is safe to say economic uncertainty and falling investment in Turkey continue to weigh on the labor market.
Interest rates have greatly fluctuated in Turkey over the last year to initially deter capital outflows by raising rates, then cutting throughout the year to spur economic growth. This led to wide consumer price swings and declining consumption, weighing on economic activity as a whole. With Turkish policymakers still in a bind, it is likely the lira continues to decline against the U.S. dollar in coming months.

Data provided by the OECD
Disclosure: The author has no positions in any stocks mentioned, and no plans to initiate any positions within the next 72 hours.
The author wrote this article themselves, and it expresses their own opinions. The author is not receiving compensation for it (other than from Seeking Alpha). The author has no business relationship with any company whose stock is mentioned in this article.