The market turmoil of the past couple of months has decimated many cyclical stocks as worries about slowing worldwide growth have cratered market capitalizations. One stock that has gotten much too cheap and should be finding a floor soon due to its accidental high yield and long term technical support is Dow Chemical (DOW).
According to its description on Yahoo Finance:
The Dow Chemical Company manufactures and supplies products used as raw materials in the production of customer products and services worldwide. The company offers materials for chemical mechanical planarization pads and slurries, chemical processing aids and intermediates, electronic displays, food and pharmaceutical processing and ingredients, home and personal care ingredients, hygiene and infection control, photolithography materials, printed circuit board materials, process and materials preservation, and semiconductor packaging.
Here are 8 reasons why Dow Chemical is a bargain at $22.50 a share:
1. Dow Chemical has a robust 4.5% dividend yield and just raised its dividend payout over 60% this year.
2. DOW is right at a long term technical support level (See Chart, )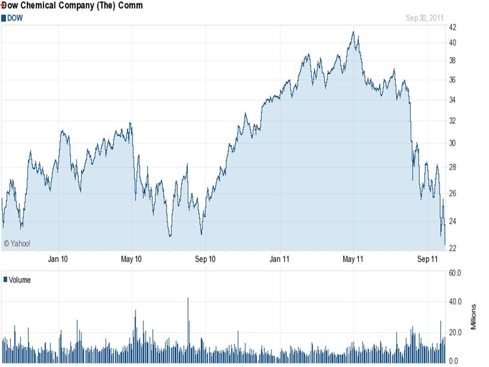 3. The company has beat earnings estimates the last four quarters. The average beat is over 20% above consensus analysts' estimates over that time period.
4. It has a forward P/E of under 7 which is an over 55% discount to its five year average
5. It is selling in the bottom half of its five year valuation range based on P/B, P/S, P/E, and P/CF.
6. Massive new sources of natural gas (U.S. Shale, LNG, etc.) should result in continued long term low prices for one of DOW's primary feed stocks.
7. Interest expense should continue to drop as it uses its cash flow to pay off some of its high cost debt initiated as part of the Rohm & Haas acquisition.
8. DOW is significantly under analysts' price targets. S&P has a price target on DOW of $44 a share, Credit Suisse is at $49 and the median analysts' price target on Dow Chemical is $37.
Disclosure: I am long DOW.