Sony Corporation (NYSE:SNE), the consumer electronics giant and ever-growing conglomerate, has begun a significant push into the medical device industry. This past week, Sony announced that it acquired Micronics, Inc., a developer of point of care diagnostic technologies. This is but one of several recent medical acquisitions by Sony.
According to Medgadget, the leading journal on medical technology, Micronics is a developer of diagnostic products with a large number of patents related to microfluidic technology. Micronics commercialized a nucleic acid testing device platform for infectious disease detection, using disposable assay cartridges.
Micronics fabricates the cartridges using micro-scale and nano-scale etching technology. This technology is not all too different from the method used to etch data onto optical storage discs, such as Blu-Ray DVDs. It is possible that Sony sees cross-applications for these technologies, and potentially the ability to improve medical technologies through the integration of Sony's in-house digital innovations.
This is not Sony's first recent medical technology endeavor. In fact, Sony has made quite a few medical deals over the last two years. In February of 2010, Sony purchased iCyt Mission Technology, Inc., a producer of flow cytometers. Additionally, over the last twelve months, Sony announced collaborations with multiple life sciences companies, including RainDance, Quanterix and Caliper (NASDAQ:CALP) to develop more advanced microfluidic technology.
Sony stock has lost a significant amount of value over the last year. Sony's recent depreciation was caused by multiple factors, including the broad market decline, increased computer and electronics competition, reduced demand, and shockwaves stemming from the Japanese earthquake and tsunami earlier this year. While Sony started 2011 at about $36 per share, it closed the third quarter at $19. See the chart below - (click to enlarge):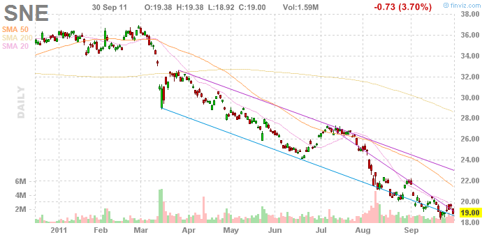 Sony's recent expansion into medical technologies could continue and probably will. After all, General Electric (NYSE:GE) started out as an electric products company, but it expanded into finance, entertainment and healthcare, among other industries. Sony already expanded into entertainment, and may now be making its foray into healthcare. As time goes on, Sony could slowly evolve its company profile to include a broad range of medical technologies, both for the medical professional and at-home use by patients. It could eventually be an Asian mega-conglomerate like GE is within the United States.
By diversifying its industries, Sony should likely reduce its risk of being rendered obsolete from any single technological advancement, as Apple's (NASDAQ:AAPL) iPod did to Sony's Walkman. In time, it could be Sony that is doing the taking from the established medical technology companies.
Disclosure: I have no positions in any stocks mentioned, and no plans to initiate any positions within the next 72 hours.
Disclaimer: This article is intended to be informative and should not be construed as personalized advice, as it does not take into account your specific situation or objectives.