We at EconMatters have decided to upgrade the Financials based upon valuations at this point, after what we term an oversold third quarter, and believe that investors should add the following financial names to their portfolio for the fourth quarter, starting today, as not only are valuations at these levels extremely compelling, but the markets are going into the historically strong investment months of the year.
We expect a robust rally into the year end as money managers push up equities in order to make their yearly numbers, plus we expect the economic reports and data to improve into the year end, as the holiday consuming and supply chain push-through start to ramp up into the fourth quarter.
Tech Impetus To A Christmas Rally
We see the technology sector is poised to provide the impetus for an overall equities rally into year-end, as this is historically a strong quarter for technology stocks like Amazon (AMZ), Apple (NASDAQ:AAPL), Samsung and Best Buy (NYSE:BBY). This is where these companies really make their yearly numbers as the holiday gift giving cycle infuses the economy with increased consumer spending, and this tailwind lifts all boats into the year-end Christmas rally.
Financials Attractive on Valuation
The technology stocks will do well, but based upon valuations, we believe that the financial sector will outperform in the quarter, as many investors and money managers are currently underweight this sector in their portfolios, while technology stocks are probably fairly valued at this point relative to financials.
We expect that many of the fund managers will also recognize the enormous values in the financial sector starting into the fourth quarter as many of these stocks are pricing in a recession, which at this point seems highly premature and knee-jerk after a bad third quarter, where doom and gloom thinking is pervasive in the media and with Wall Street pundits.
Funds To Flow Out of Treasuries
EconMatters also believes that many investors and analysts have overestimated the impact on banks of a flattening yield curve. We see much of the gains in Treasury prices on the long end of the curve have been priced in to such an extent in relation with the overall flight-to-safety trade that the flattening yield curve analysis on earnings of the banks is overblown.
We also expect some of the capital hiding away in Treasuries to move out of the safety trade and back into risk assets like equities during the fourth-quarter rally, and that financial stocks will be one of the first place investors look for bargains for substantial return on risk capital exposure during the quarter.
Sector Consolidation Positive To Earnings
It is necessary to acknowledge the fact that, due to the last financial crisis, many competitors have been consolidated in the banking, financial services, and investment banking sector, enabling greater pricing power for many financial service suites of products. This considerable consolidation and its inherent contribution to earnings going forward for the next two quarters and beyond is being currently undervalued by the market.
Low Interest Rates and More Regulatory Clarity
Furthermore, financial institutions are still going to be able to benefit from this extraordinary period of low interest rates and access to capital for at least the next 18 months. The financial sector will also benefit from a better understanding of the ramifications of the financial reform bill regarding the business impact of these regulations and the banking change to overdraft fees by adapting to the new rules, and finding alternative revenue streams.
Markets Rally Into The Earnings
Another positive is the market phenomenon of buying into the earnings season, which is just around the corner, and we think this also occurs starting the first week of October. If earnings are better than expected -- and not much is expected from such names as UBS, Deutsche Bank, Bank of America and Morgan Stanley -- we expect considerable short coverage in these names, giving a boost to the entire financial sector.
Limited Downside Risk
Investors could really see some outsized gains in some of these recommended financial stocks. For example, we believe Bank of America (NYSE:BAC) could move up 10% in one day from current levels, and in some sense provides option-like value from a risk/reward standpoint, with limited downside risk and above-average return potential in the fourth quarter.
This has provided what we believe from both a technical and fundamental valuation standpoint as an excellent value for an entry point starting on the first week of October. To be more precise, Monday, October 3, represents an excellent buying opportunity in the following names:
Bank of America, JPMorgan Chase (NYSE:JPM), Morgan Stanley (NYSE:MS), Wells Fargo (NYSE:WFC), Bank of New York Mellon (NYSE:BK), U.S. Bancorp, Deutsche Bank (NYSE:DB), HSBC Holdings (HBC), UBS (NYSE:UBS), Citigroup (NYSE:C), and Goldman Sachs (NYSE:GS).
The chart below compares stock performances of JPM, WFC, BAC and DB against S&P 500: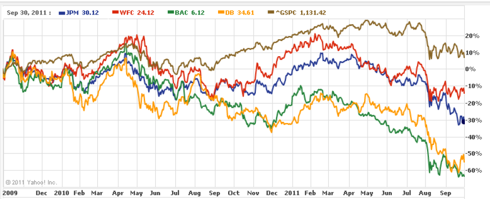 We believe the valuations are so compelling in this unloved financial sector at this point that a basket of these stocks played through a SPDR Select Sector Fund (like the XLF, chart below) should conservatively net fund managers and investors 10% return for the fourth quarter of 2011, given an equally conservative exit point after a nice run in these financial stocks, which we believe will occur at some point relative to current valuations.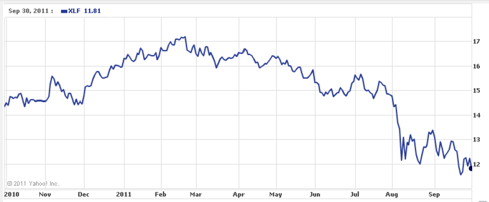 Blue Chips at Historically Low P/Es
The financial sector is replete with examples of historically low P/E ratios in the 6-9 range. It is not every day when a money manager can pick up a quality blue chip financial name like JPMorgan Chase with a 6.5 P/E ratio at the beginning of a fourth quarter. This makes stock-picking and hitting benchmarks much easier compared to similar year-end performance pushes where financial stocks are often supporting much heftier P/E ratios in the 11 to 14 range.
Finanicals to Outperform in Q4
After an exceptionally harsh quarter following the end of QE2 where stocks were seemingly thrown out with the bath water, we expect a strong fourth quarter where stocks in general find their respective sea legs, and surge into the year end. We believe that the financial sector offers some exceptional value for investors during the quarter, with minimum risk, given current valuations. The upside far outweighs any downside risk, and we recommend an overweight position in the financial sector for the fourth quarter of 2011.
Disclosure: I have no positions in any stocks mentioned, and no plans to initiate any positions within the next 72 hours.