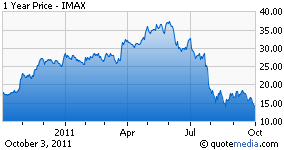 The fourth installment film in the "Mission Impossible" series will now be released exclusively on over 300 Imax (NYSE:IMAX) screens five days earlier. "Ghost Protocol," starring Tom Cruise, will now hit Imax screens on December 16th. The movie will then expand into wide release of over 4,000 screens on December 21st. It faces strong competition from "The Girl with the Dragon Tattoo" being released on December 23rd. Both movies have similar action packed spy themes to them.
Paramount (NYSE:VIA), the studio releasing "Ghost Protocol," is not new to moving up release dates. The third "Transformers" movie which came out this year was moved up earlier to give it a longer Fourth of July weekend to capitalize on box office revenue. Recently Paramount pushed up its movie The Help from a Friday release to Wednesday to give the movie a chance to capitalize on word of mouth reviews to get moviegoers to see its sleeper hit.
All three of the previous "Mission Impossible" movies opened in the month of May in their respective years of 1996, 2000, and 2006. Brad Bird, the writer and director of "Ratatouille" and "The Incredibles," takes over the franchise. Previous directors Brian De Palma, John Woo, and JJ Abrams have all lended their directive styles to previous movies in the franchise.
It appears that "Ghost Protocol" will round out the year for Imax as they do not have another movie lined up until January 20th ("Underworld: Awakening"). In the Christmas period last year, Imax welcomed Disney's (NYSE:DIS) "Tron: Legacy" to the big screen. "Tron" reached the $100 million mark in a short twelve days domestically. The amazing part is that through in those twelve days Imax screens accounted for nearly twenty five percent of the total. A typical Imax release accounts for ten percent of the total box office even though it is on around seven to eight percent of the number of screens. "Tron" made $10.45 opening weekend on 235 Imax screens.
Now to dig into the numbers and see how Tron can help predict how "Ghost Protocol" will do for Imax. According to Hollywood Stock Exchange, a site where users can predict movie box office, Ghost Protocol will generate $148 million in its first four weeks in theaters. This number would lead to around $50 million opening weekend. These numbers may appear to be on the low end. The previous three "Mission Impossible" movies generated $181, $215, and $134 respectively. My estimates would be $175 over the first four weeks. The opening box office is harder to predict as the movie is opening early on Imax screens on a Friday and will not be released on other big screens until the following Wednesday. I see the opening shaking out like this:
Friday December 16th $1.9 million
Saturday December 17th $1.6 million
Sunday December 18th $1 million
Monday December 19th $0.5 million
Tuesday December 20th $0.5 million
Wednesday December 21st $1.5 million
Thursday December 22nd $.7 million
Friday December 23rd $1.2 million
Saturday December 24th $0.4 million
Sunday December 25th $1.9 million
Total Predicted 10 day box office: $11.2 million
My estimates have "Ghost Protocol" making $5.5 million on Imax screens before the movie goes into wide release. This number does not exactly make Imax shares a screaming buy. The movie, which was partially shot with Imax cameras, could provide to be the first of many movies who choose to release their movie on Imax screens first. The early release also helps Imax compete against large movie theater companies like Regal Cinemas (NYSE:RGC) and Cinemark (NYSE:CNK) who will have a large number of screens available for Mission Impossible: Ghost Protocol during the Christmas season.
Imax appears positioned well with its upcoming slate of films:
October 7th: "Real Steel"
October 26th: "The Adventures of Tintin: Secret of the Unicorn"
November 4th: "Puss in Boots"
November 18th: "Happy Feet Two"
December 21st: "Mission Impossible: Ghost Protocol"
The following year also brings "The Dark Knight Rises," "The Amazing Spider-Man," "Men in Black 3," and "The Hobbit: An Unexpected Journey," to Imax screens. The possibilities seem endless of what could happen if a larger movie was released on Imax before other screens. In today's age midnight screenings and long lines seem guaranteed for big blockbuster movies. Imax will continue to attempt to get movies to open first on their screens.
Imax shares are down nearly fifty percent from the $28.07 which they opened in 2011. Shares are also close to their fifty two week low price of $13.70. It was just four months ago that shares were going for over $35 and appeared ready to breakout further. Shares under $15 today appear to be undervalued. The company has some of the biggest movies being released on their screens next year.
Disclosure: I am long IMAX. For a look at stocks I own view this article.