Many investors look at past portfolio manager successes as a bearing for future performance. John Paulson made billions (yes, billions) in the CDS bust in 2008. Paulson and Goldman Sachs created products for the housing industry, with Paulson betting against them. As the markets tumbled in 2008, his portfolios reaped major returns (in excess of 1,000%). The collapses of Bear Stearns and Lehman Brothers created a windfall of riches for the Paulson Hedge Fund.
Following the 2008 crash, Paulson adjusted his portfolios. He began buying stocks he deemed to be great values. He also started a gold fund with $250 million of his own money. Today, that portfolio (as of 6/30) is overweight in terms of GLD. In fact, his portfolio weight in GLD is over 15% of total assets. His second biggest holding is gold miner AngloGold Ashanti (NYSE:AU), with a portfolio weight over 5%. This brings his total portfolio weight in gold to over 20% of all his holdings.
With Paulson's bullish bet on gold, he is relying heavily on this precious metal. Over the past few months, GLD has been undergoing its first correction since his initial investment. It will be interesting to watch how he manages this position based on the overall success of his portfolio. Looking at his other holdings, it has not been pretty.
The rest of Paulson's stock choices have been brutal. Over the last 3 months, 6 out of his top 10 holdings are trailing the S&P 500 by an average of -15.86%. That's a return of -27.86% over three months! Going further down his portfolio, we can see that out of his top 25 holdings, 15 are trailing the S&P 500. These are not numbers that any investor would want to hear.
Here's a chart of his holdings as of 6/30: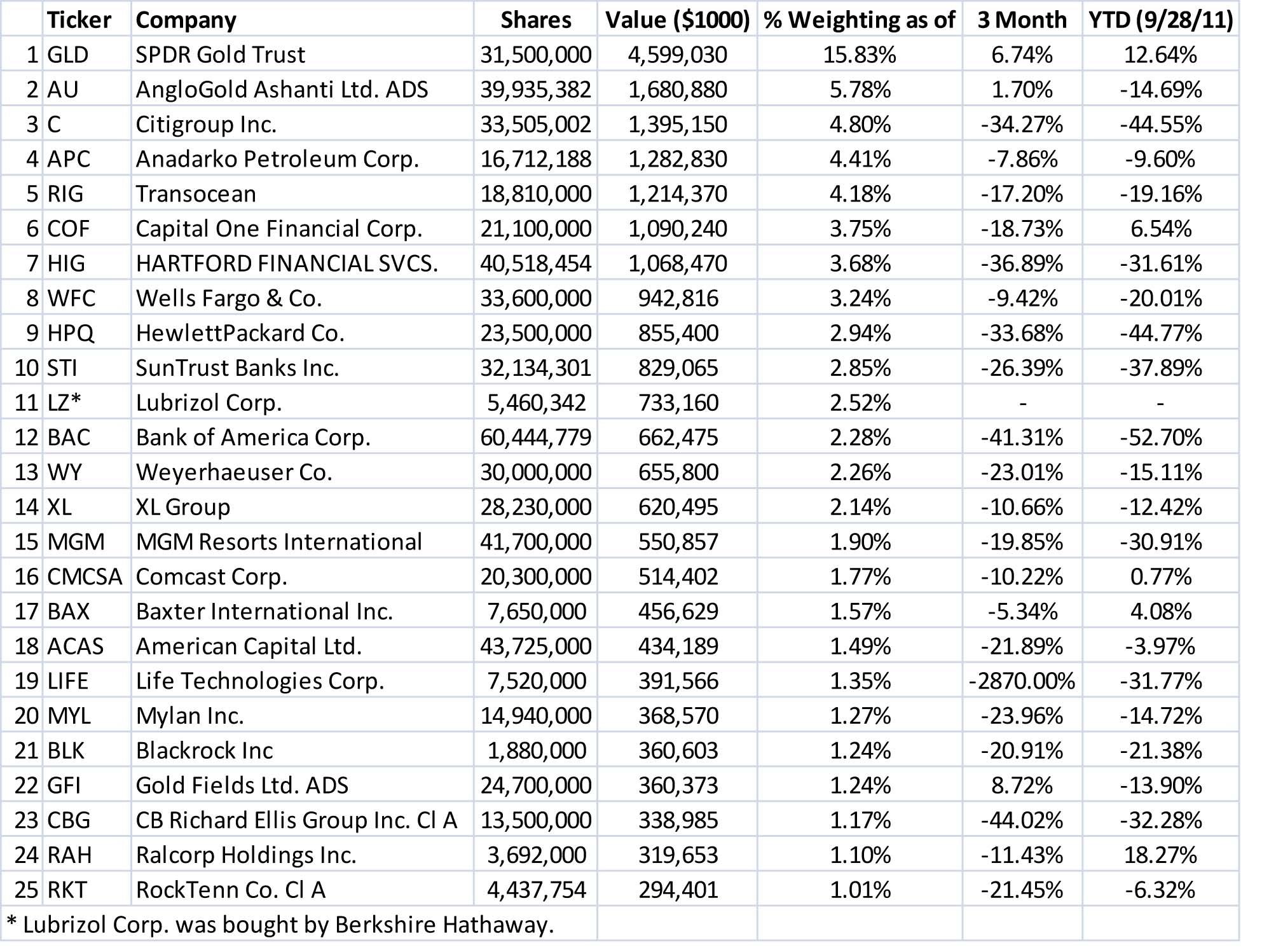 So what do you need to do as an investor? Make investment decisions based on your own due diligence. Try to be as diversified as possible. Paulson is relying heavily on gold and the trade has been a good one, but with the recent weakness, he may need to sell his positions to cover his losses from his other investments.
Remember that past performance does not guarantee future successes. It will be interesting to see if Paulson becomes a one hit wonder. Only time will tell.
Disclosure: I have no positions in any stocks mentioned, and no plans to initiate any positions within the next 72 hours.