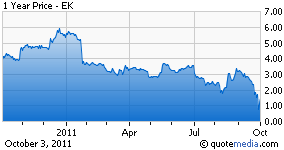 Kodak (EK) hit a low of 54 cents upon reports that the company has hired Jones Day for restructuring advice. Rumors have been circulating that Kodak may file for bankruptcy protection due to issues monetizing intellectual property assets.
This sell-off is extremely overdone and is mostly based off fear. The current valuations are not correctly factoring the company's intellectual assets. The company has responded to the rumors saying, "The company has no intention of filing for bankruptcy."
The company provides investors with a good safety cushion even if the company were to file bankruptcy. I believe the company will be able to cover all liabilities and still provide a return for shareholders at current prices. Based on the company's last 10Q, the company has about $3 billion in current assets. I expect Kodak's patents to fetch at least $5 billion. Kodak's patents are worth much more than Nortel's patents that sold for $4.5 billion recently at auction. Many of Kodak's patents cover digital photography which are used in wireless devices like cell phones and tablets. These types of patents are valuable to technology companies especially in the current patent war that is going on between wireless device manufacturers.
I expect the following payout if a Kodak liquidation were to occur:
Current assets - $3 billion
Property plant and equipment - $500 million (Factoring a 50% discount to book)
Patents - $5 billion
Total assets - $8.5 billion
Total liabilities - $6.7 billion
Due to shareholders after liabilities - $1.8 billion
Total shares outstanding - 269 million
Payout of $6.69 per share after liabilities.
Even if Kodak were to sell its patents for the same price that Nortel's patents were sold for, the current market cap is unwarranted. I don't believe the company will file for bankruptcy protection. Even if Kodak were to file for bankruptcy protection, it would be an excellent opportunity for investors who bought at current prices to create a liquidity event. This will give investors an opportunity to cash out.
A buyout of the entire company is more likely than the company filing for bankruptcy. I expect the company to fetch a nice premium due to the large intellectual property portfolio.
I'm definitely a buyer at current levels and I'm looking for a retest of the 50 cent area to build a larger position.
Disclosure: I have no positions in any stocks mentioned, but may initiate a long position in EK over the next 72 hours.