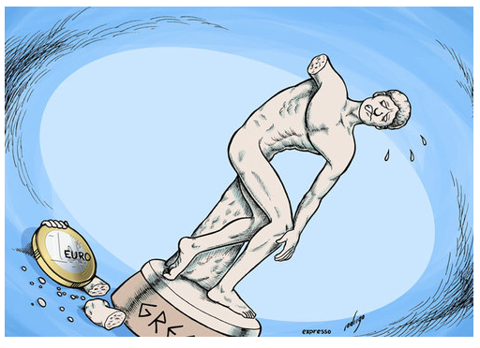 The past week was highlighted by a nice move to the upside coupled with a strong move back to the downside to end the week, which looks to be setting up the marketplace for some issues to start this week. A passage of an extension of the EFSF by Germany was not enough to get the market going. Weak data and renewed fears of Greece continue to weaken our markets. The market will continue to be volatile and headline-driven this week as we continue to look toward Europe and more data for direction.

The coming week in the market has a heavy does of economic data as well more news from Europe. At home, we will be getting the ISM Index, construction spending and auto/truck sales on Monday. factory orders are on Tuesday. Wednesday will be ADP employment, ISM services and crude inventories. initial claims will be on Thursday. It all leads up to a massive Friday with non-farm payrolls, unemployment Rate, wholesale inventories, and more.


Europe once again will loom large this week. Over the weekend, news came out about Greece that the country does not meet the goals of some agencies for deficit cutting. That news will once again spark risk on trading about Europe, and negative headlines will continue to plague the country. Two important announcements are also due out from the European Central Bank and the Bank of England. The prior may cut rates further, while the BOE may look to further quantitative easing.

There are a few earnings that can have some impact on the market this week with Yum! Brands (NYSE:YUM), Costco (NASDAQ:COST), Monsanto (NYSE:MON) and Marriott (NYSE:MAR). None of these reports are unbelievably impactful, but they all will have their influence in their sectors.

Technicals and some key levels will also be important this week for the market as it looks likely that we will retest the August lows. We need to have 10600 - 10700 levels hold up. Failure of that area will be detrimental to the market's ability to hold up. If we cannot hold those lines this week, it may be a very, very bad week for the market.

Strap in for a week for the bears ... at least it looks that way so far.

Here is what we are looking at for the coming week:

Ruby Tuesday (NYSE:RT) - We shorted this stock on Friday, and we continue to like it for more downside going forward as the company is reporting its earnings later this week. The company is expected to see a decline in EPS from 0.17 to 0.05, and they have reported very weak back-to-back quarters. The company should see selling pressure moving into earnings, and we like them as a short sale candidate going into the week.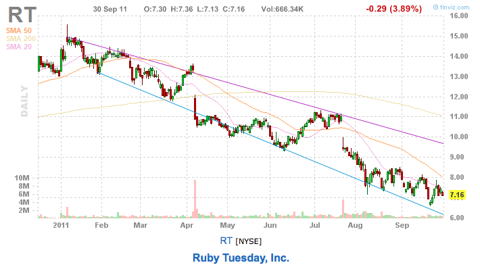 Delta Airlines (NYSE:DAL) - Delta is looking like a nice short right now with the stock in a downward price channel and a failure of the 20-day and 50-day moving average on Friday. That break sets the stock up to gap down, and we believe shorting this stock is profitable for the week. 6.50 was the August low, which is $1 below where the stock is currently trading. This stock has a ways to go before it hits that low, so we will have to see how it does as it nears those levels.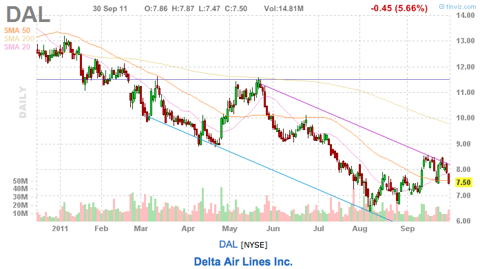 Deere (NYSE:DE) - Right now, DE has no support levels below it as the stock broke its August lows last week, and where the downward spiral this stock is in right now ends is hard to guess. Right now, we are assuming we will not see support on the stock until around the $60-level. The company has been getting hit as construction spending and infrastructure has stalled. The company is a bellwether, and it will falter with the market.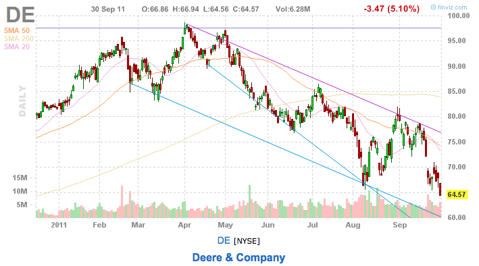 Disclosure: I am short RT.

Additional disclosure: I may short DAL or DE in the next 72 hours.