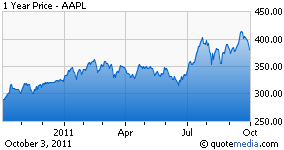 Of course, Tim Cook will unveil Apple's (NASDAQ:AAPL) latest iPhone - and who knows what else - at an event in San Francisco this Tuesday. While you could always take your chances and anticipate a pop - or a drop - on that announcement, I would prefer to let the dust settle and play Apple's Q4 earnings report, scheduled for release after the bell on October 18th.

While I am on record as stating that I will stay away from AAPL, for the time being, in the $10,000 portfolio, I do think reasonable ways to capitalize on the report exist, depending, of course, on your sentiment going into it.

In this article, I offer several ways to use options to not necessarily trade, but make a relatively long-term investment in Apple through the Q4 report and beyond.

If you expect Apple to crush its own earnings estimates (like it always does) and comfortably beat consensus, I think long-dated, deep in-the-money call options represent the best way to take advantage of a subsequent rise in the stock price.

While this bullish scenario does not always produce sustained appreciation in AAPL, I think it could this time. Remember the stock recently notched a 52-week high before pulling back on concerns related to the release of Amazon.com's (NASDAQ:AMZN) Kindle Fire and the general economy. Another blowout quarter should ease those worries and send the stock hurdling back toward, and possibly past, $422.86.

Look at it this way, an outright purchase of 100 shares of AAPL requires, depending on the day, anywhere from $38,000 to over $40,000. If you don't have that capital or prefer not to put it all in one place, you can mimic - or come close to mimicking - ownership of AAPL with deep in-the-money calls.

For instance, the AAPL January 2013 $250 calls last traded for $155, as of Friday's close. That's an outlay of roughly $15,500 to give yourself the right to buy 100 shares of AAPL for $250 between now and January 2013. While I like the breakeven point of $405, you could easily sell to close the calls prior to expiration for a hefty gain - close to what you would have made just owning the stock - assuming AAPL heads back over $400.

I've received email from several AAPL shareholders who have either done well on their investment or bought in on perceived strength as the stock moved through that $400 level on the way to its 52-week high. While these investors believe in the trade long-term, they've expressed concern about the near-term and want a way to profit from the stock's almost-daily volatility.

Going long a put or two comes to mind first. Investors use puts in a variety of ways, but insurance represents a put's primary function. If you anticipate near-term weakness, you could drop approximately $38.05 on an AAPL January 2012 $385 put, for instance. If the stock drops, you can collect some profit on what should be a rising premium. Personally, I am not a big fan of putting out $3,800 for insurance on a stock that - when you cut out the noise - keeps on going up over time. That said, if you're near-term bearish, long-term bullish, it could be the way to go.

Given AAPL's day-to-day manic action, I would much rather use options to strangle the stock. As I noted in a previous Seeking Alpha article, the daily price action in AAPL makes it a perfect strangle candidate.

Just consult the above-linked article or pull up any chart on AAPL, such as the proceeding one courtesy of Yahoo Finance, and it's quite clear that, with just a little attention, you can profit from both legs of an AAPL strangle, particularly around a major event like earnings.

Click to enlarge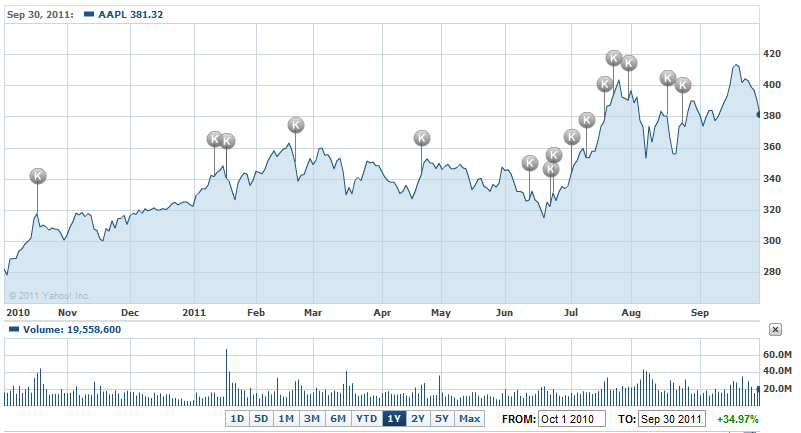 The "K's" on that chart represent major news stories involving AAPL. Often in times, AAPL rises and falls - or vice versa - on big news. If you're patient and savvy, you can profit from both ends of the trade. You can also keep it simple by closing out both ends after a big move. If you get a sharp enough move in price - and this is really the key with strangles - profits from the winning side generally offset losses from the losing side. I expect a considerable enough pop or drop in AAPL come earnings to justify use of an options strangle.

Disclosure: I have no positions in any stocks mentioned, and no plans to initiate any positions within the next 72 hours.