Too often in the investment world people are forced to choose between their ethics and profits. Exxon Mobil (NYSE:XOM) offers stability, but in doing so, it often does untold damage in the areas of its operations. First Solar (NASDAQ:FSLR) offers investors an ethical choice, but its stock chart will leave few investors smiling. However, we think that if a company can do good things for the world and do so profitably, it is a company worth investing in. And we would like to highlight just such a company.
Intuitive Surgical (NASDAQ:ISRG) is a leading medical device company based in the United States that manufactures the da Vinci robotic surgery system, which lets surgeons perform complex procedures with minimal invasiveness, improving hospitals' financial conditions and patient health. Since its IPO in 2000, the company's stock has trounced the S&P 500, rising nearly 1,900% as the S&P lost nearly a quarter of its value. And we think shares have more room to rise, given the company's business prospects.



The da Vinci system provides Intuitive with a steady stream of maintenance revenue that runs in the hundreds of thousands annually, giving the company a steady stream of income as it works to expand the da Vinci's use. On the company's most recent conference call, CEO Gary Guthart noted that "procedures grew approximately 30% over the second quarter of 2010. We sold 129 da Vinci Surgical Systems, up from 108 during the second quarter of last year, and 99 of which were purchased by U.S. customers."
Selling 129 systems may seem like a tiny amount, but considering each one costs $1.44 million on average, this is no small achievement. In addition, the company now earns 56% of its revenue from recurring sources such as maintenance contracts, giving the company a very high degree of stability. Intuitive Surgical is working hard to expand both the number of systems it sells and procedures that may be performed with it. Interestingly enough, Europe is the fastest growing market for Intuitive, despite fears that Europe will be consumed by its debt crisis. The need for more improved surgeries overshadows concerns over debt. Intuitive Surgical knows this, which is why it is expanding operations in Europe, adding a few more hospitals with da Vinci systems each month.
Critics of the company point out that hospitals sometimes fail to generate enough return on their investment to make the da Vinci system worthwhile. While some hospitals will certainly earn higher returns than others, many hospitals say they are content to break even, as the leading technology Intuitive Surgical has to offer will help them attract the best surgeons that "want to be leaders in research and training."
In addition to its great business prospects, Intuitive Surgical has a great balance sheet, with over $1.8 billion in cash and investments, and zero debt. (Click table to enlarge.)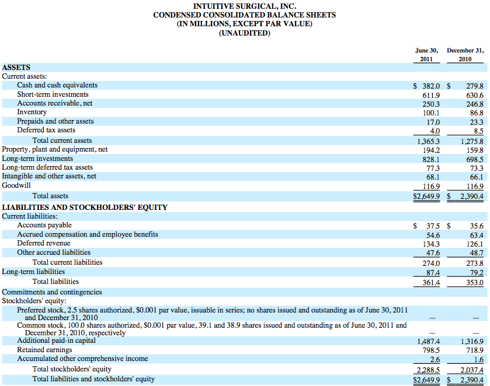 Intuitive Surgical is not a value stock, trading at a P/E ratio of over 3 and a forward P/E of just under 30. But with GAAP EPS growing at an annualized 30% over the past 5 years, we think such a valuation is warranted.
Intuitive Surgical is revolutionizing surgery all across the world, delivering better healthcare to patients all while rewarding its shareholders. We think now is a great time to add to or initiate a position in a company that strives make a difference. Analysts agree with us. Lazard, S&P, and Miller Tabak see the stock at $420 and JMP sees it at $460, and the Reueters average price target is $393.27, a number that should rise as the company continues to surpass Wall Street expectations. If you want to invest in a company that not only generates profits for shareholders but also makes a difference, look no further than Intuitive Surgical.
Disclosure: I have no positions in any stocks mentioned, and no plans to initiate any positions within the next 72 hours.