MLPs have been market leaders since the recession lows almost three years ago. The low close for the Alerian MLP Index was 152 in November 2008 from which it has more than doubled to 340. In addition, related annual income has been over 20. But this year, the rally stalled (along with the market averages). The index started the year at 363, rose to a high of 390 in late April followed by a sell-off to 340-360. After an exceptionally strong rally, a lack of follow through in a third year can be expected. However the longer term track record of MLP growth is impressive when many premier stocks have stumbled with some cutting dividends.

MLPS compared to S&P 500
Click to enlarge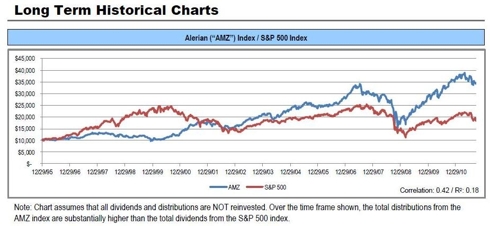 Source: MLP PROTOCOL

In the early years of the index, it underperformed the S&P 500. MLPs were new and not well understood. However, the annual yield for MLPs was above 8% versus roughly 2% for the S&P 500. In the last 10 years, the index has outperformed the S&P 500 along with higher annual yields of 7-8% versus a modest yield for the S&P 500. While the last year is not shown, the favorable relation of the index over the S&P 500 Index has continued.

MLP yields compared to Treasury 20 year yields
Click to enlarge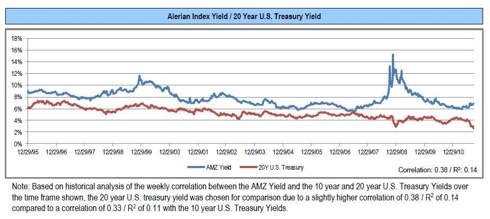 Source: MLP PROTOCOL

The chart above describes the long-term yield spread of the Alerian MLP Index above Treasuries (20 year bonds). MLP yields traditionally have been around 200 basis points above the yield on the 10-year Treasury bond (a more popular base). The yield on the 20-year bond was 2.66% versus 1.92% on the 10-year Treasury (September 30) and spreads between the two have been around 50 -100 basis points. The yield spread of the MLP index over the 20-year Treasury has widen substantially this year (not shown) to 419 basis points (6.85% for MLPs versus 2.66% on the 20-year Treasury) on September 30. The wide spread is bullish compared with longer term standards but does not address timing issues. Treasury yields are expected to continue at very low levels and have the potential to go lower given the Federal Reserve's intentions to buy long-term Treasuries while the MLP yield could rise further in an unsettled economy. These charts reinforce the two key investment characteristics of MLPs. They have excellent records of growth and high current yields (with tax advantages).

Below are some of the largest MLPs with histories of raising annual distributions and no distribution cuts. High yields are substantially above competitive yields on alternative investments and offer tax preferred treatment. Enbridge Energy Partners (NYSE:EEP) and Kinder Morgan Energy Partners (NYSE:KMP) each have stock corporations (Enbridge Energy Management (NYSE:EEQ) and Kinder Morgan Management (NYSE:KMR), respectively) which allow investors to receive yields from stock dividends (again with tax advantages) and participate in investment growth. Growing distributions should bring capital appreciation.

4 Leading MLPs
| | |
| --- | --- |
| MLP | Yeld |
| Boardwalk Pipeline Partners (NYSE:BWP) | 8.2% |
| Enbridge Energy Partners (EEP) | 7.8% |
| Kinder Morgan (KMP) | 6.7& |
| Enterprise Products Partners (NYSE:EPD) | 6.0% |
Economic conditions for more energy infrastructure are still in place. A major announcement was made last week by EPD and EEP for a new pipeline to transport crude oil from the oversupplied hub at Cushing, Oklahoma, to the Texas Gulf Coast refining complex. The Wrangler Pipeline will transport up to 800,000 barrels of crude oil per day from Cushing and will be priced at a substantial discount to oil imports that account for most of the supply used by Gulf Coast refiners. The proposed 36-inch diameter pipeline will originate at the EEP Cushing Terminal (oil brought from Canada) and extend 500 miles to the EPD oil storage terminal in southeast Texas.

If prices continue to fall, lower prices on MLP units raise already high yields. Distributions are expected to keep rising, irrespective of ups and downs in the stock market. Long-term investors will be attracted to MLP growth records which should do even better when distributions are reinvested.

Disclosure: I have no positions in any stocks mentioned, and no plans to initiate any positions within the next 72 hours.