For a couple of sessions last week it looked like we were seeing the light at the end of the tunnel. The G20 finance ministers met in Washington D.C. and reiterated their commitment to solve the euro crisis. Even Tim Geithner came out and expressed his confidence that the Europeans will act with "force" to prevent the looming disaster.
The equity markets took these statements as an iron-clad commitment by the G20 to save the eurozone and the markets rallied as a result. French banks jumped 18% in two trading sessions and it looked like we were seeing the light at the end of the tunnel. But reality quickly set in that -- despite political and regulatory resolve -- the problems in Europe are much more entrenched, much more complex and will take much more coordinated effort and action to resolve. The markets were saying: commitment to solving this problem is not enough -- we have lost confidence in your commitment to solve this problem.
As a result, the broader markets are down for the month, down for the quarter and down for the year. The S&P 500 is down -6% for the month of September, -10% for the quarter and -15% for the year. So where can you find safety?
What about the banks?
A lot of commentators have come out in favor of owning U.S. banks vs. European banks. Their argument is that the U.S. banks are better capitalized and don't have exposure to Greek sovereign debt, at least not to the extent of French, German or British banks. If you followed the advice of these commentators and owned the common shares of top U.S. banks you would be down anywhere between -44% and -55% for the year.
If you owned Goldman Sachs (NYSE:GS) you are down -44% YTD.
If you owned Morgan Stanley (NYSE:MS) you are down -50% YTD.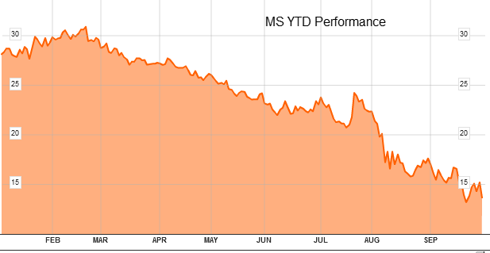 (Click to enlarge)
If you owned Bank of America (NYSE:BAC) you are down -55% YTD.
So the U.S. banks can't provide you safety. That's because if (or when) Greece goes down it doesn't matter if Morgan Stanley doesn't own Greek sovereign bonds or if Bank of America doesn't have commercial Greek deposits. The financial system is so interconnected that the U.S. banks will be impacted.
If Greece goes down, this will create a cascading series of sovereign defaults -- make no mistake about it. Portugal, Ireland, Spain and Italy (in that order) will most likely not be able to borrow on the open market -- and that may create a domino effect that will make the Lehman-Merrill-AIG-GM-Madoff chain of events look like child's play. Why? Because we're now talking sovereign debt defaults in one of the world's top economic zones. (This is an interesting article by Gonzalo Lira about the chain reaction after a Greek default.)
What about gold and precious metals?
I've been one of the biggest advocates of owning gold as a margin of safety and as a preservation-of-capital tool. I went on record in 2006 and recommended to begin accumulating gold -- at the time you could still purchase one ounce of gold for under $500.
If you've been owning gold since that time, then hold on to it for dear life! If you began accumulating 3 years ago, then hold on to it for dear life! If you are thinking about buying gold now -- take a deep breath and hold on.
Even though gold is a solid long-term buy in my opinion, you want to make sure that you get in at the right price and, right now, I'm not convinced that this is the best entry-point. We saw gold, for the first time in several quarters -- and certainly the for the first time all year -- get caught up in the global deflationary spiral. On September 22, 23 and 26 (Thursday, Friday and Monday) we saw a frightening drop in gold prices.
Now we can argue that the gold sell-off was a result of margin calls, profit-taking or forced-selling but the jury is still out on what's next for gold. We have now entered a period where gold could break down and drop to 1500, 1400 or even lower; or it could rally back up to 1800 or 1900. I need more data points to determine where gold will be heading after this consolidation phase. Therefore, I don't suggest initiating a long position in gold at this very moment.
Also, if we have a repeat of 2008 where Greece is the next Lehman, Spain is the next AIG, etc then it will be difficult to determine where gold will be heading. Conventional theory says that gold -- as a monetary asset -- will see large inflows. However, that did not happen in 2008. When Lehman failed and created a global panic, gold got caught up in all the forced selling along with all the other asset classes; now that was a temporary sell-off and gold did eventually stabilize and see large inflows but, as I said, it's more prudent to have all the facts in before going long now.
And what about gold stocks? I'm a big believer in gold and mining stocks but right now is not the time to initiate long positions either. The biggest hurdle to gold stocks is that investors view them as stocks first and as a gold proxy second. They're trading at dirt-cheap multiples right now relative to intrinsic value and to physical spot prices but that doesn't mean that we won't see further downside.
As you can see while spot gold prices -- as represented by the SPDR Gold TRUST ETF (NYSEARCA:GLD) -- quickly recovered after Lehman went down, the gold miners -- as represented by the Gold Miners ETF (NYSEARCA:GDX) -- got taken down with the broader market and took slightly longer to recover.
Cash is King
If you own gold, then stick with it. But what other assets can provide you with safety? The U.S. dollar remains the ultimate safe haven in times of crises. As pedestrian as it may sound, cash reigns supreme, especially in times of major turmoil. If we see a repeat of 2008 -- and many believe the whole notion of a "double recession" is foolish since we've been in one prolonged recession since 2008 -- then you want to be in cash.
The Brazilian Real (BRL) is a good indicator of dollar strength. Take a look at how the greenback performed relative to the BRL during the heart of the crisis in 2008. Also, notice how September's spike relative to the BRL is reminiscent of 2008.
Go Long Utilities
One of the ultimate defensive plays in my opinion remains the boring but reliable utilities. In good times or bad, you can rely on utilities -- especially electric utilities -- to provide you with a steady stream of cash and a relatively solid margin of safety for capital preservation.
You have several quality names to choose from such as Dominion Resources (NYSE:D), Southern Company (NYSE:SO) or even Portland General (NYSE:POR). While these are all terrific options, I personally like Con Edison (NYSE:ED). If you've ever lived in New York, then you're familiar with ConEd. ConEd won't be going out of business anytime soon, and it has a large economic moat and a well-heeled clientele and pays a steady stream of dividends.
With a $15 Billion market cap, you're getting above average Return on Assets of over 6%, and you're getting a solid dividend yield of 4.2% -- that's a greater yield than the 30-Year Bond! In addition, in times of crisis you can rely on this utility for capital preservation. Check out how ConEd has performed relative to the S&P500 over the last 5 years.
Even during the 2008 financial crisis While the S&P500 was down 30% from the day Lehman went under until the end of the year, ConEd was down slightly under 4% -- and was still paying out a large dividend.
Therefore my Top 3 recommendations to weather another financial crisis are cash, gold and utilities.
Disclosure: I am long GLD.