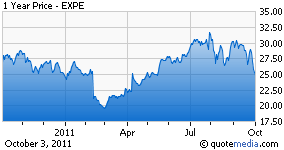 With a 21.7% discount to its 52 week high and strong fundamentals, Expedia (NASDAQ:EXPE) appears at first to be an attractive value play. The stock trades at 16.5x and 11.6x past and forward earnings, respectively, which is well below top competitor Priceline.com (PCLN). At the same time, the stock only offers a dividend yield of 1.1% and is currently rated by analysts more towards a "hold" than a "buy." I expect that the company will slightly outperform the market in the next five years and is a safe investment for those afraid about a double dip.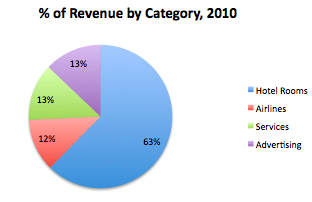 The travel industry is relatively more recession proof than what the market has acknowledged. Travel sales are expected to increase by around 5% annualized over the next six years or so, with solid growth amongst all categories relevant to Expedia: hotels, airlines, and online services. Travel revenue grew 3% last year and is expected to incrementally increase over time.
As the industry grows, Expedia is well positioned to win the lion's share and gain market share. It is currently the global leader of OTA, which is crucial for the travel industry. Suppliers want access to more customers and customers want cheaper rates, so suppliers slowly cut back rates for Expedia and the savings is passed partially onto the consumer. This positive feedback loop will weed out of much of Expedia's competition, since the firm has better negotiating power over suppliers with its strong customer base.
Expedia is also well diversified abroad, reaching out to more than 200 nations. Approximately 33.3% of its revenue came outside of the United States and this figure is expected to experience strong growth in the years ahead. Expedia owns 55% of eLong, which gives it nice exposure to Chine, and Venere. With a growing population and increased wealth in China, Expedia has done a phenomenal job in building an international brand for long-term value creation.
By offering hotel reservation services with airline ticket deals, the company also faces the tremendous upside that success in one category will drive success in another category. The opposite, that failure in one category will result in failure in another, does not have nearly as significant of an effect, thus providing for favorable risk/reward. Towards this end, Expedia holds a variety of strong brand name entities -- Expedia.com, Hotels.com, Hotwire.com, eLong, among others -- to unlock revenue synergies.
Improvements in technology and a spinoff of TripAdvisor will further benefit the firm by improving margins and growth opportunities. Online usage is increasing globally and Expedia is becoming more popular among travel agencies in the process. I expect this trend to continue over the next decade and that Expedia will not face as much competition as the market has anticipated, especially in regards to Google. By spinning off TripAdvisor, Expedia made a step in the right direction to clarify its core business.
Consensus estimates for EPS are that it will increase by 19.5% to $1.95 in 2011 and then by 13.8% and 15.3% in the following two years. I forecast growing by 19.5% to $4B in 2011 and then by 11.4% the following year.
Disclosure: I have no positions in any stocks mentioned, and no plans to initiate any positions within the next 72 hours.