When I think of Visa (NYSE:V) I think of plastic. Do you all remember the advice given to Dustin Hoffman in the Graduate? One word: Plastics. Plastics in the form of credit and debit cards have never been more popular and I think all four of the biggest card companies will have record years. Although Visa and other credit card companies are mirrors of consumer spending, the effect is amplified as more and more consumers across the globe turn from cash to plastic to complete a consumer transaction. Right now might be a good time to buy Visa in light of the recent dip in price as this Barchart hourly trading graph shows over the last month:
Click to enlarge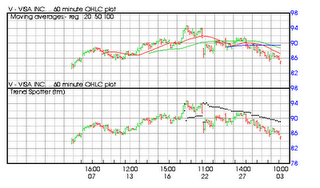 Visa operates the world's largest retail electronic payments network and is one of the most recognized global financial services brands. Visa facilitates global commerce through the transfer of value and information among financial institutions, merchants, consumers, businesses and government entities.
Factors To Consider
Barchart technical indicators:
Technical sell signals can be signals to buy into stocks that have been on your watch lists if the fundamentals are positive
8% Barchart technical sell signal
Trend Spotter hold signal that is becoming bullish
Trading below its 20 and 50 day moving averages but still above its 100 day moving averages
Although the stock is 9.53% off its one-year high that compares favorable to the market as measured by the Value Line Index which is off over 28.03% from its one year high
Relative Strength Index is 43.98%
Barchart computes a technical support level at 83.83
The stock recently traded at 85.22 which is below its 50 day moving average of 86.38
Fundamental factors:
Wall Street brokerage analysts predict revenue will increase by 14.20% this year followed by another increase of 10.00% next year.
Earnings consensus is for an increase of 23.70% this year, another 14.90% increase next year and remain positive with a annual increase of 19.29% over the next five years.
These forecasts resulted in brokerage analysts publishing 17 strong buy, 10 buy, four hold and no negative recommendations.
Some things have to happen for these forecasts to be met.
Swipe fee regulation and how the banks and public respond are expected to be non-events.
Overseas markets in Latin America, Europe, the Middle East and Africa are expected to have growth in big double digit numbers.
In the future smart phone apps may replace physical credit cards and Visa will have to adapt to that technology.
General investor interest:
I look to the readers of Motley Fool to gauge what the individual investor is thinking and 4,875 readers have given an opinion on this stock.
Readers voted 95% that the stock will beat the market.
The more experienced and savvy All Stars agree with a 94% vote for the same result.
Competitors and sector leaders:
Although Visa is down recently it and all its competitors have been up in the past year with Visa (
V
) up 14%, American Express (NYSE:
AXP
) up 17%, Discover (NYSE:
DFS
) up 35% and Mastercard (NYSE:
MA
) up 40%.
Click to enlarge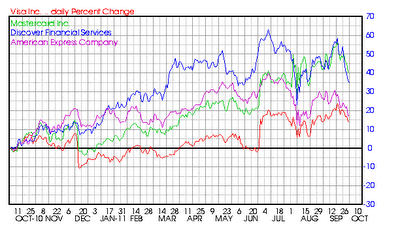 Visa is a member of SIC 7389 Services - Business Services NEC sector and several of the sector members have had great years: Food Technology Services (NASDAQ:VIFL) up 145%, Liquidity Services (NASDAQ:LQDT) up 96% and Keynote Systems (NASDAQ:KEYN) up 88% in the last year:
Click to enlarge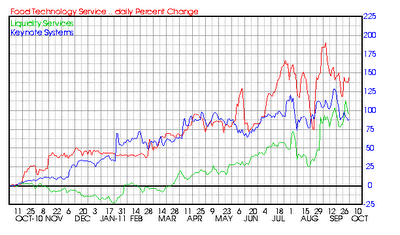 Summary: Based on the recent market dip and the double digit analysts projections of robust double digit increases in both revenue and earnings, I think now is a great time to enter Visa into your portfolio. Volumes are bound to increase as consumers spend less cash and swipe more plastic. In the long run, although consumers will be vocal about fees in the end they will just keep swiping away.
Disclosure: I have no positions in any stocks mentioned, and no plans to initiate any positions within the next 72 hours.