The final week of the quarter began optimistically, but ended with a thud, as month and quarter end window dressing failed to materialize and lift the markets. The stock and commodity markets saw their worst quarterly performance since Q1 2009, while the Treasury bond market soared. Let's break down the numbers.
Perspective
Stocks: The S&P 500 was nearly flat on the week, posting a fractional loss, and the Dow Industrials actually managed a gain of better than 1%, but these figures don't tell the story. The market was building what looked like a second day of gains Tuesday, but reversed course in the afternoon, leading to selling on Wednesday and Friday. On the positive side, volume on the down days was lower than the up days. However it is always disappointing to close out a month and quarter on weakness. The S&P and several other broad market indexes finished near the bottom of the two month range.
Major overseas markets were mixed, as some of the most oversold foreign indexes recovered ground, particularly in Europe: the DAX Composite and CAC 40 were both up roughly 6%, the Dow Italy over 8%. Other winners included the South Korea, up better than 4%, Australia, up over 2%, and the Nikkei, FTSE, TSX, Moscow and Bombay, all gaining more than 1%. On the losing side were Brazil, Hong Kong and Shanghai, all making new year to date lows on a closing basis.
Bonds: The Treasury curve flattened further in the "Operation Twist" era as short term rates rose sharply, while long rates inched up. Heavily overbought bond prices fell across the board: conventional Treasuries and TIPs, investment grade and junk, munis - all sold lower. Junk in particular was hard hit, dropping nearly 3% and closing at the lowest levels in more than one year.
Commodities: Like bonds, commodities of several varieties sold off: energy, grains, industrial and precious metals all finished lower. Among the few winners: lean hogs, live cattle and sugar. Corn and copper closed at 52 week lows, oil and natural gas at year to date lows. The broad CRB index ended the week under 300, a support level that held through much of 2006 and 2007, prior to the massive 2008 rally.
Currencies: In the fourth week of a break out, the U.S. Dollar index is finding steady resistance at 79, and appears to be forming a new range between 77.5 and 79. The euro fell below $1.34, while the Aussie and loonie went to new year to date closing lows against the greenback. Sterling, which had gone to a new low the previous week, recovered some ground but had given back much of it by week's end. The Swiss Franc appears to be finding support at $1.10 and diverging slightly from the euro in spite the SNB's peg policy. Yen pulled back to the support line coming off the April bottom.
Outlook
We received some modestly positive economic data in the form of initial unemployment claims under 400K, and better than expected Chicago PMI and Michigan sentiment. Case-Shiller (July) and pending home sales (August) also were above consensus – though still negative. However the contraction in durable goods orders seemed to have spooked a market that is beginning to believe that a recession is imminent.
Stocks: The U.S. stock market is back near the bottom of the two month trading range. However there are some causes for concern. First, several leading stocks such as Green Mountain Coffee (NASDAQ:GMCR) and Lululemon (NASDAQ:LULU), which had been holding up well, are showing signs of breaking down. Second, the techs stocks and especially the semiconductors, which had given us some encouragement by rallying just a couple of weeks ago, have given back most of those gains as several companies have lowered their forecasts. Finally, the Dow transports and small caps are leading the market down. Although we see some bargains in the market, and we may be just fine in the long run if we start buying into positions here, the market just isn't acting well and the risk of a significant drop is too great for comfort.
Kurt Brouwer captured the equity investor's dilemma very succinctly a few days ago: either the market is really cheap, or forward earnings estimates are too high. It's difficult to say with a great deal of assurance which is correct, but the lowered guidance we are seeing from chipmakers such as Altera (NASDAQ:ALTR) and Freescale (NYSE:FSL), and others such as FedEx (NYSE:FDX), Ingersoll-Rand (NYSE:IR), and Arch Coal (ACI), is weighing on the markets. However we aren't seeing an avalanche of downward revisions, and recession is not a foregone conclusion, so we shouldn't be overly pessimistic.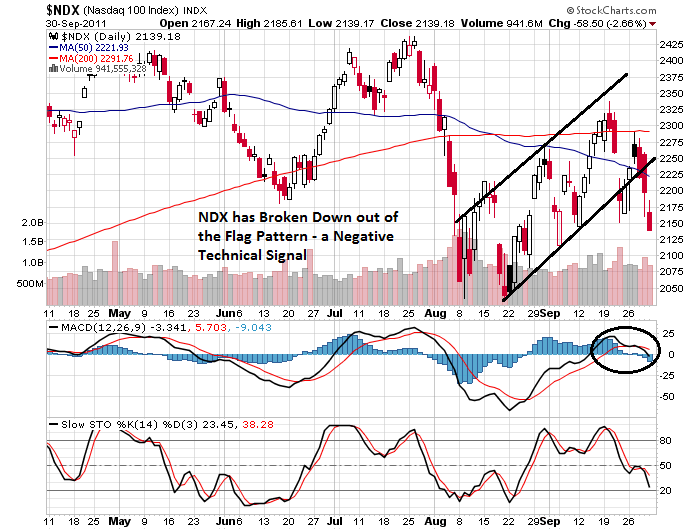 (Click to enlarge)
Finally, there can be little doubt that in the short run the market is over-reacting to every story coming out of Athens, Berlin and Brussels. Where does this leave us? Unfortunately, right where we've been for months now - mostly on the sidelines in cash. We still see stocks we want to own, the prices are reasonably attractive, but we still aren't comfortable entering the market just yet. So we continue to watch and wait.
Bonds: Here we are on the other side of the dilemma: fully invested in our fixed income allocations, and growing increasingly uneasy about the forward prospects. Yields have tumbled farther than we ever expected, and we are sitting on some handsome capital appreciation. It is tempting to sell high in the expectation of buying back lower at some future point but the question is what to do with the proceeds. In our total return portfolio we are holding munis that we still like but the TIPs may have to go. In the income portfolio we are standing pat because we still have better yield on cost than what would be available today, and because we need to generate current income.
In fixed income, as with equities, we find ourselves handicapping the probabilities of recession in the U.S. - and more importantly, whether the markets have already priced it in – and a euro zone meltdown. The most reliable recession forecasting tool, the yield curve, has been rendered ineffective by ZIRP. The curve was flattening sharply even ahead of the Fed but cannot invert with short rates pinned to the mat. ECRI has gone on record with a recession call, but I'm not sold. The outcome of the European debt crisis is anyone's guess. I really don't have an answer on either of these, but my take is that a lot of very bad outcomes are priced into the bond market, and the risk of falling bond prices is significant if the worst doesn't come to pass.
Commodities: As with equities, commodity prices are starting to look attractive, but as with equities, at this point you would be grasping at falling cutlery – never a very good idea. Technically, the CRB index has already broken a key long term support level, and West Texas Intermediate has broken near term support at $80. However they have not crashed right through. The coming weeks will be very telling. If commodities are able to find support, broad basket ETFs from PowerShares (NYSEARCA:DBC), Barclay's (NYSEARCA:GSG) and Unites States Commodity (NYSEARCA:USCI) will present reasonable opportunity. If not there could be much farther to fall. A key factor will the movement of the U.S. dollar, which brings us to ...
Currencies: The dollar has been the beneficiary of safe haven demand amid the European financial crisis, but a number of macro developments are also at work here. As weak as the U.S. economy seems from inside the U.S., there are even larger growth concerns in other developed markets, and emerging markets are seeing capital outflows as well. It may be difficult to believe for those who are hearing the constant noise in the U.S., but we must remember that a great deal of it is political and does not very well reflect the economic fundamentals. Dollar strength is likely to continue, and likely to keep pressure on commodities, and perhaps on equities as well.
Disclosure: I have no positions in any stocks mentioned, and no plans to initiate any positions within the next 72 hours.