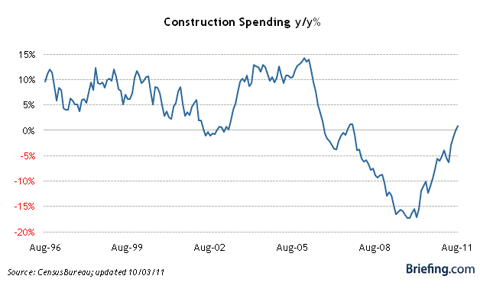 Click to enlarge chart
The market continued its downward spiral, retesting the August lows today but holding the crucial 1100 level on the S&P 500. The market is at a testing point right now, and what worries us is whether or not we have enough to catalyze this market. More than ever, quarterly earnings may be asked to be that which helps lift the market out of its current malaise. This week, though, may continue to be pretty rough without some relief out of Europe as fear continues to drive our market in every way.
The big news for the market today was mixed between some decent economic data on the home front and fears over the latest Greek news that the country may not be doing enough cutting to lower its risk of defaulting on debt. On the other hand, we got good news out of construction spending this morning as well as ISM Services. Construction spending came in at a 1.4% increase versus expectations for a 0.5% drop. The ISM Manufacturing Index came in at 51.6 vs. consensus estimates for 50.5. Overall, it was a nice day of data, but fears over Europe and American Airlines (NASDAQ:AMR) ruled the day.


The big company news today was a run on AMR that dropped the stock more than 30% as union workers may have grown fearful of a potential bankruptcy among a run of retirements from pilots. Upgrades and downgrades were mixed, but some key downgrades fueled downside as well as Gap (NYSE:GPS) got slashed to Hold by KeyBanc Capital. Citigroup downgraded United Airlines (NASDAQ:UAL) and US Airways (LCC) as well. Barclays went on a PT slasher, cutting targets on 12 companies. Don't forget how much effect analyst price cuts can really have on a sector.

Despite the hard times, we had another good day here as we entered the day shorting Ruby Tuesday (NYSE:RT), which we were able to pull a 5%-plus gain for the day. We also did well with a short pick up this morning in Delta Airlines (NYSE:DAL) that we made 6% on intraday.

We are also holding a McDonald's (NYSE:MCD) Bull Put Spread for October that is back to neutral. We may add more to it if we do not fail the August lows. We also added a weekly Bull Put Spread on Apple (NASDAQ:AAPL) as we expect positive reaction from the new iPhone 5 tomorrow.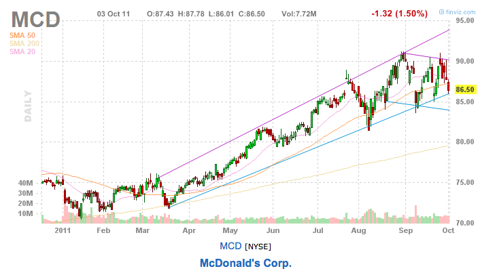 Moving into tomorrow, we are at a key testing point in the market. On one hand, we have a lot of headwinds out there right now, but we are also at key technical levels. Another round of economic data that is positive tomorrow could give us some breathing room, but we will need Europe to help. A key rate decision from the ECB and announcement from BOE on Thursday may be the first chance to get Europe going, however. It's easy to be bearish right now, and those are the times we miss something and surprises happen, so you have to be on your toes.
Here is what we are watching:
Oil - Oil got slashed and hit its lowest price since 2010. The $77 area has been a really strong bottom for oil, and it too is at a breaking point. Going long here could be very profitable, but a breakdown past 77 could mean oil is headed for 70. A breakdown should be shorted, and a pop may take us back to 85. We expect something volatile in either direction. We would use Ultra Proshares DJ-UBS (NYSEARCA:UCO) or the inverse version in SCO to play it.

Paychex (NASDAQ:PAYX) - The chart on PAYX is looking technically to be signaling a buy. The stock has a very strong multiple bottom at $25, and the stock is trading just above it right now. This line has been pretty solid, and we would expect a pop back over $27 on a couple good market days. The stock has been very rangey between the 25-27 area. You have to pick it up at one extreme to make money on this one and be patient with it.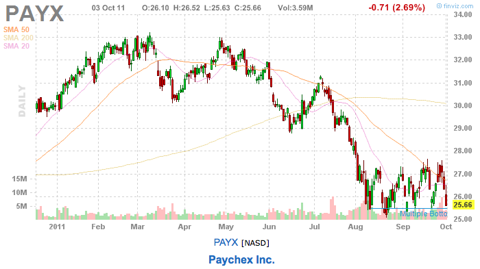 American Eagle Outfitters (NYSE:AEO) - The company broke its 50-day MA today, and they now have only the 20-day MA holding the stock up before falling into an abyss back to the August lows back at around $10. The stock has done well in the past month due to some good fundamentals, but with these technicals starting to look very weak, this stock could be primed for a major breakdown further. If the stock fails its 20-day, we would be shorting.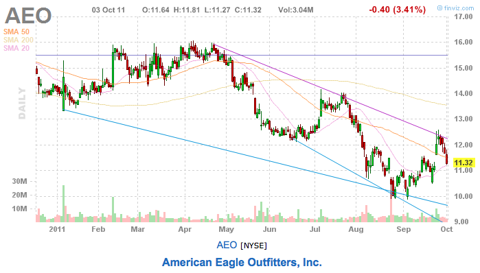 Disclosure: I am long MCD, AAPL, COST.
Additional disclosure: We may initiate a short on AEO and oil in next 72 hours. We may initiate a long on oil and PAYX in next 72 hours.