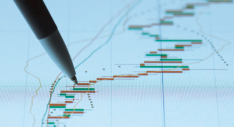 Exchange traded funds that invest in high-yield corporate bonds fell to new 52-week lows on Monday, which is a discouraging sign for equities ETFs as "junk" bonds have been a fairly reliable leading indicator for the stock market.
The iShares High Yield Corporate Bond (NYSEArca: HYG) and SPDR Barclays High Yield Bond (NYSEArca: JNK) were in the red Monday, dropping to the lowest levels in a year.
The junk bond ETFs have fallen since they created a so-called bear cross in September when the 50-day moving averages crossed below the 200-day averages.
"If history is any guide and the high-yields continue to give leading edge signals, this breakdown is not a bullish sign for stocks and the economy," wrote Chris Kimble at Kimble Charting Solutions in a recent blog post.
Junk bond ETFs have skidded recently as investors bid up Treasury bonds and push yields lower. Bond prices and yields move in opposite directions. Yields on the 10-year Treasury note fell below 1.9% on Monday.
"Investors became so nervous in the past two months that they're not willing to gamble on risky junk bonds anymore — despite the lucrative promise of high yields," CNNMoney reported Monday.
Tilting to investment-grade corporate bonds rather than the high-yield sector is one step investors can take to protect their portfolios from a double-dip recession.
SPDR Barclays High Yield Bond