We think the contract research organization (CRO) industry has turned a corner, as evidenced by a resurgence in new business activity and revenue growth over the past few quarters. The second quarter marked the first period since the beginning of the drug-development slowdown that the industry saw widespread top-line growth. The emergence of the strategic partnership model, which has seen the world's largest drug makers pair up with leading CROs as long-term research and development partners, has helped fuel this return to growth in the industry. While these dynamics bode well for the major players' long-term growth and profitability, an unusual amount of projects in startup mode may weigh on results in the near term. However, considering the compelling value proposition the CRO model offers, we expect drug makers to outsource an increasing portion of their research and development budgets to a select group of preferred providers. We think the industry's leading players--with their global scale and service breadth--have dug themselves narrow economic moats and will benefit from these trends over the long run.
Strong revenue and backlog growth indicate a CRO recovery is in full swing. For the first time since the beginning of the drug-development slowdown in 2009, all the CROs in our coverage universe turned in top-line growth on both a sequential and year-over-year basis (with the exception of Charles River Laboratories (NYSE:CRL), which saw flat sales compared with the second quarter of 2010). Covance (NYSE:CVD) and Pharmaceutical Product Development (NASDAQ:PPDI) were the biggest top-line gainers during the quarter, which we think attests to the growing importance of incremental revenue derived from new strategic alliances. As the two largest publicly traded CROs, Covance and PPD boast a wide range of services and formidable central laboratory capabilities that have helped them land lucrative contracts with some of the world's largest drugmakers.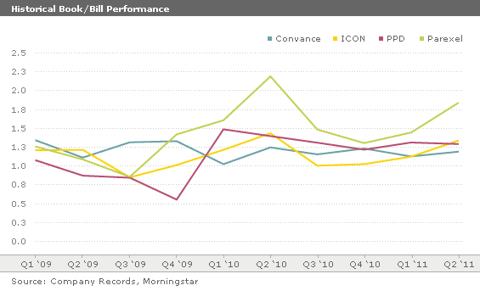 We expect growth in the CRO industry to continue to accelerate going into 2012. Firms continue to turn in book/bill ratios of at least 1.0, with Parexel (NASDAQ:PRXL) leading the pack during the second quarter with a stellar 1.8 ratio. A high hit rate and low cancellations seem to be the primary drivers behind Parexel's stellar new business wins during the quarter. Additionally, strategic partnerships, which until now have been mostly in a loss-driving start-up mode, are gaining traction and starting to benefit the company's bookings numbers. For instance, Pfizer (NYSE:PFE) recently named Parexel as one of its two primary contract research providers (in addition to ICON (NASDAQ:ICLR)), and the firm expects at least $200 million in additional annual revenue from the deal. Management also noted an uptick in activity from clients in the small and emerging biotech market, which we think signals that a large amount of the uncertainty surrounding the drug-development industry has dissipated. Strong new bookings are a testament to our thesis that drug makers are beginning to unfreeze their pipelines and limit cancellations, as evidenced by a 15.2% increase in total industry backlog over year-ago levels.
Strategic investment requirements limit firms' ability to translate top-line gains to the bottom line. We think strong bookings and a string of new strategic deal announcements bode well for future growth. A combination of revenue gains from established partnerships, extensive cost-cutting measures, and robust share buyback programs led to robust EPS growth for industry leaders like Charles River, Covance, and PPD during the second quarter. However, resource buildups to support recently signed partnerships, which require substantial new costs without an immediate increase in compensating revenue, have weighed on earnings for some firms. Despite revenue growth on both a sequential and year-over-year basis, Parexel's adjusted earnings fell steeply from the prior-year period as up-front investment in staff and infrastructure in anticipation of future demand weighed on earnings. We believe the firm's earnings hit a low point this quarter (fourth quarter of fiscal year 2011).
We also think profitability will improve starting in fiscal 2012 as strategic partnerships mature, productivity improves, and restructuring initiatives begin to bear fruit. Similarly, although ICON's earnings were flat on a sequential basis, year-over-year operating income declined sharply from the prior-year period. Two culprits are behind ICON's near-term earnings pressure: the firm's underutilized central lab business and its continued investment in the Asia-Pacific region. However, we expect these constraints to dissipate soon, allowing ICON to fully participate in the recovery that most of its peers already have begun to experience. We expect revenues to pick up in the fourth quarter and grow meaningfully into 2012, allowing leverage benefits to return ICON to double-digit operating margins next year.
The CRO Industry remains undervalued; M&A activity could provide additional upside to shares. Overall market uncertainty has pushed shares of CROs back to depressed levels. The industry now trades at a greater than 25% discount to our fair value estimates, and all the firms we cover in the sector carry our 4-star or 5-star rating. While we think the entire industry is attractively valued, ICON and Charles River trade at the steepest discount to our estimate of their intrinsic value, and these two names represent our best ideas in the space. Both firms stand to benefit from significant industry tail winds, and we think these names will see both earnings and multiple expansion in the coming quarters. ICON's earnings growth is set to accelerate beginning in 2012 as central lab revenue and capacity utilization improve. Demand normalization and capacity reduction should help Charles River return to top-line growth in 2011, and we expect earnings to fall near the top of management's guidance range as revenue is spread over a leaner cost base. We expect ICON and Charles River to yield high-single-digit revenue growth during the next five years as the firms benefit from an industry-wide shift toward drug-development outsourcing.
Finally, a recent flurry of acquisition activity in the sector could provide additional upside for CRO investors. PPD's shares have risen sharply on reports that the firm was putting itself up for sale. We think a private equity firm would be the most likely buyer for PPD, and Carlyle Group is reported to be in talks to acquire the firm at a price right around our fair value estimate. Private equity firms have historically demonstrated a strong interest in the sector, which has been out of favor in the market for some time and ripe for restructuring efforts. Industry giant Quintiles was taken private in 2003 by a team consisting of the firm's founder and a private equity group. We think this type of buyout scenario would make the most sense for PPD, given the active role that founder Fred Eshelman retains in the company. As the only CRO to pay a dividend, and with no debt on its balance sheet, PPD is on strong financial footing. We think the firm's clean balance sheet could allow buyers some flexibility with regard to financing options for the firm.