Every time I turn around I see articles pop up on Seeking Alpha and elsewhere addressing low-priced stocks from every angle under the sun. Many of these pieces focus on sub-$5.00 stocks and suggest to readers that these names have tons of "upside potential." In fact, some authors even argue that a double will occur within some specified time frame, often a year or so.
While I have made a dime or two on low-priced names, I've also gotten beaten up by more than a few. Over the years, I've come to believe that you're better off buying 10 shares of a $400 stock like Apple (NASDAQ:AAPL) than 2,666 shares of a $1.50 stock like Sirius/XM (NASDAQ:SIRI).
Granted, what follows is a quick and dirty analysis, but I think it's useful. It serves as, if nothing else, a reminder to consider the psychology that might take hold in your brain as you click on another story promising huge returns on sub-$5.00 securities.
Using FINVIZ.com, I screened for U.S. stocks priced under $5.00 with average volume of over 1 million and market caps of over $2 billion. Click the tables below to enlarge the results, which consist of 12 stocks: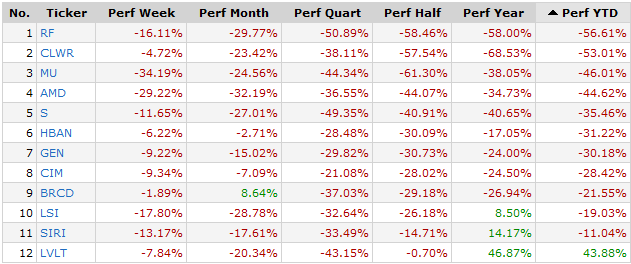 I ran the same screen, but for stocks priced over $100. Here are the top 12 names (out of 29) in terms of YTD performance: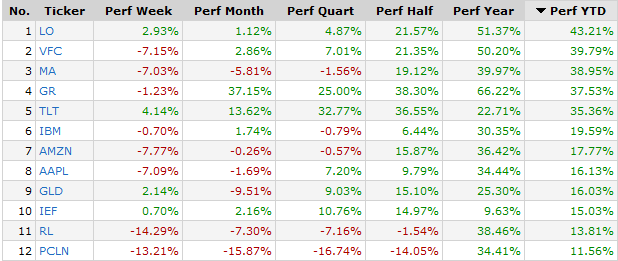 And the bottom 12: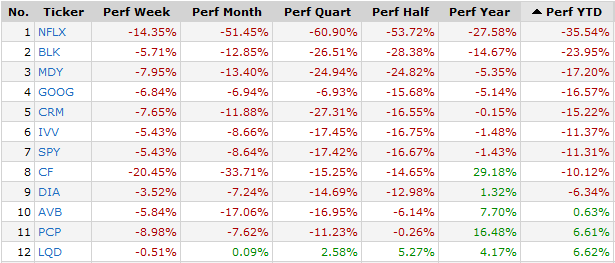 Because they trade like stocks and provide a good view of overall market conditions as well as what's happening within a niche, I did not filter out ETFs.
Of course, it all comes down to stock-picking. If you opted for Netflix (NASDAQ:NFLX) and BlackRock (NYSE:BLK) in the over-$100 pile, you have not done all that well. Along similar lines, you would have gotten annihilated had you, about a year ago, clicked on a sub-$5.00 stock article, proceeded to run a scan for big companies with low stock prices, and picked up 1,000 shares of each.
Without a doubt, psychology comes into play. It feels pretty good to click "BUY" on an order of thousands of shares as opposed to one for just 10 shares. This is not to say that true bargains under $5.00 (or some other arbitrary level) do not exist. It's merely a note to say proceed with caution, and realize that there's usually a reason why a company like Apple trades closer $400 and one like Sirius XM trades closer to $1.50.
Disclosure: I have no positions in any stocks mentioned, and no plans to initiate any positions within the next 72 hours.