It is unclear to me how this company has managed to survive and even more surprising that a borrow is readily available on the stock. The name of the company is Hastings Entertainment (NASDAQ:HAST). It's a brick-and-mortar retailer with 147 stores scattered across secondary markets of the Southwest and mountain states. Books, DVDs, CDs and video games account for 85% of sales. As you can probably imagine secular decline has been eroding operating margins (from 8.7% in 2006 to 3.1% LTM) and pressuring sales (5 consecutive years of SSS decline). In the face of all this, HAST has been levering up to open new stores. With negative cash flows and an overextended balance sheet, HAST's equity is likely going to get wiped out even if consumer spending improves meaningfully, yet the stock trades at 11.7x LTM EBITDA.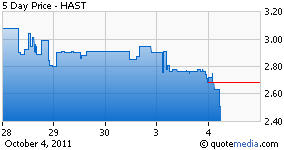 Business
I am not sure one could pick a more challenged area of the retail segment than the categories in which HAST competes. The company's largest sources of revenue come from books, DVD and CD sales (22%, 22% and 12% of sales, respectively). Secular trends to e-books, MP3 and streaming movies compounded by increasingly aggressive pricing from Amazon (NASDAQ:AMZN) are accelerating the decline in HAST's margins. LTM EBITDA margins have declined 50% to 3.1% from even the depressed levels of the 2009 downturn. If shipping is included, the top 20 bestselling book titles at HAST are still on average 30% more expensive than AMZN. As Borders (OTC:BGPIQ) and many others have found, the company simply cannot compete. Its movie rental business accounts for 27% of gross profit, contributing disproportionately to earnings. Comps in this line have been declining for the last eight quarters (-15% in Q2). This is troubling because of the high fixed cost nature of the rental business.
The company possesses no discernible competitive advantages. Internet competition aside, big box retailers with significantly greater regional economies of scale offer very similar products. Hastings' future is very bleak, particularly so when middle market consumer spending continues to be pressured. Despite all these headwinds, the company feels it rational to expand. HAST has opened three new stores so far in 2011, and has indicated it plans to continue growing its store count in 2012.
Management has been systematically selling shares. Chairman and CEO John Mamaduke has sold over 200k shares so far in 2011, and his brother Stephen has sold over 100k shares. Not a strong endorsement of the company. This selling program will likely continue to pressure the stock.
Valuation
HAST has an EV of $168.7M with a market cap of $24.3M (86M s/o) and net debt of $168.7M ($46M drawn on its revolver, $130 in non-cancellable lease obligations capitalized at 10% and $7.3M in cash). The company recorded LTM EBITDA of $15.6M (EBITDAR of $40.6M, EBITDA-capex of $0.9M), equating to an EV/ EBITDA multiple of 12.4x and an EBITDAR-capex multiple of 7.5x. These multiples are only going to increase over the next quarters as cash is consumed and EBITDA declines. Even in a strong recovery scenario of $25M EBITDA, HAST would still be trading at 7.7x. If an industry multiple of 7x were applied to full recovery EBITDA the implied value of the equity is $0.70 per share (75% below the current share price).
Valuing the company as a going concern is limited given the scenarios HAST faces. On the basis of salvage value, the equity gets wiped out when inventory and fixtures are discounted 40% (a modest level in liquidation). This even assumes no future contractual lease obligations or cash burn ($7M NWC + $32M PP&E - $39M net debt = $0 equity).
Outcome Catalysts
HAST is levered with a debt/ EBITDA ratio of 3x and an interest coverage ratio of 0.8x. In the last four quarters, inventory has been growing, while sales have been declining. HAST now only turns its inventory twice a year, leading to high working capital needs and a worsening cash-flow profile. Add declining margins and capital expenditures and you have a business that is unsustainable. If vendor financing terms are tightened or Bank of America (NYSE:BAC) reduces its credit line, the company will be insolvent overnight. HAST is in much worse fiscal shape than it was going into the last downturn, so any further economic contraction would accelerate the endgame.

Disclosure: I am short HAST.