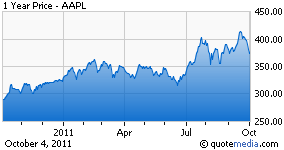 What stage of the quarter are we in?
This market returns to its pre-earnings climax of fear like a dog who returns to his own vomit. Wall Street is reacting to Greece for the 16th time. Even the boy who cried wolf was only able to generate a couple of reactions. Are investors so stupid as to freak out at the end of every single quarter? It appears the answer is yes. A resounding yes. It has happened each quarter of 2011, at the exact same time.
Let's take a look at Apple's precedent of performance during the month leading up to a 2011 earnings reports. Apple reported earnings on April 20th, on April 18th the stock was down 12.8% to $320 from its March high. Then Apple reported on July 19th which was preceded by a 12.9% sell-off down to $310 at the end of June. Now here we are in the midst of a 12.5% sell-off that has taken us from the September 20th $422 high down to $375. If you're feeling beat up it's because you are. A$50 sell-off over nine trading days will do it to you.
Why do these pre-earnings jitters continue to strike? It's because market fundamentals get swallowed up and forgotten by quarter's end. When we finally reach the final day of a quarter it means the media has gone about 45 days without any corporate earnings data. What does the media do without earnings data? It fills the airwaves with endless stories about Europe for three weeks which in turn kills consumer/investor confidence which in turn evolves into speculation about a double dip recession. We heard the double dip fears in April, then again in July, and now we're hearing them in October. Each time this happens we dig into the numbers, analyze the validity of the claims, and act accordingly. So let's review some actual facts regarding Europe and the U.S. economy:
1. The Wall Street Journal is reporting (click here) that the troika will remain in Athens until Wednesday but talks between the financiers and the Greek government have largely concluded. Under pressure from these inspectors, the Greek government disclosed late Sunday that they would take EUR6.6 billion in new austerity measures in 2011 and 2012 to bring the budget back on track with its goals. No decision on the next aid installment is expected until the troika finishes up on Wednesday. A meeting to approve the funding has been tentatively scheduled for October 13th. Greek finance minister Evangelos Venizelos was quoted as saying, "Given that we're taking such tough measures ... the sixth tranche is assured."
We remain of the view that the troika is taking Greece to the brink because they can. Greece has no major bond redemptions due until the middle of October and the troika used this as an opportunity to get as many concessions from the Greek government as possible. Nothing happens in the public sector unless someone's back is against the wall. Remember the U.S. debt ceiling negotiations? The next tranche of aid will be given to Greece because no country in Europe wants their own banks to experience contagion. At the very least, Thursday, October 13th should be a good day for the markets.
2. U.S. September auto sales came in better than expected. Chrysler sales climbed 27%. GM (NYSE:GM) sales were up 20%. Ford (NYSE:F) sales increased 9%. The increase in sales is the largest since April when Japan's tsunami crimped supply of parts and finished cars. Even Toyota (NYSE:TM) and Honda (NYSE:HMC) expect a Q4 return to normal levels of sales and production. The pent up demand for these cars will have a positive economic impact over the next three months.
3. The ISM manufacturing index rose to 51.6 in September from 50.6 in August. This report on manufacturing shows absolutely no sign of recession. The Chicago PMI rose to 60.4 in September from its level of 56.5 in August.
4. Chain store retail sales were up 4.2% vs. a year ago according to to Redbook Research.
5. The precedent of 12% Apple sell off's prior to earnings isn't great but the price moves off those lows make up for the pain. The April run produced a quick 10.9% over three days and the June/July run was a 30.3% run. Split the difference and this fall run would bring Apple to $450 ... which just happens to be our fall price target assuming there is only one iPhone released and no China Mobile deal. For those who are contemplating selling Apple because of the recent pain, ask yourself if you think we are closer to a low or if we are closer to a high. The recent September 12th low was $371. Apple at $375 with an iPhone event tomorrow, an iPhone release on October 15th (approximately) and an earnings report on the 18th appears closer to a low than it does a high from our perspective. We expect to rally on one of these three catalysts ... which one? Nobody knows. But we are fully loaded and ready.
From a big picture perspective, it's important to always be in tune with what the hedge funds are doing. Sometimes the reality of hedge fund activity is only identifiable when looking back. Ever since Apple experienced its "misleading Monday" on September 26th because of the JP Morgan iPad report, hedge funds have taken the opportunity to pound Apple into this end of quarter dead zone. We did our best to take advantage of the sell-off by purchasing a 20% allocation of AAPL October calls on Tuesday, Wednesday and Thursday of last week. We're not entirely confident that the reward will arrive at today's iPhone event as Apple events don't always boost the stock but we remain confident that the stock will rally at one of these October catalysts. The greatest thing about using Apple as an investment vehicle is that its strong fundamentals always result in a stock bounce. Our goal is to buy the lows and sell the highs.
Disclosure: I am long AAPL.