Overview
With a market cap of 4.10B, International Game Technology (NYSE:IGT) develops the software and manufactures the hardware for gaming systems in casinos in 16 countries. With headquarters in Reno and Las Vegas, they are the industry leader in manufacturing of and software for digital slot machines.
Recent History: (About IGT)
2008-2010 - Experimental Expansion: IGT sought to gain market share globally, opening new offices in the U.K., Mexico, China (Beijing) and Japan, which included acquisitions of smaller companies such as Cyberview Technology. This phase, which proved aggressive, opened up IGT to competition back in the U.S. (its area of core business). Thus they lost market share as well as share value, as their product development was neglected. Earnings and margins fell.
2011 - Back on Track: IGT realized this underperforming trend, and are currently seeking to capitalize on advanced technological gaming systems. Competition for newer, more intricate software technology is greater than ever. Focus back on what IGT does best will help the company regain market share, leading to income growth and more positive earnings.
Main Competitors, Casino Gaming Software Development and System Integration:
Bally Technologies Inc. (NYSE:BYI) - Cap: 1.36B
WMS Industries (NYSE:WMS-OLD) - Cap: 1.24B
(Bally poses the greatest threat for IGT, as they have taken some of the company's U.S. market share. WMS is currently restructuring its business model, which leaves a good deal of uncertainty in its ability to compete.)
Some fundamental comparisons (quarterly data):
Click to enlarge charts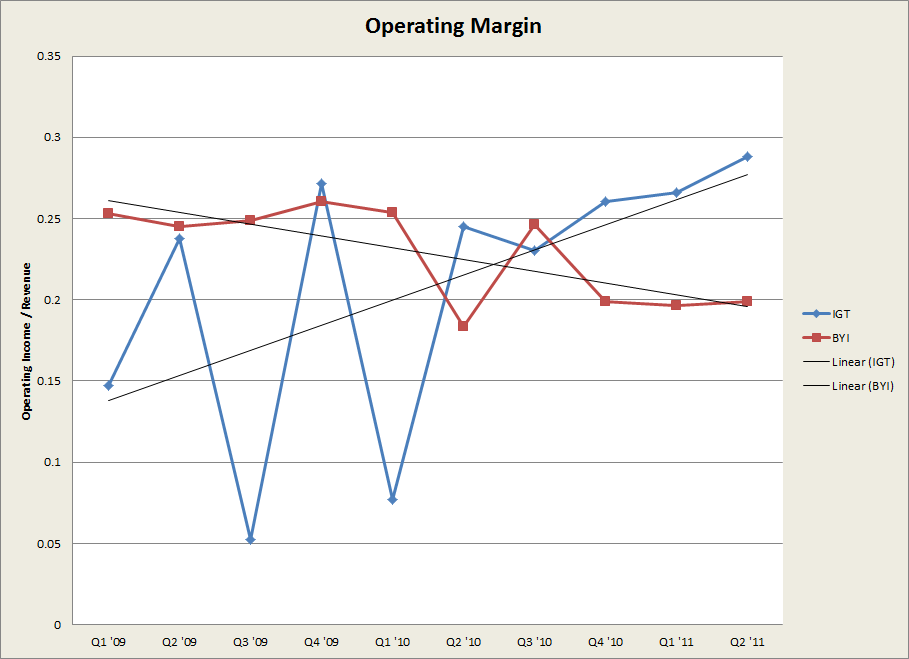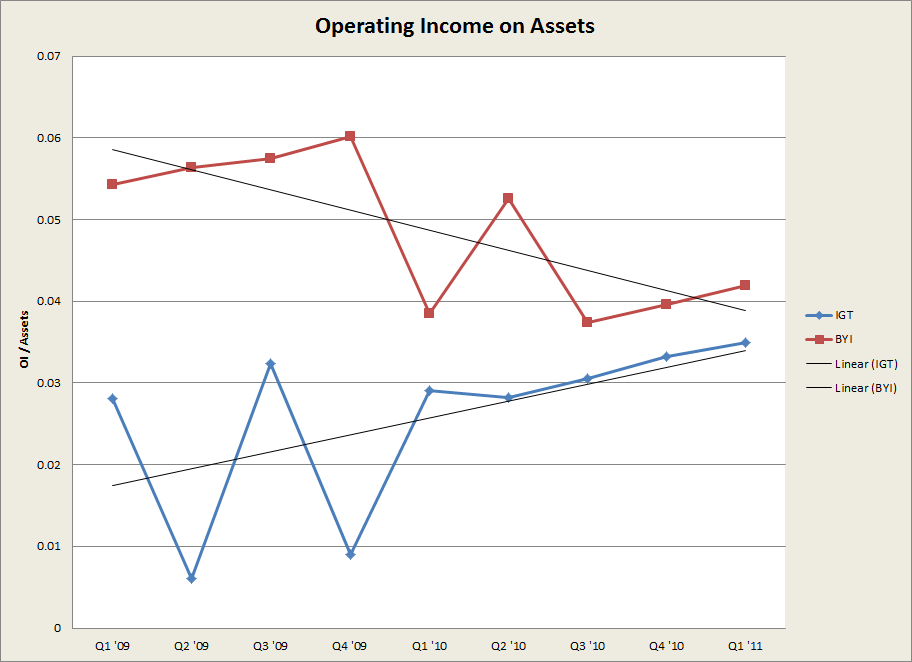 (All data from SEC Filings on IGT's Investor Relations Website)
Fundamental Outlook
As seen by quarterly income numbers, IGT seems to be getting its core business back on track, and with its expansion into the East Asian and Latin American markets, there seems to be growth potential as well. They remain the industry leader in producing digital slot machines, but are staying diversified on the entirety of the software gaming technology. Though the gaming industry can be unpredictable with volatility and uncertainty surrounding gambling regulations, IGT will remain at the top of the casino game developing companies.
Based on the weekly chart, there is significant support for IGT around $13.50-$13.75:
Click to enlarge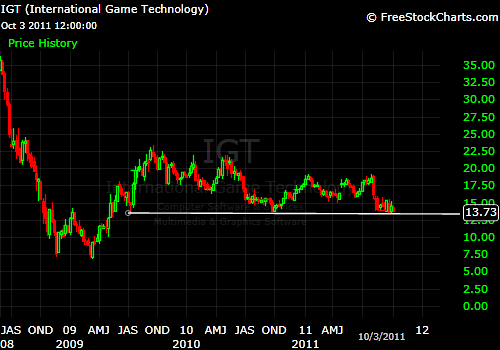 (Chart from freestockcharts.com)

I remain bullish on IGT at a price between $14.25 and $14.50.
Disclosure: I have no positions in any stocks mentioned, but may initiate a long position in IGT over the next 72 hours.