All of the 13F filings are in for the top hedge funds and money managers around the country. I have looked through all of the funds that I consider to be the top-tier Value Investors in the world, and I have come up with my recommendations of which new fund additions are most interesting Value Long ideas.
The funds included in my Elite Value Investors list are as follows: Baupost Group (Seth Klarman), Greenlight Capital (David Einhorn), Appaloosa Management (David Tepper), FPA Capital (Bob Rodriquez), Yacktman Funds (Donald Yacktman), Southeastern Asset Management (Mason Hawkins), Ariel Investments (John Rogers), Omega Advisors (Leon Cooperman), Duquesne Family Fund (Stan Drunkenmeyer), Fairholme Fund (Bruce Berkowitz), Brave Warrior Advisors (Glen Greenburg), Dalal Street LLC (Mohnish Pabrai), Hayman Capital (Kyle Bass), and Glenview Capital Management (Larry Robbins). Although there are other Value Investors that have great ideas, like GMO Capital (Jeremy Grantham) and Gotham Capital (Joel Greenblatt), they often invest in a large number of securities, so pulling out a best idea from them is often more difficult.
Performance Update
Let's see how my selections from my previous articles have done. The articles can be found here for February 2014, May 2014, August 2014, and November 2014 "Elite Value Investor Picks." As a recap, in the articles I have selected the top 4 or 5 new small and mid-capitalization stocks from a list of what I consider to be the top tier of Value Investors, based on their 13F filings.
Below is a table of my picks so far this year to-date.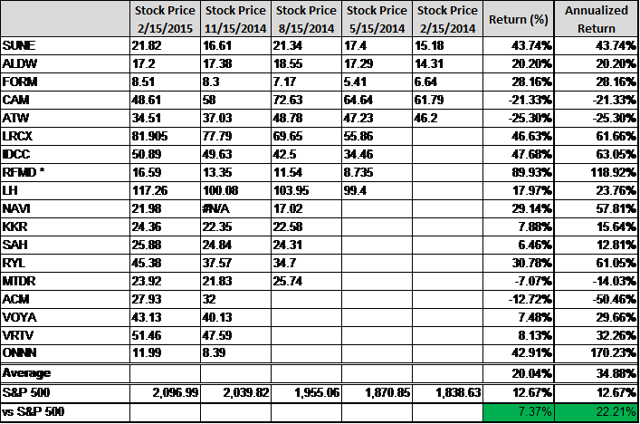 Note: RFMD merged with TNQT on December 31, 2014. Its last price prior to the merger was $16.59.
As you can see from the above chart, my picks have exceeded the S&P 500 by 22.2% on an annualized basis. As I expected, this strategy has produced strong results. I believe that this strategy could be followed over the long term by any investor with a least a basic understanding of the stock market to produce above-average returns. The basic idea is that these top-tier investment funds do great research on their individual stock selections. Using this strategy, the average investor gets to take advantage of this research by buying the stocks that have already been vetted by these highly paid and intelligent investors.
As I previously noted, I will only track each stock for a one-year time period once they are selected for the portfolio. This means that the picks I made in February of 2014 are now closed from a tracking and portfolio standpoint. I do have to say that I still believe that one of these picks from February of 2014, SunEdision (SUNE) has a lot more upside from here, and continue to be long the stock in the portfolio.
February 2015 Portfolio Additions
So here are the top Value Hedge Fund Ideas from the February 2015 13-F filings. The selections were a little thin this quarter, and I was only able to find 3 companies that I really liked enough to select to be a part of the portfolio.
Greendot Corp. (NYSE:GDOT)
Investor: Greenlight Capital (David Einhorn)
Greendot Corporation is a credit service company that provides card and transfer services to underbanked consumers. Greendot describes itself as a "Branchless Bank", similar to the internet banks that have become commonplace in recent years. The company has multiple business lines that include branded and private deposit accounts, card services, and banking services. Its private label deposit accounts business currently has one customer, Wal-Mart (NYSE:WMT), through its MoneyCard program.
The company has been growing revenues at a pretty strong 39.8% over the last 5 years, but growth seems to have slowed recently, with last year's revenues growing only 4.9% year-over-year. Is this slowing of growth permanent or just a blip in the road for Greendot? It seems to me that the slowed growth can largely be contributed to a shrinking cash transfer business (similar to Western Union). The cash transfer business was previously Greendot's bread-and-butter revenue source. The company is no long a single-channel card services business that it once was, but it has added revenue channels, including Check Cashing Services, Tax Refund Services, and "Branchless" banking services. The company is the majority of its way through a transition that will diversify the revenue streams away from the traditional cash transfer business and into banking and other transaction-type services.
Greendot provided revenue guidance for 2015, growing revenues at 23%, with EBITDA between $150-170mm. At the current valuation, the company has an EV/EBITDA of 6.4 and a Forward P/E of 10.3. Greendot is a very cheap company with a high potential to grow revenues within its new revenue channels. The company's management has a good plan for growing their overall business (diversification) and have so far been successful at executing on their transition plans.
American Reality Capital Properties (ARCP)
Investor: Appaloosa Management (David Tepper), Glenview Capital Management (Larry Robbins)
American Reality Capital Properties is a real estate leasing company that holds a huge amount of real estate across the United States. It is the largest single holder of single-family homes, as well as has recently executed a sale-leaseback agreement with Red Lobster for 500 locations of the seafood restaurant. ARCP was recently hit with an accounting scandal that has caused the stock to drop from around $12.5 a share to around $9.5 a share (a 30% drop). For such a large company that has such a diverse portfolio of real estate assets, you would think this accounting fraud must be large in order to destroy 30% of its market capitalization. ARCP just released its restated financial on March 2nd (summary here). Overall, I believe that the restatement was not as bad as the market had anticipated. No one really cares what the net loss was in previous years, as the value of the company is in its real estate, so the accounting net income, or lack thereof, is less important than if ARCP was mainly an operating company.
Outside of the restatement, a new activist investor, Corvex Capital, has become involved. Corvex Capital wrote an open letter to the board of ARCP on February 9th (see here). I believe that the addition of Corvex as an activist investor and the discount you are receiving in the stock warrant an investment in ARCP.
TRI Pointe Group (NYSE:TPH) [Formerly known as Tri Pointe Homes]
Investor: Greenlight Capital (David Einhorn)
TRI Pointe Group is a national homebuilder with a sizable footprint in several key markets across the United States. The company utilized a regional branding strategy in order to provide a more localized approached to homebuilding than many of its larger counterparts. This allows it to be more specialized and adaptive to regional market trends and tastes. The company operates in the middle-to-high end portions of the single-family home market with an average ASP of $531,000 last year.
TRI Pointe Group is actually the product of a merger between TRI Pointe Homes and Weyerhauser Real Estate Company that occurred in November of 2013. Prior to that, the company "grew up" on the back of real estate investment firm Starwood Capital. Starwood was an early investor in TRI Pointe Homes, and provided the company with both board leadership and seed capital in its early years to help it grow. Barry Sternlicht, Starwood Capital's current CEO is the chairman of the board of TRI Pointe Group. Overall, I am a fan of Barry Sternlicht, and that is one of the reasons I like the stock, as he has proven to be an impressive businessman, especially when it comes to real estate.
With the housing crisis largely behind us, I believe 2015 will be a good year for the homebuilders. These industry tailwinds, combined with a high-quality product and a decent footprint (California, Arizona, Texas, Washington DC, and Washington State) make TRI Pointe Homes a strong value investment. The company sports a Forward P/E of 12.5, with a 5-year revenue growth forecast of 20% per year. It is in a sweet spot right now, as it is large enough to be relevant and has lots of capital and strong management, but still has room to grow.
Summary Table

Source: Finviz.com
Disclosure: The author has no positions in any stocks mentioned, but may initiate a long position in GDOT, ARCP, TPH over the next 72 hours. The author wrote this article themselves, and it expresses their own opinions. The author is not receiving compensation for it (other than from Seeking Alpha). The author has no business relationship with any company whose stock is mentioned in this article.