The offshore rig lessors are going through some difficult times. Most have cut dividends and most are facing some hard choices regarding the idling of what were some very profitable rigs. Just last week the CEO of Diamond Offshore (NYSE:DO) said that he saw a "u-shaped" recovery and that any "green shoots" would be a long way off. This article will take a look at the overall supply and demand picture for both jackups and floaters on the offshore market, and will attempt to get a grasp on how long this downturn might last.
A smaller market
The first thing to understand about the offshore rig market in 2015 is that it will be smaller. Exactly how much smaller will be a function of the price of Brent Crude. Let's take a look.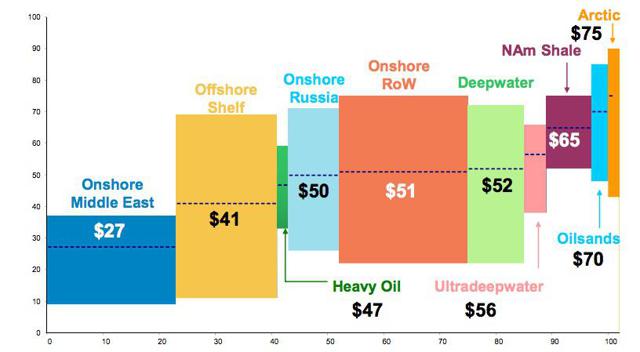 Courtesy of Seadrill Investor Relations

In this chart, the three bars we are most interested in are "ultra deepwater" in pink, "deepwater" in light green, and "onshore shelf" in yellow. As you can see, with Brent at $50, most new projects won't give a positive return in ultra deepwater and deepwater. With Brent at $60, most new projects work, but still don't provide much of a return. How much will demand for offshore rigs shrink? It's difficult to say, but the CEO of Diamond Offshore believes that the demand for rigs should drop by about 20%, year on year, between 2014 and 2015. For the purposes of this article, I will go by that assumption.
What about dayrates? According to nearly all rig lessors, dayrates are plummeting. There are anecdotes of 3 to 4 rigs bidding aggressively for each contract project available. Seadrill (NYSE:SDRL), the large-cap offshore lessor with the newest fleet, said it's quite possible that dayrates would drop below the company's "cash flow and debt amortization breakeven" of $369,000. This is in spite of the fact that late last year Seadrill secured contracts for two drillships with Petrobras (NYSE:PBR) at a rate of $500,000 per day.
Oversupply is getting worse
Judging by anecdotes and the actions of most offshore rig lessors, it's fairly safe to say that the offshore rig market is oversupplied and that dayrates are going to have to fall. The more pressing question is how long this will all last. For that, I believe we need to take a more granular look at the oversupply situation and do some "back of the envelope" estimates.
Let's look at the big picture. According to IHS-ODS Petrodata, utiliation of shallow water "jackups" sits at 83%. Utilization of midwater and deepwater "floaters" also sits at 83%. There are currently 286 floaters on the market, which are either contracted, uncontracted or stacked. There are another 409 jackups on the market right now.
Let's start with floaters and add newbuilds. There are currently 83 newbuild floaters; 58 of which are under construction and 25 of which are still in planning or are on order. Of those 83 rigs, only 55% have secured contracts. The other 45% will be wondering around the seas searching for work. So, overall, we have about 369 floaters out there, 20 of which are currently stacked.
Counterbalance that with rigs likely to be scrapped. This year, 40 rigs built in the early 80s will come off contract. I suspect nearly every one of these will eventually get scrapped because they will have difficulty finding work. That brings us down to 329 floaters.
But remember, the market should shrink by about 20% compared to 2014 demand. If there were 286 floaters out there by the beginning of this year, that means, to maintain the current 83% utilization rate, the rig count would have to drop to about 230. In other words, we have an oversupply of about 100 rigs, and that's assuming 40 rigs will be scrapped this year. Of course, thing's aren't nearly that simple because many of these rigs already have multi-year contracts, but the overall picture is pretty clear.
What about jackups? Well, jackup rigs operate at shallower depths, and therefore have lower "breakeven" points than drillships do. There are currently 409 jackups on the market, 38 of which are stacked. There are another 118 newbuild jackups, only 8% of which have contracts. In other words, there could soon be over 100 more jackups scouring the offshore shelves of various continents.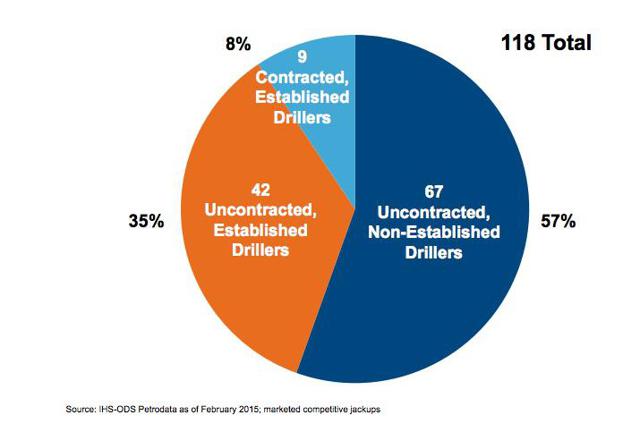 Newbuild jackup information. Courtesy of Ensco Investor Relations

About 40 shallow water vessels made in the early 80s will roll off contract this year. I suspect most, if not all, of these ships will be scrapped. That mitigates some of the newbuild glut. But even more significant is that the clear majority of these newbuild jackups are being ordered for non-established drillers. In other words, speculators are the ones ordering these jackups. Many of these rigs are being built in China. I suspect that these 67 ships will go for firesale prices and the majority of coming losses will collapse right back onto the speculators that are ordering these rigs. If so, the jackup market isn't as bad as things look.
Overall, however, it's clear that the market is still oversupplied in 2015, even if the industry scraps 40 drillships and another 40 jackups. Will the industry scrap even more older vessels? That remains to be seen. I believe this oversupply will extend past 2015 and, at least, a good way into 2016.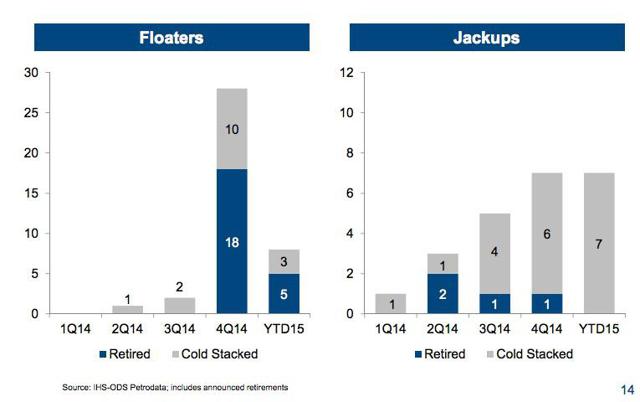 Courtesy of Ensco Plc Investor Relations and IHS-ODS Petrodata
This chart shows the cold-stacking and scrapping activity in both floaters and jackups. It's clear that activity has picked up, but idling activity must further accelerate. Based on all the data, I would estimate that we are, perhaps, in the second or third "inning" of this downturn. One way or another, more rigs are going to have to come offline, but it's not yet clear which rigs, from whom, and under what circumstances.
Conclusion
The offshore rig market is not a very good place to be right now. If you want to be in this space, my recommendation would be to stick with lessors that have a balance between low leverage and young ships. And, if this is going to be a multi-year downturn, at least a little jackup exposure in a company would be ideal. In my opinion, Ensco Plc (NYSE:ESV) is the only large-cap offshore rig lessor that fits the above criteria and strikes a good balance between leverage and fleet excellence. Ensco is one of the least-levered in this space, with debt of just three times operational cash flow. Ensco also has a fairly young fleet: Its average ultra deepwater floater is just eleven years old. As I've mentioned in other recent articles, Ensco is the only offshore lessor I would recommend.
Disclosure: The author is long ESV.
The author wrote this article themselves, and it expresses their own opinions. The author is not receiving compensation for it (other than from Seeking Alpha). The author has no business relationship with any company whose stock is mentioned in this article.