If your financial health depends on your holdings in the broader market, you are probably not in a great mood right now. It's hard to imagine that many are, given that recent market action has rewarded the neurotic screen-watching type of trader more than anyone else. The typical buy and hold investor; who follows the tenets of Warren Buffett and similar value investors, is probably quite frustrated with the chaotic swings of the indices. While they may have patiently awaited dividend payments to provide slow appreciation of wealth, they've seen intraday moves that wipe out much larger chunks of money in a matter of seconds. In another article, I've written about the importance of staying defensive in this market and the potential for much more pain in equities.
We are at a crossroads. As of today (October 3rd, 2011) the S&P has closed at 1099, a level which is undoubtedly bothering technical traders who were expecting the market to ricochet off the 1120 support line defined from previous bearish moves. In a market like this, you want to start getting defensive fast lest you get trapped in a more serious selloff of risky assets. Keep in mind that the negative emotions you'll undoubtedly experience from owning a risky stock right now should be factored in too. Honestly, you will find it much harder to sleep at night and concentrate at work (especially) if you are owning big bank stocks these days. Look at the nail-biting moves on the charts of Bank of America (NYSE:BAC) or Morgan Stanley (NYSE:MS) for reference.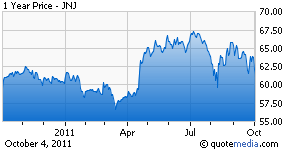 Johnson & Johnson (NYSE:JNJ) is a tried and true favorite for defensive investors, and it's one of my top recommendations for times like this. It benefits from being in an ultra-defensive industry (healthcare) with an extremely diversified product line and a pristine balance sheet. Its brand name is well established, and the stock is about as "orphan-and-widow" as you can get. Dividends have been increasing for decades, and while the company's revenues are stagnant the margins have been improved in recent years in order to improve operational income (slowly). I've written about the company before, where I ultimately concluded that the shares were essentially "bonds in equity form". I stand by that statement. Johnson & Johnson is very boring in terms of revenue and earnings, but for a lot of people that is exactly what their portfolios (and minds) need right now.
In addition to the stock's stability, the dividend will give you a lot more than any treasury bill while you wait out the market's insane gyrations in one of the strongest defensive stocks on the market. Generally speaking, JNJ has stayed roughly in the 60's for the last five years and it's not expected to deviate very far from that level. Even in the depths of the 2009 crash the stock bottomed at $48/share, a much smaller haircut than the S&P 500 which fell about 50% from its last rally in 2008 to the height of the fear in 2009. The P/E multiple isn't that low (at just under 15), but the market has repeatedly proven over the last month that fundamentals will come second to sentiment. There are many stocks with P/E multiples deep into the single digits are showing no signs of being bought.
Once again, I state that if you are looking for one of the best large-cap investments on the market in a downturn like this you can't go wrong with a classic like JNJ. If you want to buy and hold the market, there is little reason to be rewarding companies that aren't paying you a yield for the risks you are undertaking. Johnson & Johnson will give you a whopping 3.7% dividend with stronger-than-average resistance to market gyrations and a track record of competitive products. It's also much safer than other healthcare companies due to its relatively low exposure to patent expirations. Sure, when the eurozone crisis blows over the risky sectors of the markets will be ripe for picking but I wouldn't hold my breath. While this madness continues, defense is essential. JNJ fits the bill.
Disclosure: I have no positions in any stocks mentioned, and no plans to initiate any positions within the next 72 hours.