Potash (POT) has returned over 247% to investors that have held on. From a low of 11.81 in October of 2006 to today's level the price has risen. I would like you to notice in this five-year graph provided by Barchart how although recessions have impacted the price it always recovers when things get better:
Click to enlarge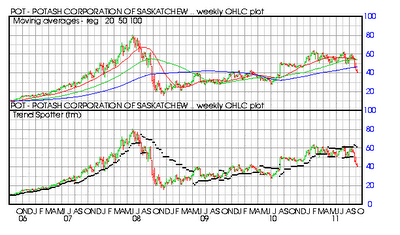 Potash Corporation of Saskatchewan is the world's largest potash company, the third largest phosphate producer and the second largest nitrogen producer in the world. Behind its growing success lies a vital infrastructure: knowledgeable PCS Sales staff throughout Canada and the United States, a transportation network that includes truck, train, barge, lake ship and ocean vessel, and warehouses strategically located in major consuming areas.
Factors To Consider
Barchart technical indicators:
Please remember these are technical indicators based on short term price movement and sell signals on stocks with great long term fundamentals can signal buying opportunities
96% Barchart technical sell signals
Trend Spotter sell signals
Trading below its 20, 50 and 100 day moving averages
The price has dropped 28.52% in the past month
The stock is 34.56% off its 1 year high
Relative Strength Index is 24.09% and dropping
Barchart computes a technical support level at 40.49
The stock recently traded at 41.76 which is below its 50 day moving average of 54.26
Fundamental factors:
Wall Street brokerage analysts project sales to increase by 33.80% this year and another 12.60% next year.
Analysts put an earnings increase consensus at an increase of 82.80% this year, 20.10% next year and an annual increase of 10.00% over the next five years.
These estimates have resulted in brokerage analysts publishing four strong buy, 11 buy, seven hold and no negative recommendations.
Prices for Potash - which is the company's major product - have risen almost 60% recently.
The Chinese are a big consumer of agricultural products and their local suppliers haven't been able to keep up. The long term contracts they are negotiating with the company could fall to the bottom line for years to come.
The whole world is becoming dependent on corn and soybeans for food, animal food, oils and energy and fertilizers are needed to produce higher yields.
They are also world class producers of phosphates and nitrogen, other key ingredients for agricultural fertilizers.
Expansion plans are underway to increase overall production capacity by 50% before the end of 2015.
The company has an A+ financial strength rating.
Today's P/E ratio of 15.27 is far below its normal ratio of 20.
General investor interest:
As measured by the readers of Motley Fool this is a widely followed stock with 4,728 readers having the stock in their watch list portfolios.
Fool notes that the portfolios that have made the most money in this stock have been the long term investors.
The readers that expressed an opinion voted 96% that the stock will beat the market.
The more savvy and experienced All Stars voted 97% for the same result.
Fool also noted that of the Wall Street columnists they follow all 23 articles have been positive.
Competitors and sector leaders:
All of the major chemical companies are down in the last six months: BASF (
OTCQX:BASFY
) down 44%, Mosaic (NYSE:
MOS
) down 37%, Dow Chemical (DOW) down 49% and Total SA (NYSE:
TOT
) down 33%.
Click to enlarge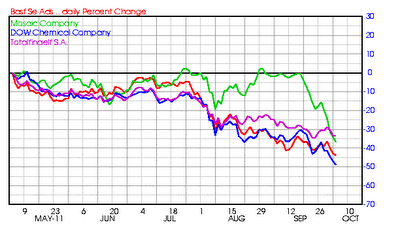 Potash is a member of the SIC 2870 Agricultural Chemical sector and the price leaders in the past year have been American Vanguard (NYSE:AVD) up 64%, Terra Nitrogen (NYSE:TNH) up 31%, CF Industries (NYSE:CF) up 19% and Monsanto (NYSE:MON) up 22%.
Click to enlarge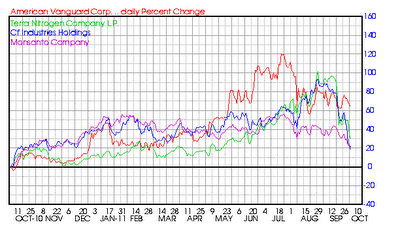 Summary: Potash is one of those basic material stocks that needs to be in every long-term conservative portfolio. People worldwide need corn and soybeans to eat, feed to animals, use for cooking oil and for alternative energy sources. To grow these products on an ever decreasing agricultural base fertilizers are essential to increase yields. This stock is in the middle of that need and its recent drop in price offers an excellent opportunity to acquire a world class stock at a bargain basement price.
Disclosure: I have no positions in any stocks mentioned, and no plans to initiate any positions within the next 72 hours.