This morning demonstrates just how competitive the landscape is for deals in the pharmaceutical and biotech sectors. We have seen a number of deals in 2015 which show just how focused Big Pharma is on buying growth and assets to plug holes in their pipelines. With the way that M&A is ramping up this year in the industry, we would not be surprised to see some larger deals occur; especially if biotech stock prices have a pullback at some point in 2015.
Looking at the general market, there is some concern today following remarks out of China that the country is looking for growth of about 7%. The wording surrounding the announcement has some speculating that the 7% figure might very well be a goal rather than a reliable estimate.
Chart of the Day:
With the ECB's decision to keep rates steady at current levels, the Euro is falling against the US Dollar and is at fresh lows. We doubt that par is not reached on this trade in the next 9-12 months, especially if the Federal Reserve does in fact raise rates in the next 3-6 months.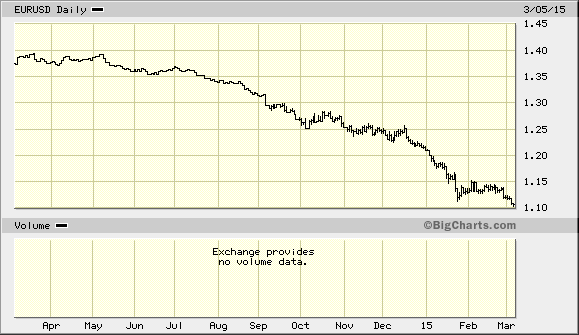 Source: BigCharts
We have economic news today, and it is as follows:
Challenger Job Cuts (7:30 a.m. EST): Est.: N/A Act: 20.9%
Initial Claims (8:30 a.m. EST): Est.: 295k Act: 320k
Continuing Claims (8:30 a.m. EST): Est.: 2404k Act: 2421k
Productivity - Rev (8:30 a.m. EST): Est.: -2.3% Act: -2.2%
Unit Labor Costs - Rev (8:30 a.m. EST): Est.: 2.9% Act: 4.1%
Factory Orders (10:00 a.m. EST): Est.: 0.6%
Natural Gas Inventories (10:30 a.m. EST): Est.: N/A
The Asian markets are mixed today:
All Ordinaries - up 0.04%
Shanghai Composite - down 0.92%
Nikkei 225 - up 0.26%
NZSE 50 - down 0.29%
Seoul Composite - up 0.00%
In Europe, markets are higher today:
CAC 40 - up 1.06%
DAX - up 1.00%
FTSE 100 - up 0.50%
OSE - up 0.78%
Surprise Bid For Biotech
Late yesterday the news and speculation surrounding a bid for Pharmacyclics (NASDAQ:PCYC) still centered around the most likely buyer being Johnson & Johnson (NYSE:JNJ). In fact, almost every major financial news outlet had dropped Novartis (NYSE:NVS) as a likely suitor as a deal with Johnson & Johnson was rumored to be imminent. After days of being listed as the buyer however, it appears that Johnson & Johnson bowed out after AbbVie (NYSE:ABBV) launched a rival bid for the cancer drug maker.
Earlier reports had Johnson & Johnson and Novartis looking at a purchase price of $17-18 billion for Pharmacyclics, but AbbVie's winning bid came in at $21 billion, or $261.25/share. There was obviously a bidding war that took place, but the fact that Johnson & Johnson did not have the high bid is surprising given their commercial relationship with Pharmacyclics and their assumed ability to offer more than anyone else due to the tie in.
Pharmacyclics shareholders will have the option to receive cash, stock in AbbVie or a combination of cash and stock. AbbVie says the deal is composed roughly of 58% cash and 42% stock.
The acquisition will help AbbVie add to its drug pipeline while also giving it a blockbuster cancer drug in Imbruvica. The $100,000 a year drug is expected to have sales move above $1 billion this year and grow to more than $3 billion at the same time that AbbVie's current blockbuster Humira begins to see sales fall.
Biggest Of The Recent Deals
It certainly appears that pharma is going to lead the way for M&A this year, having gotten off to a strong start in 2015. While this is the largest deal that has been struck recently, there have been some other significant moves. Both Pfizer's (NYSE:PFE) $15 billion deal to purchase Hospira and Valeant Pharmaceuticals' (VRX) $10 billion purchase of Salix Pharmaceuticals (NASDAQ:SLXP) mirror the need by large pharma companies to bolster the pipeline and find new areas of growth. This $21 billion deal is rich but provides AbbVie with a mega blockbuster drug now and some promising candidates for their pipeline, which could make this one of the incredibly successful biotech deals.
Where Does This Leave The Others?
One now has to wonder where this leaves Johnson & Johnson and Novartis. Johnson & Johnson has been building up its cash position by selling off non-core assets and settling outstanding lawsuits, so we do expect the company to make some sort of moves in the near future. Whether J&J will be purchasing companies outright or will enter into some of the joint venture deals we have seen the larger companies do with smaller names remains to be seen, but the company has the necessary fire power to make something happen.
Disclosure: The author has no positions in any stocks mentioned, and no plans to initiate any positions within the next 72 hours.
The author wrote this article themselves, and it expresses their own opinions. The author is not receiving compensation for it (other than from Seeking Alpha). The author has no business relationship with any company whose stock is mentioned in this article.
Additional disclosure: ABBV, JNJ & PFE have all previously been recommended.