If you are a buy-and-hold type of investor, what can you do to mitigate some of the risk in this toppling market? Where can the average investor holding a portfolio of stocks go for some measure of safety?
What about put options? Market crashes will shoot up options premiums, making this form of hedging incredibly expensive. When the market cools, you will get far less extrinsic value back on your put options.

Short-selling for profit? You need to be able to time the market and track changing sentiments. This is market timing. Although you may realize we are in a bear market, you may not know how long it will last or when it will turn around.

Alternative investment products? You may not be comfortable with products you have not previously traded, such as currencies, gold, or other products. You prefer to stick with what you know. These products also seem to have just as much volatility as the market itself.

Other forms of hedging with a mix or long and short investments? You may as well just sell your investments and sit in bonds instead of hedging your portfolio so severely that any potential gains will be quashed like a grape under an elephant. Once again, when do you un-hedge? This comes back to market timing.
Is there a simple system to invest that will greatly reduce your downside risk while allowing you to gain when markets do turn around at some unknown date? Yes. It isn't perfect, but it is likely better than holding high-risk growth stocks while hoping for the market to change direction.
Defensive Utility Investing
To many, defensive stocks mean anemic gains that consistently underperform the market. Is that really the case? To illustrate we will use one defensive strategy over the last 10 years:
Utility sector
No ADRs
Current dividend yield greater than 5%
5-year dividend growth rate above 0%
5-year earnings per share growth rate above 0%
This is a simple strategy targeting decent yields in a defensive sector. How well would this strategy have performed over the past 10 years if you simply re-balanced your portfolio once a year?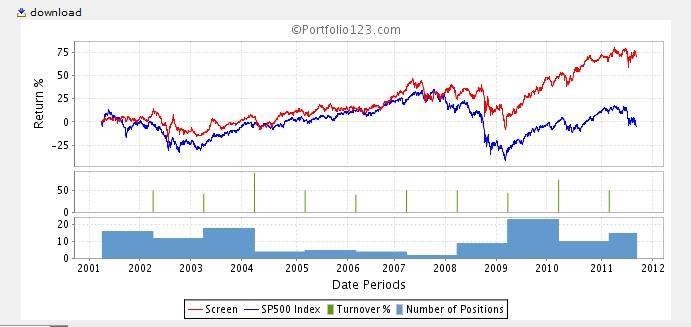 If you started investing March 31, 2001, until today with yearly re-balancing, you would be up 70.2% in capital gains alone. Your compound annual growth rate in capital gains would be 5.2%. Once you add in a minimum of 5% yields, your compound annual growth rate jumps to 10%. By re-investing your dividends, you should have nearly tripled your investments in 10 years' time with this strategy.
I then tested this simple, defensive "buy and hold with annual rebalancing" strategy for robustness. With 500 different entry weeks I simulated buying and holding for one year over the last 10 1/2 years. On average, this system beat the S&P 500 benchmark by 3.45% annually in capital gains alone. While it ever-so-slightly underperformed the market in bull cycles, it showed exceptional strength in bear markets.
The S&P 500 fell an average of 21.16% annually during losing periods.
The defensive strategy only averaged losses of 8.1% per year during losing periods.
If you are determined to stay invested while the market whipsaws up and down for the foreseeable future, consider transferring some or all of your investment dollars into utility stocks.
Defensive Stocks to Contemplate Buying Today
The defensive strategy is a simple alternative to market timing strategies. This type of stock already has some risk reduction measures built in, which makes it easier to hold in good times and bad. Here are the stocks that make the list today:
| | | | |
| --- | --- | --- | --- |
| Ticker | Name | Industry | Yield |
| (NYSE:EPD) | Enterprise Products Partners L.P. | Natural Gas Utilities | 6.04 |
| (NYSE:ETR) | Entergy Corporation | Electric Utilities | 5.14 |
| (NYSE:EXC) | Exelon Corporation | Diversified Utilities | 5.1 |
| (OKS) | Oneok Partners LP | Natural Gas Utilities | 5.15 |
| (NYSE:PNW) | Pinnacle West Capital Corporation | Electric Utilities | 5.01 |
| (NYSE:PPL) | PPL Corporation | Electric Utilities | 5.04 |
| (TCLP) | TC Pipelines, LP | Natural Gas Utilities | 7.1 |
| (NYSE:TE) | TECO Energy, Inc. | Electric Utilities | 5.19 |
| (NYSE:WPZ) | Williams Partners L.P. | Specialty Chemicals | 5.64 |
| (DPM) | DCP Midstream Partners, LP | Natural Gas Utilities | 6.75 |
| (NYSE:BWP) | Boardwalk Pipeline Partners, LP | Natural Gas Utilities | 8.46 |
If you wanted to stick to the lowest-risk companies, I would recommend the electric utilities ETR, EXC (diversified), PNW, PPL, and TE.

The natural gas industry is not as defensive as other utilities being tied closely to commodity prices, which often drop in a bad market. Some natural gas analysts expect prices to firm up in 2012. It may be a little premature to buy these companies right now, but if you are a contrarian investor that likes to front-run the trend before is reverses, keep a close eye on the natural gas industry. These will likely lead the utility pack in capital gains when commodity pricing begins to pick up.
Besides judiciously choosing industry groups, you should be aware of the companies with an LP next to them (meaning they are Limited Partnerships, where the shareholders are the owners). You may not like the extra hassle of the paperwork associated with these around tax time – but there is another reason to be aware of the LPs. These typically have high payout ratios.

High payout ratios mean that the company has little room to manage dividends since the majority of profit is paid to shareholders. The dividends and yields can thus be volatile. Even though these companies are defensive, many investors will sell their holdings if yields drop too far. This may translate into volatile share price movements. If you hold a mix of LPs and other stocks, some natural gas and some electric utilities – the small diversification will lower the volatility and risk that may occur from specific stocks or industries.
Instead of having your stomach lurch up and down with each roller-coaster swing in the market, consider moving into these defensive stocks with good yields that have historically been able to shield investors against much of the downside market risk. The upside to these stocks versus hedging is that they can deliver market-comparable upside gains in a bull market without any change needed to your portfolio.
Disclosure: I have no positions in any stocks mentioned, and no plans to initiate any positions within the next 72 hours.