Travelzoo (NASDAQ:TZOO) posted this a 52 week low of $20.68, which is almost 80% less than its 52 week high of $103.80 back in April. Then today it gained more than 16%.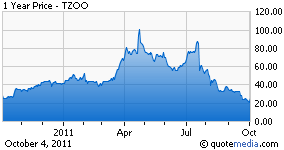 The stock had been on a constant downtrend, with little gains along the way, ever since the end of April. The stock lost a significant amount of value in late April-early May as investors took profits after gains from a solid earnings report. Profit taking along with strong insider selling caused the stock to drop by large margins. Then the company missed Q2 earning expectations in July and it's been mostly a disaster ever since, for long-term investors.
I personally would have never thought the stock would have reached these levels. But then again, I did not expect a 16% loss in the major indices over the last 3 months. The markets have been rough for TZOO but I believe as earnings approach the bad fortunes of this stock are about to change.
Investors sold the stock after Q2 because revenue was slightly lower than expectations, EPS missed by $0.08, and costs were higher. Yet even with a missed quarter the company still increased revenue by 33.70% and grew income by 51.50%. It's difficult to find a problem with numbers such as this, and then you remember that the company has no debt, additional assets, and is expanding into a new market at 1 in every 3 days, then I believe it makes an especially difficult case to prove that TZOO is a fading company.
The loss of TZOO was a result of an overvalued stock as it was trading near $100. There was no reason for a company such as this to be trading with a market cap of more than $1 billion since it's yet to post $40 million in revenue for a single quarter. The stock now has a market cap of $400 million, and I believe it's appropriate for the company's level of growth. If the company were to post a solid earnings report in Q3 and have a net income for the last 12 months it would still be trading much higher than earnings.
I am a fan of TZOO and I believe the company's deals are second to none, with the company growing, and growing very fast. What investors must remember is that it takes time to hire employees, develop a region, and then profit from the region. Investors must have patience and with 27 new regions in Q2 and similar numbers in Q1 I believe the company should be seeing large profits in the near future. Also, Travelzoo is a global company that offers complex deals. The company is not offering $5 off at your local mom and pop shop, the company offers large deals that usually involve several companies working together on one deal. And the company's emphasis in Europe and the Asia/Pacific region has been a success and will produce a large volume of subscribers over time.
Investors should be patient and view TZOO as a long term hold. The company has potential, and I believe that over the next 12 months the stock will easily double from the morning price as revenue and earnings continue to rise, and the market improves. When a company grows at the level of TZOO the stock rises, investors were dealt a bad hand full of unfortunate events that acted as a domino effect to the stock. Yet I believe that at $24 the stock offers a limited amount of risk and a high reward that will pay off for investors sooner rather than later.
Disclosure: I have no positions in any stocks mentioned, but may initiate a long position in TZOO over the next 72 hours.
Additional disclosure: As with any investment, due diligence is required. The opinions in this article are not intended to be used to make a particular investment or follow a particular strategy.