I've written recently on the prospects facing key banks and airlines in the United States, or more succinctly, why to stay away and invest your funds elsewhere. Events in the last 24 hrs have confirmed this for me. I was asked today by a fellow contributor whether or not I thought American Airlines (NASDAQ:AMR) would go bankrupt or survive, to which my initial reaction was I wouldn't invest there at present.
After doing some further research I was perplexed as to why AMR dropped in value by 33% yesterday, only to be trading a 17% regain by noon and closing the day at $2.39 (up 20.7%). Obviously some good money to be had by the short sellers in both the down trading yesterday and the upside today. This re-rally seems to have caught on with the other airlines, trading up between 5-7% today, yet it didn't mix with the news coming out on the narrow margins facing airlines over the next three years. A paltry 1.2% is barely worth opening the doors and kicking the tyres each morning. While analysts may be saying the sell-off on AMR was overpriced yesterday, today's close suggests that 13% down from two days prior is still a big, rapid drop.
And then there's Bank of America (NYSE:BAC), closing today at $5.73 (up 3.2%). It can't win a toin coss at present, with protests against the bank, website issues (apparently unrelated to any hacking or current protests), negative earnings per share, and even the President and Congress wading in with moral outrage over its plan to introduce a $5 fee. This from the same government that bailed the banks during the global financial crisis (GFC), is now suing the banks for causing the GFC (during the midst of the most difficult economic period since the Depression), and happily trots out Mr Buffett into the Rose Garden while the President announces his 'jobs creation program' at the same time as Mr Buffett's new personal bank (BAC) is announcing plans to slash 30,000 jobs. Interestingly, the rally that BAC put on after Buffett's $5 billion investment is now down 37% since his injection of funds in late September, of course at the concession he received his impact is different to 'normal' investors.
If we look to the two following 1 year performance graphs for AMR and BAC we can note that AMR is on a solid downwards trajectory, shedding $6.59 per share (73.4%) from its 52 week high in January 2011. Ker-thump !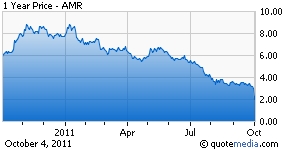 Likewise, BAC is following a similar downwards trajectory, shedding $9.58 per share (62.6%) from its 52 week high (37% in the last few weeks). Ker-thump !!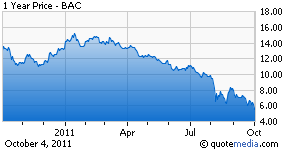 In both instances I think we are hearing the pre-emptive sounds of a 'dead cat bounce' in each case. AMR's rally will be short lived, propped up by takeover speculation with LCC, and will only benefit day traders. BAC is not far off, treading water and watching vultures circle overhead. There are no banks or corporations considered too big to fail, Bernanke has said as much previously, and no rescue packages this time around. My recommendation is to remain out of BAC and AMR stocks, and for the 'Mum and Dad' type investors out there waiting for any potential turn around, cut your losses now and take what's left of your capital.

Disclosure: I have no positions in any stocks mentioned, and no plans to initiate any positions within the next 72 hours.