I love New York!
Well, I think I love New York. In truth, I have never actually been to New York. Yet for years now it has held my fascination. I suppose it all started with "All in the Family", the classic situation comedy that was introduced in my early childhood and that I still watch today.
An episode aired a few days ago which had me doubled over with laughter. I hate to admit that I can, on occasion, relate to Edith's mood swings. I can also relate to the family, as they must endure Edith's trip down Menopause Lane:
The market right now is about as hormonal as Edith Bunker in menopause. One day up, the next day spitting fire. Yesterday the indices breached bear market territory, with the S&P dipping below 1090. The S&P then hot-flashed upwards, ending the day at a sizzling 1123. There was a 400-point gap between the high and low points of the day.
No wonder Archie needed a beer…
To Be Long, or Not To be Long…That is the Question…
These are the markets that try the souls of income investors. We are, by default, long investors; we must maintain our long positions in order to reap the benefits of the dividends. At the same time, those long positions are hard to maintain when the market is sinking or volatile. Many of us don't want to sell…but we do anyway. We feel a need to decrease our portfolio's volatility, as well as have "dry powder" ready when the markets decide to recover.
If you are one of those income investors that never sells and rides out the storm – I congratulate you. You have a stronger stomach than me. The rest of us may decide not to ride out 100% long, but instead employ several techniques to decrease the volatility of our portfolio:
Raise some cash
Employ some shorts
Options
The first choice is self-explanatory – sell your losers and trim profits from your winners. The second is most easily accomplished with short-indices ETFs: ProShares' Short Dow 30 ETF (NYSE:DOG) or ProShares' UltraShort Dow 30 ETF (NYSE:DXD) for the Dow, and ProShares' Short S&P 500 ETF (NYSEARCA:SH) or ProShares' UltraShort S&P 500 ETF (NYSEARCA:SDS) for the S&P. However, one must be a nimble trader to use these, as they are as volatile as the indices themselves, and will depreciate the longer they are held. Thirdly, options are employed by those experienced with them to preserve capital and reduce volatility.
But what if you don't care to employ shorts or use options? What if you want to be invested in the market, reap dividends, and not worry about where your stock is headed? If so, you will want to:
4) Invest in technically strong stocks with lower variance / beta / volatility
Do such issues exist? Yes. One asset class leads us back to the beginning of my contributing life, and another class allows us to invest in common shares that may not react as much to a fluctuating stock market.
Utility Preferred Shares That Smooth out a Rough Portfolio
My first two articles profiled two types of "Sleep at Night" investments – utility preferred shares and utility exchange-traded bonds. The "sleep at night" factor for these instruments was price variance. These issues may not appreciate much in bull markets, but they don't depreciate much in bear markets either.
I studied how the issues had acted during the financial crisis of 2008 / 2009, and came up with recommendations which maintained a benchmark of no more than a 25% price variance between the highest and lowest closing prices over the last five years.
These instruments have been wildly popular this summer, bucking the downward trend of the stock market. Reason? They represent two defensive asset classes – utilities and fixed income. As well, the Federal Reserve has calmed concerns about rising interest rates by announcing a stay on any interest rate hike for the next two years.
Even with precious few utility preferred shares priced under redemption, there are still several selections to consider. These are:
Peco Energy, Preferred Share "D" (PE.PD)
Redemption Price: $100.00
Current Market Price: $ 93.00
Variance, High to Low: 23%
Current Yield: 5.7%
Note: At $93.00, this is trading at 5-year high

Baltimore Gas / Constellation Energy Group, Inc. (BGLEH.PK)
Redemption Price: $100.00
Current Market Price: $100.00
Variance, High to Low: 22%
Current Yield: 6.97%
Note: Currently priced within 10% of 5-year low

CMS Energy Company (CMS.PA)
Redemption Price: $103.25
Current Market Price: $82.03
Variance, High to Low: 25%
Current Yield: 5.09%
Note: Pricing close to 5-year high

Low Beta / Low Volatility Common Stocks That Smooth out a Rough Portfolio
Not keen on utility preferred shares, or fixed income in general? I bet the following stocks will catch your eye. While the stock market has been wilting (or hot-flashing as bad as Edith Bunker), these stocks have maintained a steady, overall upward trajectory. One is a dividend growth achiever, and all are from sectors which are considered defensive. They share the low variance aspect of utility preferred shares, without the complications of having to understand the many moving parts of fixed income.
Bowl America, Inc. (NYSEMKT:BWL.A)
Bowl America is a dividend stalwart and holds its place on David Fish's List of Dividend Champions as a first tier, "Dividend Champion" selection. Bowl America operates bowling centers around the United States. The beauty of Bowl America, from a technical standpoint, is an extremely low variance between the high and low closing prices. It is also a debt-free company, and operates in the United States, which is now in favor given current international market turmoil.
Current Price: $12.67
1-Year High Close: $13.63
1-Year Low Close: $11.99
Price Variance: 13%
Dividend Yield: 5.05%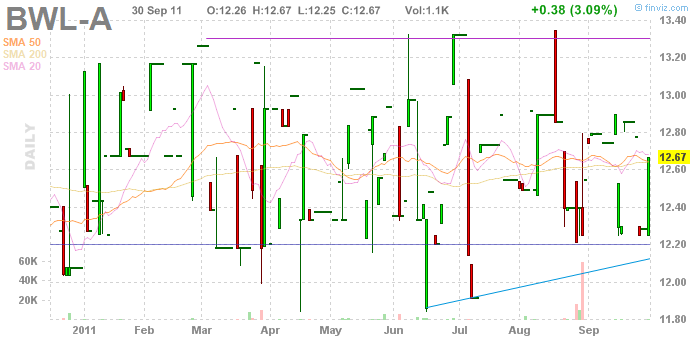 Whiting USA Trust (NYSE:WHX)
Whiting USA Trust would not be considered low volatility when factoring in a full year's worth of data. However, since February 2011, Whiting has been a steady performer. Both the P/E and Forward P/E are ridiculously low (around 5), while at the same time Whiting is maintaining a high dividend (17%+). Whiting USA Trust I is a trust formed by Whiting Petroleum and holds interest in oil and natural gas properties in several U.S. locations.
Current Price: $12.67
9-Month High Close: $18.22
9-Month Low Close: $14.99
Price Variance: 18%
Dividend Yield: 17.53%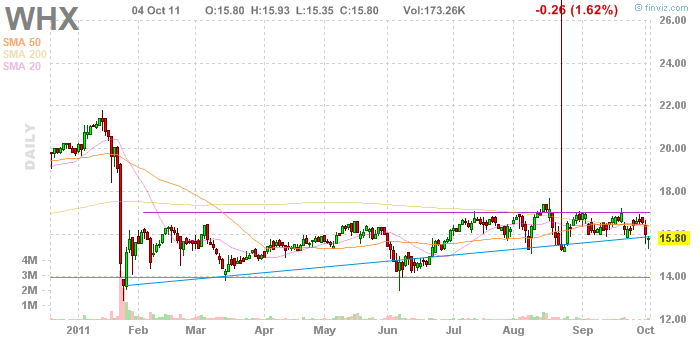 United Guardian, Inc. (NASDAQ:UG)

Although not flashing a "buy" signal at the moment, United Guardian may be the ultimate defensive stock. United Guardian provides lubricants used in cosmetics and other consumer products, while marketing themselves primarily to the health care industry and the government. This stock pays twice yearly with a variable but overall increasing dividend. The yield is just under 5%; wait until the stock has exhausted its current climb before entering.
Current Price: $14.67
1-Year High Close: $15.63
1-YEar Low Close: $12.96
Price Variance: 18%
Dividend Yield: 4.76%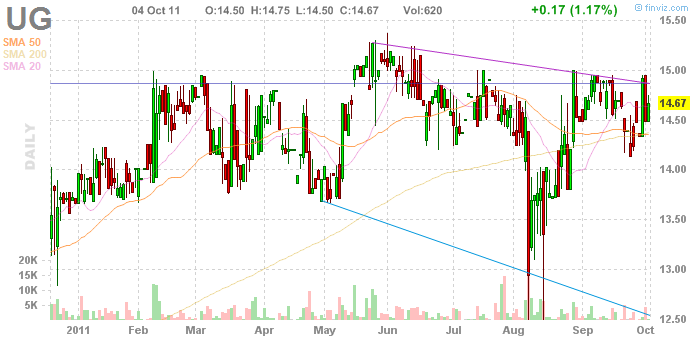 Conclusion
While the pundits debate whether we are entering a double-dip recession or will muddle along with a steady, slow paced recovery, you can invest in such a way where the pundits don't matter. The selections above represent just a few opportunities to stay long in a market that is currently walking down "Menopause Lane."
Disclosure: I am long WHX.