The sovereign-debt crisis has escalated since the spring, spreading from the periphery (Greece, Ireland and Portugal) toward the core (Italy and Spain). Nevertheless, the contagion hasn't infected credit markets outside the EU.
Although most of the master limited partnerships (MLP) in my coverage universe have almost zero revenue exposure to European markets, a second credit crunch would impact the group. MLPs rely on issuing units (the MLP equivalent of shares) and selling bonds to finance new projects and acquisitions--credit is the lifeblood of distribution growth. On the whole, MLPs have reduced their reliance on short-term lines of credit, but another credit crunch would still deal the group a major blow.
Investors should tune out the noise and focus on a handful of indicators to gauge the health of the interbank lending market, the US corporate bond market and EU sovereign-debt markets.
The Interbank Market
The TED spread, or the difference between what banks and the US government pay to borrow for three months, rose from obscurity in 2008 and 2009 to become the most popular ways to gauge the health of the financial system and the interbank lending market. After Lehman Brothers declared bankruptcy in fall 2008, financial institutions hoarded cash and restricted interbank lending because of concerns about the solvency of their counterparties. The US TED spread spiked to more than 4.5 percent in mid-October 2008.
To keep tabs on the health of the EU financial system, we monitor the spread between the three-month Euro Interbank Offered Rate (EURIBOR)--the rate major financial institutions in Europe charge each other to borrow money--and the yield on three-month German government debt. Check out this graph of US and EU TED spreads.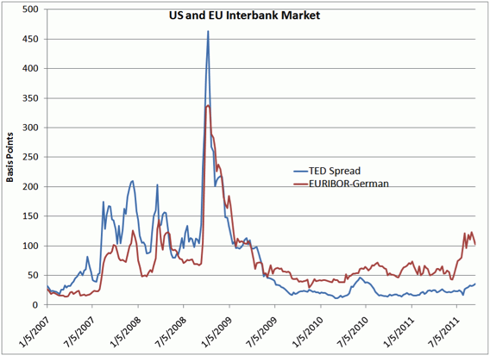 Source: Bloomberg
The US TED spread currently stands at 35 basis points (0.35 percent). This reading is above the long-term average but well under the high of almost 50 basis points registered in summer 2010. Though elevated relative to historic norms, the US TED spread is well short of its all-time high of more than 450 basis points.
On the other hand, the EU TED spread has spiked to more than 100 basis points in recent months--a higher reading than summer 2010, when the European sovereign-debt crisis first made headlines. The EU interbank lending market has tightened, but conditions have yet to deteriorate to the point that banks effectively refuse to lend money to one another for fear of counterparty risk.
Thus far, the spillover from the EU interbank lending market to its US counterpart has remained muted. Investors should become more vigilant if the US TED spread breaks above 50 basis points in coming weeks
US Corporate Credit Markets
At the height of the 2008-09 financial crisis, the bond market was closed to rock-solid, investment-grade corporations. From September through November 2008, US corporations raised an average of just $37.5 billion per month by issuing bonds. That compares to an average of over $100 billion per month in the first six months of 2008. Check out this graph of monthly corporate bond issuance from early 2010 to present.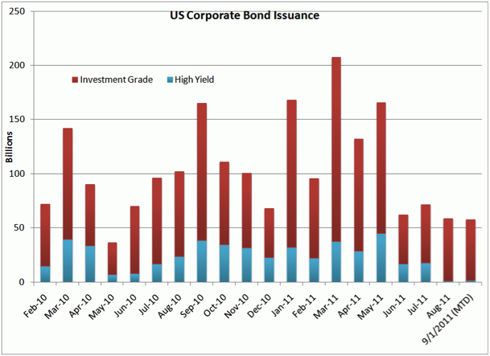 Source: Bloomberg
Some of the monthly variation in bond-market capital raised by US corporations reflects seasonal patterns. For example, issuance tends to tail off over the summer and during months with major holidays. But many corporations took a wait-and-see approach to raising debt capital this summer. In August, junk-rated companies issued a little more than $1 billion in total debt--easily the weakest month over this period.
Corporations tapped the bond markets regularly in the first half of the year, taking advantage of extraordinarily low borrowing rates to issue long-term debt. Even firms with credit ratings well into junk territory were able to raise debt capital at historically low rates. In short, many firms addressed their borrowing needs earlier in the year and took a break from the capital markets.
But corporate debt issuance has rebounded in September. Through Sept. 16, US corporations have already raised as much debt capital as they did in all of August.
When evaluating the health of corporate bond markets, you should also pay attention to the cost of credit.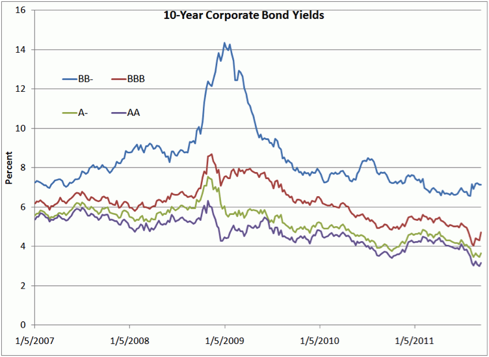 Source: Bloomberg
This graph tracks the average yield on bonds issued by US industrial companies with AA, A-, BBB and BB- credit ratings from Standard & Poor's. Corporate bond yields spiked across the board in late 2008 and early 2009, but junk-rated firms bore the brunt of the crisis. At one point, the average yield on a bond rated BB- hit almost 15 percent. Bond yields ticked higher in late 2010, reflecting an improvement in economic conditions that pushed up interest rates throughout the economy.
Although the cost of debt capital has increased slightly in recent months, the yields on investment-grade bonds are still lower than they were at the beginning of 2011. At these levels, even lower-quality borrowers can raise capital at reasonable rates. Check out Jim Fink's InvestingDaily.com article, Why You Need Bonds, for more great tips on bond investing.
Yields on bonds issued by Enterprise Products Partners LP (NYSE: EPD) and Kinder Morgan Energy Partners LP(NYSE: KMP) have declined in recent months. For example, Enterprise Products Partners' 6.45 percent bonds that mature in September 2040 currently yield less than 5.79 percent, down from 5.8 percent three months ago and 6.08 percent in mid-March.
Credit market conditions can change quickly, but there's no evidence of a credit freeze-up or a significant spike in the cost of credit for the MLP and oil & gas sectors.
Disclosure: I am long EPD, KMP.