The gold market has had a few rough weeks of late and is back at the $1,650 level after flirting with $1,900.
As my friend Guy Adami of CNBC's Fast Money says, this commodity took the stairs up and the elevator down!
In a mad dash for cash, investors and traders all headed for the exit at the same time, causing the yellow metal's price to plummet.
But, at the end of the day, nothing fundamentally has changed about gold's future. These temporary disruptions are a normal part of any bull market. Gold is still the ultimate reserve currency. Until Congress honestly repairs America's long-term debts and excessive spending, gold will continue its climb higher.
But be careful how you play it. Let me explain…
So What Happened?
Many reasons exist for gold's tumble. First, we have growing fears that the European debt crisis will wreak havoc on the euro-zone and its currency.
On this side of the Atlantic, American politicians threatened another government shutdown. The issue was temporarily resolved last week, but Washington's political gridlock lives on, especially with a hotly contested Presidential election just around the corner.
And with stocks tanking, fund managers who owned gold had to sell the metal to raise cash to pay for redemption requests. Finally, we have boneheaded speculators who rushed into gold just because it was rising, and then bolted at the first whiff of weakness.
Now we are starting to hear financial news pundits talk about the demise of the "gold bubble." These "experts" are always the first to react – after the fact. That is usually a positive signal.
The gold market has been looking toppy for the past few weeks. And, in any bull market…
A Correction Is Healthy
This gold "massacre" has all of the hallmarks of a classic bull market correction. Let's take a look at the steep decline on a short-term chart:
Gold Prices Dropped $400 in 20 Days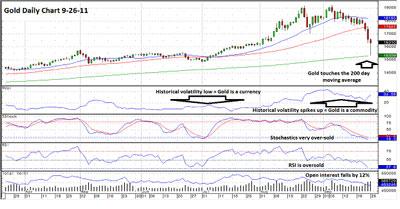 Click here to view larger image

Two of my favorite technical indicators – the Relative Strength Index and stochastics – are signaling that the yellow metal is oversold at current prices. Open interest, which measures the number of open short and long positions in a market, has also fallen, which tells me that fund managers and speculators are selling their gold in order to cover losses.

In the chart, you can see that gold was pushed down to $1,535 last week. That's within $5 of the 200-day moving average, a key technical level. The gold market held this level. It may be tested again in the coming days, but I would be surprised if gold sellers push the market below this key price.

All of this is to say, gold's uptrend has not been broken. The yellow metal is simply undergoing a temporary disruption that has created an opportunity for gold bugs to buy this commodity at "cheaper" prices.

But be warned: do not venture into the options market to play gold with leverage at this time. Let me explain…

Gold Options Are Mega-Expensive

I have written before that due to gold's low volatility, it trades more like a currency than a commodity.

Well, over the past month, gold's daily historical volatility has spiked, indicating that the yellow metal's daily trading range has expanded. This means that gold has been trading more like a commodity than a currency.

It also means that the slow and steady rally is over, for now.

Do Not Buy Call Options on Gold

The price of gold has come down fast. Volatility has increased dramatically, which has caused options prices to increase dramatically.

Although gold will resume its uptrend, do not buy gold call options at these levels.

Typically, buying call options offers an investor a limited risk way to play a commodity market. But when the gold market turns around and climbs again, I expect the volatility to decrease. If you buy call options at current levels and gold prices head higher, your gold options could produce very little return.

The same thing happened in the oil market recently…

When oil dropped from $114 to below $80 between May and August, the volatility spiked. Those investors who bought call options in the low $80s and high $70s saw oil rebound to the $90-level and their call option investments actually lost money in many cases.

So beware… if you are looking to get into the gold market on the long side, avoid buying call options.

Higher prices and lower volatility could really hurt your investment.

In the current environment, there are better alternatives to play gold – ETFs, bullion, coins, mining stocks, etc.

If you're more aggressive, gold futures reflect the dollar-for-dollar move of the yellow metal. And, if you really want to take advantage of gold's correction, sell put options. With volatility higher than normal, put options have spiked and offer aggressive investors the opportunity to take advantage of both a rebound in gold prices and lower volatility levels.

As an example, a $1,500 put option in gold with just 23 days left until expiration closed at $16.20 on Friday. $1,500 is $150 below the current market price and below the key technical level. Considering how gold has traded over the past months and years that option is overpriced!

The gold market's rally is far from over, folks. The world's economic state supports gold as an asset. This correction is merely giving investors yet another precious opportunity to add gold to their portfolios. Long term, gold prices will continue to make higher highs and higher lows.


Disclosure: I have no positions in any stocks mentioned, and no plans to initiate any positions within the next 72 hours.