In late July 2011, the equity markets rolled over and ever since have been putting investors on yet another roller coaster ride. Advances and declines by triple digits on the Dow seem to be a daily occurrence, leaving investors frozen as to what actions to take.
Income investors, no different than any other, are also left in confusion as to what to do. News events and fast changing headlines come at such a rapid pace that one is not able to fully digest one event before the next one hits. For example income investors have had to contend with such events as Middle East tensions, Greek bond defaults, and Eurozone and U.S. debt crisis. Each event in itself is a very complex issue with many facets and twists to consider. Pile them all in at once, with daily changes, and you get such a convoluted set of events that it is almost impossible to predict the outcome with any certainty.
This situation should make any income investor very nervous. The disastrous declines of the market in 2008 are still fresh on most investor's minds, but so is the partial recovery that was experienced in later years. Several income investors have started to add certain income producing stocks to their portfolios as the stock prices have fallen with the markets. Whether the downward pressure has abated and the overall market has stabilized is anyone's guess. What is known is that certain quality income stocks have come down in price to offer some solid yields for those willing to invest at this juncture.
Penn West (PWE): Much earlier this year PWE was trading north of $28 a share. With thoughts of a recovering economy and higher oil prices, Penn West seemed to be hitting on all cylinders. With a huge land mass of 6.2 million acres and new drilling techniques in place, the company's stock price looked like a solid bet. In early April though, this income investor's dream started to turn into a nightmare. Hit by a perfect storm of events, the stock price tumbled. First, devastating forest fires, wet conditions, and a third party facility issue all contributed to delays in production. Second was the abrupt end to the economic recovery that was thought to be under way. As news of economic woes reappeared in headlines across the planet, global selloffs ensued and PWE was once again caught up in the maelstrom. Finally, the fall in oil prices also played a big part in the fall of PWE's stock price. So our once $28 stock now trades at roughly $14 today.
Is PWE worth buying today? It just might be, as the company has lots going for it. For example Penn West owns 15% of the approximate 80 billion barrels that is said to be in place in the Western Canadian Sedimentary Basin (WCSB). Couple this fact with their new horizontal drilling technologies and you get a company with a good chance of really increasing their reserves. It is estimated that Penn West will have expended C$1.4-C$1.5 billion in capital expenditures for 2011.
The company should have access to needed cash as it has an aggregate borrowing limit of $2.25 billion. The company also expects to recover most of the lost production in the fourth quarter as things return to a more normal operation. The current yield is around 7.7% which is a solid rate. This is definitely one to keep an eye on.
click on all charts to enlarge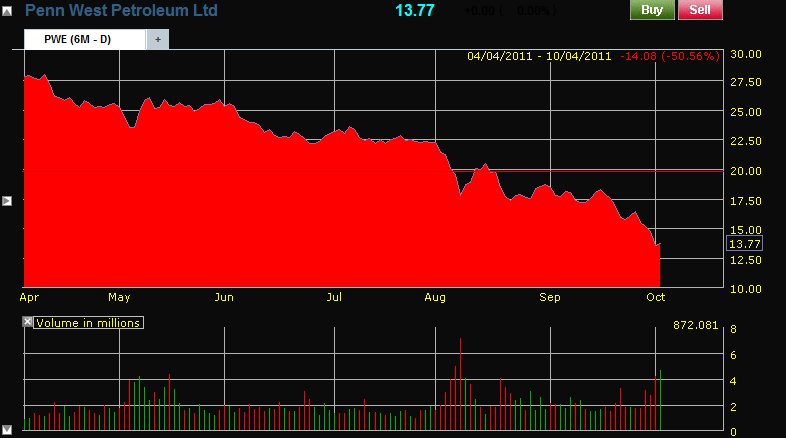 When one discusses PWE, it is hard to not also mention Enerplus Corp. (ERF). Much like Penn West, ERF is a Canadian company that engages in the acquisition, exploitation and operation of crude oil and natural gas assets in Canada. ERF operates on a land base of approximately 420,000 net acres within such well-known plays as the Bakken/Tight Oil play, the Marcellus Shale Gas play, and Deep Basin play. As of December 31, 2010, its total estimated proven plus probable reserves were 306,237 thousand barrels of oil equivalent consisting of 149,853 thousand barrels of crude oil, 11,576 thousand barrels of natural gas liquids, and 752,187 million cubic feet of natural gas and 116,662 million cubic feet of shale gas. The reserve life for the company is 10.7 years and production outlook is estimated to be 78,000 to 80,000 BOE/day. The production is almost an even break of 53% natural gas, 47% crude oil and natural gas liquids.
Prior to the selloff in July 2011 the stock price hovered around $32 with a consistent dividend of around $0.18 a share distributed on a monthly basis. This distribution looks to be stable as the payout rate is running at 55%. As the bloodletting in the market continues though, we find the current share price at around $23 making for a yield of 8.9%.
Needless to say, that kind of yield will start to tempt some investors to stick their toes back into the market waters. A further look into ERF will show that the company has a goal of growing their total production by 10 – 15% through 2012. The oil production side of the house is planning to increase by more than 30% over the next two years. All of this is due to the company's largest capital expenditure programs on the oil side of the house that is worth over C$650 million. To finance this activity, ERF completed the sale of a portion of their Marcellus natural gas interests in Pennsylvania, West Virginia and Maryland and are in receipt of the proceeds of approximately US$580 million. The proceeds will be used to repay current outstanding bank debt resulting in the entire $1 billion credit facility being undrawn and available to support the future growth strategies. ERF will be an interesting equity to watch.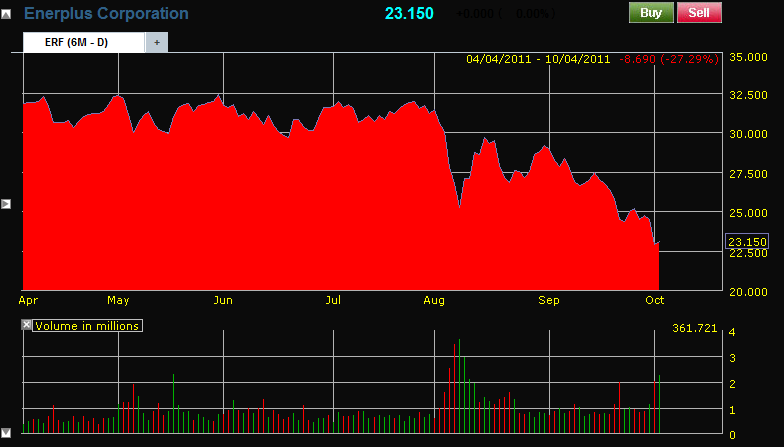 Though the current market storm has devastated the onshore income energy companies, the offshore income plays have fared little better. One well known income play in this arena is SeaDrill (SDRL). For those income investors new to the game, SDRL is an offshore drilling contractor that provides offshore drilling services to the oil and gas industries worldwide. It also offers platform drilling, well intervention, and engineering services. The company owns and operated 59 offshore drilling units, which consist of drillships, jack-up rigs, semisubmersible rigs, and tender rigs for operations in shallow and deepwater areas, as well as in benign and harsh environments.
Seadrill has been a rapidly growing company that has attracted worldwide business and interacts with some of the biggest names in the industry as customers. This rapid growth has come at the cost of lots of debt, but the company is a cash machine generating a quarterly dividend of $0.75 per share or $3.00 a year. In July 2011 the shares traded up to $36 a share, but then came the market selloff as well as a RBC Capital downgrade to sector perform from outperform on valuation. As a result, one now finds SDRL trading close to $25 a share, making for a yield of close to 12.0% as long as the distribution amount stays the same.
For those brave enough to take to the high seas, SDRL might be an interesting buy at these levels, just remember to bring your Dramamine.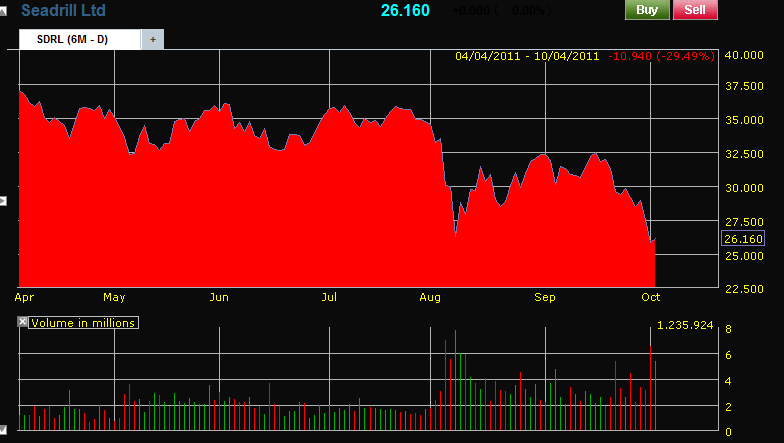 Leaving the energy sector, one can find some very interesting income ideas in the communications side of the house. One name in particular is Alaska Communications Systems (ALSK). For those unfamiliar, Alaska Communications Systems provides integrated communications services in the State of Alaska. It operates in two segments, Wireline and Wireless.
In July ALSK was selling for $9 a share and sporting a nice dividend to boot. Since the recent selloff, the stock now trades around $5.80 a share but so far the dividend seems to be stable. In late September of 2011, its board of directors declared a quarterly cash dividend of $0.215 per share on the company's common stock. The dividend is payable on October 19, 2011, to stockholders of record at the close of business on September 30, 2011. That makes for a yield of 14.7%. The revenues and cash flows are very stable and the company's cash flow looks like it will cover capital spending and dividends. One also has to consider that this company is operating in one of the strongest states in the union right now.
The downside for ALSK is the threat of competition that could come from entities like AT&T (NYSE:T) or Verizon (NYSE:VZ) that could venture into ALSK's market at some point. Neither of these companies currently have the infrastructure in place to just start taking ALSK's market share so that will work in ALSK's favor for a while. There is even a question if they will make their appearance at all in the Alaskan communications markets. All in all, Alaska Communications could be a very tempting buy for the investor looking for yield.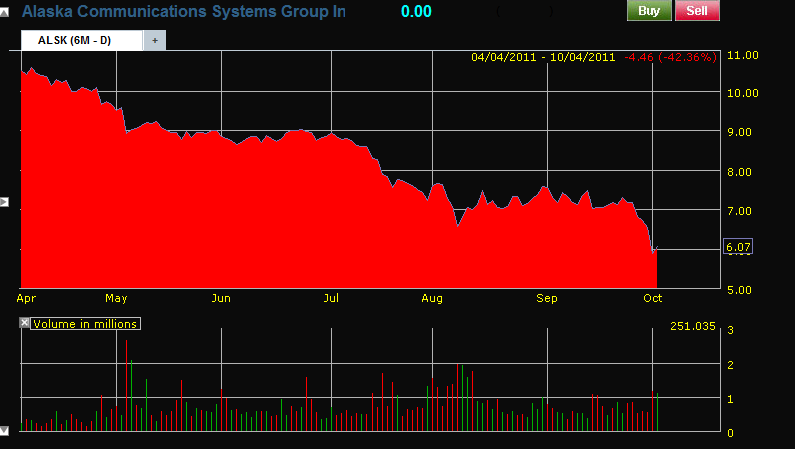 If neither communications nor energy is right for your portfolio, maybe the fertilizer side of the house might work. For this, the income investor should check out CVR Partners (UAN). The fertilizer thesis is pretty well understood as demand for it continues to be strong as worldwide populations expand. This partnership was derived from CVR Energy Inc. which spun off UAN to operate the fertilizer side of the business. Once the final dealings were done, CVR Energy holds a 70% interest while the other 30% is held by the public.
UAN has lots of positive catalysis but one of the most interesting is that they are the only fertilizer producer in North America that uses a special petroleum coke process to make its product. That coke happens to come from a refinery in Coffeyville, Kansas which is operated by none other than CVR Energy, the parent company. Digging deeper one finds that this coke tend to be much less expensive and much more stable in price when compared to natural gas which other competitors have to use. That being the case UAN is going to be one of the lowest cost producers in the nitrogen fertilizer business.
The recent volatility has seen UAN sell off as well. In late July the stock traded for as high as $25.50 a share. Currently the stock now trades around $21.50 and will often dip lower than that. At this price the yield calculates to around a 7.6% which is very competitive indeed for those willing to take the risk at this point.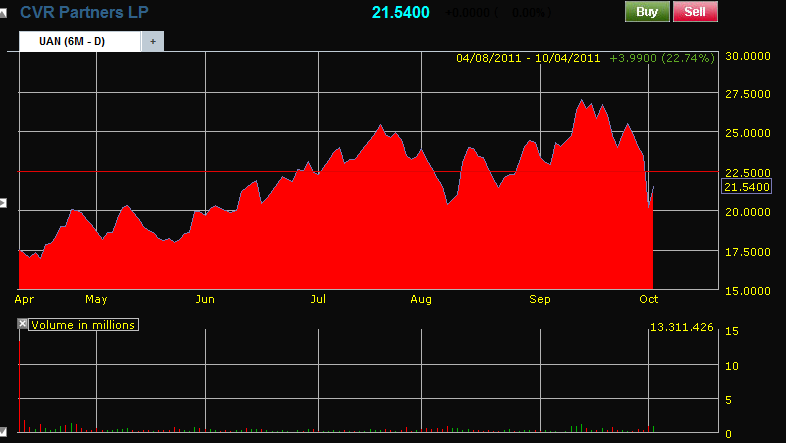 Last, but not least, is the closed end fund Gabelli Global Gold, Natural Resources & Income Trust (GGN). This closed-ended equity fund (CEF) is not an investment in gold as its name might suggest. It is actually an income investment that happens to be using gold, silver, and natural resource stocks to derive income off the selling of covered calls.
The fund makes investments in equity securities of firms operating in gold and natural resources industries including companies in exploration, mining, fabrication, processing, distribution or trading of gold, financing, managing, controlling or operating of companies engaged in gold-related activities. It also invests in companies principally engaged in the exploration, production or distribution of natural resources, such as gas, oil, paper, food and agriculture, forestry products, metals and minerals as well as related transportation companies and equipment manufacturer.
The nature and characteristics of CEFs can be complex and whole books can be dedicated to them. In late July, GGN traded up to $18.60 share with a monthly distribution of $0.14. Since the market selloff took its toll, we find GGN currently at a price of $13.73 but that makes the yield 12.2% as long as the distribution amount stays constant. For those interested, it should also be known that the fund is selling at a 1.38% discount to net asset value. If you're willing to take on the added complexity of CEFs, this fund might be yet another interesting trade for those in search of yield.
Keep your head in the game and look to capitalize when you think you can.
Disclosure: I am long UAN, GGN, PWE.
Disclaimer: Data and information are provided "as-is" for informational purposes only, and are not intended as investment advice, tax advice or legal advice. All data and information are provided by optionsXpress Holdings, Inc., and optionsXpress, Holdings Inc. does not endorse or warrant the validity or accuracy of such data and information. Nor is optionsXpress Holdings, Inc. liable for any errors or delays in the data and information, or for any actions taken in reliance thereon. optionsXpress makes no investment recommendations and does not provide financial, tax or legal advice. Information accessed through this website and any link contained therein does not constitute a recommendation to buy or sell a particular investment from optionsXpress. You are solely responsible for your investment decisions, and you should carefully evaluate the information to determine whether it is right for you and use of such information is suitable for your objectives.