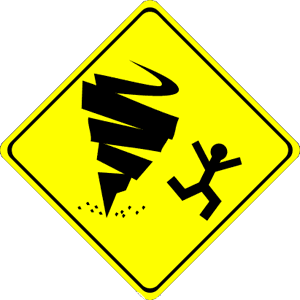 News from Europe continues to dominate the short-term trading trends here. Good news from Europe the drives stocks higher seems only to be followed by wave after wave of bad news sending stocks lower. News that Greek bondholders should expect to take more of a haircut (loss), seriously unnerved investors, and rightfully so as the situation just seems to worsen no matter the rhetoric that it's not. An orderly default would be bad enough. A disorderly default, still a long shot (and it's hard to fathom that they would let that happen), would be catastrophic, much like the Lehman bankruptcy.
Since the market made its low on August 9th, 2011, I have been saying that the market will need to successfully "retest" those lows before we are certain a bottom was in place. It made several successful retests over the last week, but yesterday it broke through. Technically that is a bad sign, because presumably now we must go through the process all over again once it makes a significant enough bounce.
Of course at some point, we get to a climatic action, a capitulation that tends to occur near market bottoms. To explain this I need to get a little technical here. Climactic price action tends to occur on Volume that is much heavier than normal. For example, when the market was falling sharply back in early August, Volume surged, coming in around 8 and 9 billion shares. Specifically, on the Aug. 8th's sell-off, during which the DJI declined 634 points, total Composite Volume was 9.86 billion shares, more than double Volume's 30-day moving average. Yesterday's Volume, at 5.8 billion shares, was 1.2 billion shares above the current 30-DMA. Therefore it's probably not the capitulation that tends to occur near important market bottoms.
A shakeout occurs when a support level is broken, typically on higher than average Volume, and is followed by a swift recovery to back above the former support. This would be considered a sign of strength, as it would demonstrate what the market was not capable of doing, which is break below a level of important support, which it pierced yesterday and vaulted through today. This is still very possible, and will explain some questions I am sure to get on why I just didn't sell everything and run for the hills already. You simply just don't know until stocks are already well off the highs and you are in the midst of a mess. Remember, when the market is dropping you feel the worst and want to run. The problem is, that if it rebounds from there you forget that rollercoaster feeling you had and you wonder how you could have been so stupid to have been scared out of the market, which is now much higher, by a little short-term correction.
So we are at a critical juncture. If this scenario is to develop, the recovery rally must come quickly after a break of the support level. It must also be a fairly significant move higher and occur on Volume equal to or greater than on Monday's decline. Therefore, near-term price action is particularly important. If the market rallies off the lows today, and let's say closes up, we can assume a capitulation phase occurred and can expect a pretty good rebound. Keep in mind that we will then to retest these very lows, usually within 2-3 months. A failure to rally would imply the breakdowns are valid and the market is in the early stage of another leg to the downside.
Given that where there is smoke there is usually fire, investors should move out of the riskiest holdings, such as those that do not pay dividends. If the market does breakdown, even darlings like Apple (NASDAQ:AAPL), Google (NASDAQ:GOOG), Intel (NASDAQ:INTC), Cisco (NASDAQ:CSCO) and McDonald's (MCD) will collapse.
Investors must protect their portfolios before it's too late. Stick with high dividend paying stocks, preferreds and corporate bonds. With the recent decline, MLP's are particularly attractive here.
LGCY – Legacy Reserves LP - yielding 9+%
BBEP– Breitburn Energy Partners - yielding 9+%
VNR– Vanguard Natural Resources - yielding 9+%
Ally (NYSE:NLY) PrA – yielding 11+%
Ally PrB – yielding 11+%
Disclosure: I have no positions in any stocks mentioned, and no plans to initiate any positions within the next 72 hours.