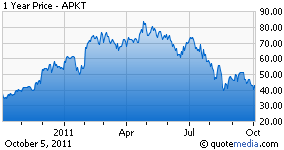 After the bell Tuesday, Acme Packet (NASDAQ:APKT) reported disappointing numbers for Q3 due to the delay of a major order until Q4. The company actually reaffirmed guidance for 2H making us ponder whether the supposed bad news is actually full of good news.

The stock has already been cut in half since the April $84.50 high yet the worse it can offer the market is that one of the top two service providers in the U.S. delayed a major order until the first part of Q4.

Of course the bears will argue that the order may get delayed again or even canceled. It could never happen if the customer was willing to push it out once.

The good news from the press release and the conference call (well worth a listen) is that the market has remained solid and it hasn't seen any contraction. In fact, according to management on the conference call business outside North America was actually above plan.

So the worst APKT provided the market was that AT&T (NYSE:T) delayed a order for a few weeks due to larger decisions on the new network unrelated to APKT. Is this really what the bears that sold the stock down 50% prior to the announcement and an additional 35% initially after hours expected?

This news has to be generally beneficial for networking stocks. The market remains strong with no signs of contraction. Orders aren't being canceled left and right. Wireless providers must continue spending and undoubtedly cloud computing as well.

On the flip side, APKT had a very high multiple at the peak. The fact that earnings are tied to the large service providers instead of corporations is unappealing. Earnings might be very lumpy in the future, but I sure wouldn't expect lower prices in the stock or the sector from here. Trading on Wednesday will be very telling.

Per APKT PR:

Based on preliminary third quarter estimates which are subject to change, the company expects:
Total revenues to be approximately $70 million.
Non-GAAP1 gross margin to be approximately 84%.
Earnings per share on a non-GAAP1 basis to be between $0.20 and $0.22.
The company reaffirmed its previous business outlook for 2011. The company's outlook is based on the current indications for its business, which may change at any time. The company expects:
Total revenues for 2011 to range between $315 million and $320 million.
Total revenue growth rate for 2011 to range between 36% and 38%.
Total non-GAAP EPS to range between $1.14 and $1.18.
Total non-GAAP EPS growth rate to range between 43% and 48%.
Disclosure: I have no positions in any stocks mentioned, and no plans to initiate any positions within the next 72 hours.