A company that continues to pop up in the news is Baidu (NASDAQ:BIDU), which a lot of people call the Chinese Google (NASDAQ:GOOG), A recent partnership with Microsoft's (NASDAQ:MSFT) Bing search engine should now give them access to the large English language segment they needed, Right now with the stock selling at a 36% discount from its one year high you might want to consider this high flier. The one-year trading graph provided by Barchart shows a great buying opportunity:
Click to enlarge
Baidu provides Chinese and Japanese language Internet search services. Its search services enable users to find relevant information online, including Web pages, news, images, multimedia files and blogs through the links provided on its Web sites. The company also offers online community-based products and entertainment platforms; an instant messaging service; and a consumer-oriented e-commerce platform.
In addition, it designs and delivers online marketing services and auction-based P4P services that enable its customers to reach users who search for information related to their products or services. The company serves online marketing customers consisting of small- and medium-sized enterprises, large domestic corporations and Chinese divisions or subsidiaries of multinational corporations primarily operating in the medical, machinery, education, franchising, electronic products, e-commerce, ticketing, tourism, information technology, consumer products, real estate, entertainment and financial services industries. It sells its online marketing services directly, as well as through its distribution network.
The company was formerly known as Baidu.com, Inc. and changed its name to Baidu, Inc. in December 2008. Baidu, Inc. was founded in 2000 and is headquartered in Beijing, the People's Republic of China. (Yahoo Finance profile)
Factors To Consider
Barchart technical factors:
Barchart's technical indicators are based on short term, one to six month price movements. Short term sell signals can signal a buying opportunity if the company has good fundamentals and a wide following.
80% Barchart technical overall technical sell signal - most of the 13 indicators are weakening from the sell side
Trend Spotter sell signal - also weakening
Trading below its 20, 50 and 100 day moving averages
36.48% off its one year high
Relative strength Index is 28.63% and still weakening
Barchart computes a technical support level at 102.62
Recently traded at 106.01 which is below its 50 day moving average of 137.93
Baidu is a Wall Street darling and analysts have very aggressive projections.
Sales are forcast to increase by 79.90% this year and another 53.50% next year.
Earnings estimated are equally huge with a consensus of a 90.20% increase this year, followed by a 51.50% next year and expected to continue for the next five years at an annual rate of 47.65%.
The estimates have resulted in 10 strong buy, 16 buy, four hold and one under perform (mainly based on the high P/E ratio).
You may note that the main target market is Chinese and Japanese but a recent partnership with Microsoft's Bing search engine will also open up the English speaking markets.
As I travel the world I run into Japanese tourists everywhere and now I'm running into more and more Chinese tourists. The acquisition of the Chinese travel company Qunar will bring more traffic to the sites.
As each quarter goes by Baidu management is getting more savvy about how to monetize the site and advertising revenues are expected to soar.
General investor interest:
I measure the individual investor interest by reading what the subscribers of Motley Fool are thinking and 4,769 readers express interest in this stock.
87% of the general readership vote for the stock to beat the market.
88% of the more savvy and experienced All Stars vote for the same result.
Fool follows member votes and has determined that it has been the longer term votes - those with a 1-5 year time frame - that have made the most money in this stock.
Competitors and sector leaders:
Although Baidu is almost flat for the past year, its competitors have had mixed results with Yahoo (YHOO) up 2% for the year , AOL (NYSE:AOL) down 51%, Move (NASDAQ:MOVE) down 38% and Sina (NASDAQ:SINA) up 40%: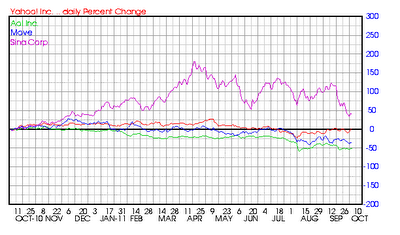 Baidu is a member of the SIC 7370 Services - Computer Programming and Data Services sector and some of its members have had better results such as Healthstream (NASDAQ:HSTM) up 91% for the past year, S1 Corp (NASDAQ:SONE) up 74%, Internet Initiative (NASDAQ:IIJI) up 76% and Sify Technologies (NASDAQ:SIFY) up 27%:
Click to enlarge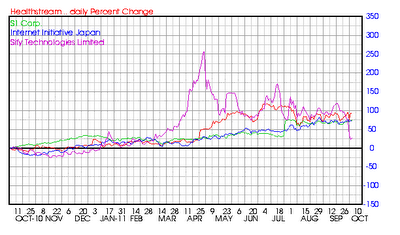 Summary - I'm placing Baidu on my watch list. I like to acquire companies that have a large following, projections of double digit sales and earnings and have current upward price momentum. Right now the stock has the first two criteria and I'm waiting for the market to turn to give me the last one. Maybe as early as this week.
Disclosure: I have no positions in any stocks mentioned, and no plans to initiate any positions within the next 72 hours.