The recent sell-off in the market has once again pushed casino stocks deep into value buy territory. Las Vegas has been hit especially hard from the housing downturn, but signs of life are increasingly starting to emerge, demonstrating Las Vegas once again is becoming a growth story.
For investors, Las Vegas may have never looked better. The State of Nevada does not collect income tax, has one of the most affordable housing markets in the nation, friendly business climate pulling companies into the area from out of state, and baby boomers entering retirement. The best news is casino stocks are on sale. What more could a value investor want?
As it turns out, investors may have one more card up their sleeves with an investment in gaming. Online poker has made it big and is a multi-billion dollar industry. Most of the industry is not within United States due to various federal and state laws, and statutes preventing the industry to flourish. Congress, not known for an over exuberance of common sense, does appear to be finally awakening to the fact many have known for a while, online gaming is here to stay.
The gaming industry is nudging Washington in a couple directions. One is to repeal federal laws retarding domestic industry growth, and the second calls for the federal government to step aside and allow individual states to decide if they want to allow it or now. It would appear the second choice has a much greater chance of becoming reality. Congressional members against a reduction of the nanny state are less likely to vigorously oppose giving states a choice compared to letting the free market decide. Not only could gaming stocks benefit from domestic customers, but maybe more importantly, from the world market. Online gaming would likely change overnight from an import service product to an export product. It would be good for Las Vegas, United States, and even investors would likely get some of the pie after the government takes their helping.
Interestingly enough, it may even slightly help the software industry. After the United States lost a trade dispute with the WTO, several island nations stated they would no longer enforce U.S. intellectual property rights in response to the U.S. unwilling to open up its domestic market.
Las Vegas Sands (NYSE:LVS) appears to be a great value at the current price. The Sands, together with its subsidiaries, owns, develops and operates various integrated resort properties primarily in the United States, Macau and Singapore. The company was founded in 1988 and is based in Las Vegas, Nevada.
The company is well diversified with properties in both the Eastern and Western sides of the United States, property in China, and property in Singapore. The Sands includes some of the most luxurious hotels in the world and highly rated staff. I have stayed at many hotels including properties owned by Sands, MGM (NYSE:MGM), Boyd (NYSE:BYD), Tropicana (OTCQB:TPCA) and others over the years. Based on my experience, I have not stayed in a casino hotel superior to the Venetian overall (not every category rated superior to all others).
The Las Vegas Sands stock has a massive Beta of over 3, so it clearly is not for the faint of heart. Stock options are a great way to lower the Beta for an investor and I will demonstrate how. The Quick Ratio is 1.55 (generally the higher the better), and over 1 is considered to be a cut-off point investors need to seriously begin examining for bankruptcy risk. The forward PE ratio is a little higher than I would prefer near 20, but stock options can help with this as well.The earnings per share is headed in the right direction as we can see by the graph.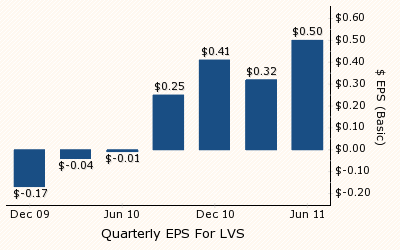 The Sands also has beaten the Street's estimates for the last five quarters. I find this especially important and worthy of note. Once Las Vegas picks up again, and it certainly will, the Sands is in a key position to enjoy the rewards.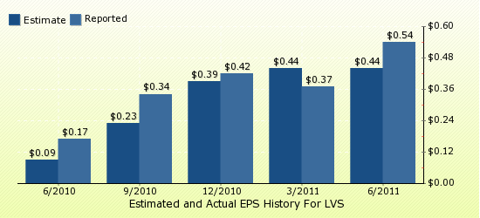 A very close second stock that I believe should be reviewed by investors is Wynn Resorts (NASDAQ:WYNN). Wynn Resorts, Limited, together with its subsidiaries, engages in the development, ownership and operation of destination casino resorts. The company was founded in 2002 and is based in Las Vegas.
I am a big fan of Steve Wynn and what he accomplished with hotels like Mirage and Bellagio. Now with his hallmark property named no less than "Wynn," he has proven time and again that luck did not determine his success.
Wynn Resorts has locations in Las Vegas and China. Great management and the highest quality experience for clients. There is very little not to really like with Wynn and that is part of the problem with investing with the company. The biggest drawback is the location of the Las Vegas Wynn property in relation to the Vegas Strip. Some may argue it is an advantage, due to the ability to avoid the strip. But with my many trips for both business and vacation, I can think of no time I didn't find myself enjoying the entertainment on the strip.
Because the Wynn and Steve Wynn are so respected and valued, the stock trades at a PE multiple of almost 40. To justify a 40 multiple a company must continue to not only grow, but expectations must continue that the company will grow. It's a lot to ask. I love Wynn at a lower valuation, but not so much here. I would not short Wynn, as I do not believe it will go lower, but if it does, I will be reviewing the numbers for an entry to buy. Wynn has fallen from a short term high of about $160 down to recent low of about $110. A pullback any further below $110 and it becomes very difficult to not justify some exposure. Wynn also pays a dividend of about 1.6%.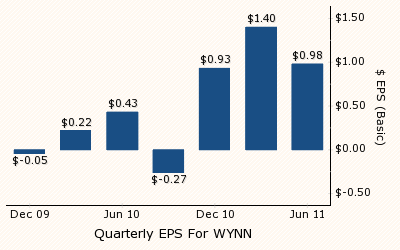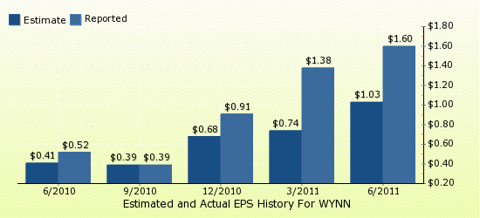 My third pick has a local flavor compared to Sands and Wynn. Boyd Gaming, together with its subsidiaries, operates as a multi-jurisdictional gaming company in the United States. The company was founded in 1988 and is headquartered in Las Vegas.
Like the Sands, I have stayed in a Boyd property. The Orleans is a large complex catering to a different demographic compared to Wynn and Sands. This allows for diversification within Las Vegas. During my last site review of Boyd, the company did have a location on the strip, but it's very much "old Vegas," catering to more modest visitors. Even so, Boyd does have locations outside of Las Vegas, including New Jersey, Mississippi, Illinois, Indiana and Louisiana.
Boyd is in a position to not only benefit from a Las Vegas expansion, but also with online gaming. With properties covering the East Coast, Midwest, South and Nevada, an economic recovery is likely to handsomely reward investors entering in near the current price level. Recently, Boyd completed the acquisition of IP Biloxi. The ability to expand during current economic times is one of the clearest sign of a company's health.
Not all would agree with the status of Boyd, however. Taking a look at the Quick Ratio is a scary 0.43. The stock has recently traded under $5. And as those who read my articles know anything under $5 should be considered a bankruptcy candidate. The chart currently looks like a horror show, moving from the upper left to the lower right.
While online gaming may or may not be the greatest boost to Boyd (they do offer a very large poker room in Vegas), an upturn in the local market is likely to benefit Boyd the most and the quickest. With the stock beaten down, and loved like doubling down on 11 and receiving an ace currently, those on the way up are likely to receive a multi-bagger investment. Boyd may not be as sexy as Wynn and Sands, but nothing is sexier in investing than making money.
My final pick for gaming stocks that I believe are about to be lifted includes MGM. If any company demonstrates just how difficult it is to go out of business when you own a major casino, MGM is a wonderful example. MGM Resorts International, through its subsidiaries, primarily owns and operates casino resorts in the United States. The company's resorts offer gaming, hotel, dining, entertainment, retail and other resort amenities. The company was founded in 1986 and is based in Las Vegas. Although Wynn and Sands may be best known for having casinos in Asia, MGM also has exposure to China.
I wrote an article not long ago about the valuation of MGM and if you like you may click here to read. Mr. Kerkorian with his holding company sold some of the shares he owns. As the largest shareholder, the disclosure sent the stock much lower. MGM has recently improved some key metrics, including occupancy rate and revenue per room. Aside from the largest shareholder liquidating shares, MGM's biggest concern may be the mountain of debt. Total debt for MGM is over $12 billion, but offsetting the large debt is a book value of $13 per share.
An upturn in Vegas may help MGM some, but in relation to the total revenue it is likely not going to influence the stock much. Where MGM is likely to really shine is from online gaming. With an internationally known name, MGM will have instant brand recognition and appeal. If the world gaming market including only part of the United States was opened up to MGM, I believe it may become the largest revenue and income source for the company. It may turn into a total game changer for MGM and investors.
MGM is not only in Vegas and China. With properties throughout United States, an economic upturn may go directly into the bottom line. Like LVS, MGM stock trades with a Beta requiring investors to wear a crash helmet. At nearly a Beta approaching 4, a neck brace is advised as well. With the aid of options as an investing tool, the volatility may be reduced. MGM does have a Quick Ratio over 1, which is encouraging. The quarterly results are not very pretty at first, but the direction is highly encouraging. Also, for the last year, MGM has been beating expectations.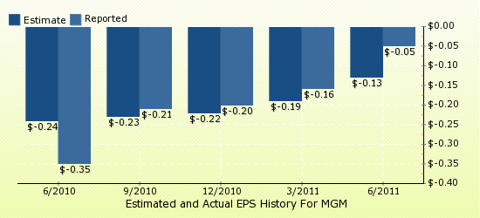 How can an investor gain exposure in a gaming industry expecting an upturn in the local economy as well as online gaming becoming a reality? I believe a better method is selling put options instead of buying the stocks outright. Selling put options lowers the volatility if they are out of the money, has lower risk if you are wrong, pays the investor time decay while waiting for the upturn, and may be profitable even if the stocks do not move higher in price.
For my number one choice: Las Vegas Sands, I am watching the January $30 strike price put options. Based on the current option Delta, Beta moves from over 3 to a much more comfortable number of less than 1. With current option premiums, a return of around 9% works out to a very nice annual return.
With Wynn Resorts, I would be interested in selling the January $90 strike price puts if the stock price moves near $100. With Boyd Gaming, I am watching the November $4 strike price put options for a premium of $0.50 as an entry point. If I can sell the put options and get exercised, my average price would be about $3.50 and I am more than willing to buy Boyd at $3.50.
MGM Resorts, I am watching the November $7 strike price put options for a premium of $0.55 as an entry point. MGM has a mountain of debt, but at $6.45 I am willing to buy a casino with a book value of double, and no clear sign of going out of business right now.
Disclosure: I have no positions in any stocks mentioned, but may initiate a long position in BYD, LVS, MGM over the next 72 hours.