When I was a kid we used chicken wings in crab traps because they were so cheap. The food fad turned food staple really changed the prices of chicken parts. Buffalo Wild Wings (NASDAQ:BWLD) has come out of nowhere to really expand on this product. Most of its competitors like Fox and Hound, Hooters, KFC and Outback are privately held so it's hard to gauge. This year hasn't been kind to the stock even though it's only off 16.89% from its one-year high compared to the Value Line Index off 23.57% from its high. The five-year weekly price graph provided by Barchart is telling a different story:
Click to enlarge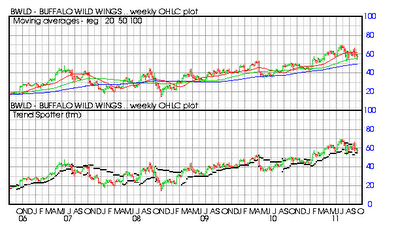 Buffalo Wild Wings engages in the ownership, operation and franchise of restaurants in the United States. The company provides quick casual and casual dining services, as well as serves bottled beers, wines and liquor. As of July 26, 2011, it had 773 Buffalo Wild Wings locations in 45 states in the United States, as well as in Canada. The company was founded in 1982 and is headquartered in Minneapolis, Minnesota. (Yahoo Finance Profile)
Factors To Consider
Barchart technical indicators:
72% Barchart technical sell signal -- sell signals are weakening
Trend Spotter technical hold - the hold might flip to a buy around 59
Trading below its 20, 50 and 100 day moving averages
16.89% off its one-year high which is better than the Value Line Index which is 23.57% off its high
Relative Strength Index is 44.18% and going up
Barchart computes a technical support level at 55.71
Recently traded at 57.25 which is below its 50 day moving average
Fundamental factors:
Wall Street brokerage food analysts have noticed this stock and are giving positive opinions
Sales are projected to increase by 24.20% this year and 23.40% next year
Earnings estimates are an increase of 26.20% this year, 21.90% next year and continue to increase for the next five years by 20.74% annually
These numbers resulted in six strong buy, four buy, seven hold and no under perform recommendations
Year over year comparison are a little difficult to make because the locations draw very big for football games. This year football has a full schedule so sales should actually be better
I like the earnings numbers which are hard for an expansion stock to maintain
Today's P/E ratio of 24.81 does not seem to be out of line for a stock having these growth projections
General investor interest:
For a company this size they have a surprising investor following with 4,653 readers of Motley Fool expressing an opinion
The general readers vote 94% that the stock will beat the market
The more experienced and savvy All Stars vote 96% for the same result
Fool reveals that all of the 15 Wall Street columnist that wrote about the stock wrote positive articles
Fool readers also reveal their investment time frames and those using a 3-5 year time frame have made the most money in this stock
Competitors and sector leaders:
Although not head to head competitors, it should be noted that the casual food industry has had mixed results with McDonald's (NYSE:
MCD
) up 13% in the past year, Yum! Brands (NYSE:
YUM
) up 3%, Darden (NYSE:
DRI
) down 3% and Brinker International (NYSE:
EAT
) up 9%:
Click to enlarge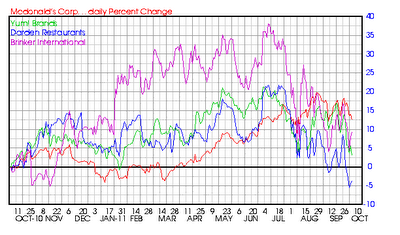 Buffalo Wild Wings is a member of the SIC 5812 Retail Eating Places sector and some had great years like BJ's Restaurants (NASDAQ:BJRI) up 52% in the past year, Chipotle Mexican Grille (NYSE:CMG) up 64%, Kona Grill (NASDAQ:KONA) up 62% and Carrols Restaurants (NASDAQ:TAST) up 54%:
Click to enlarge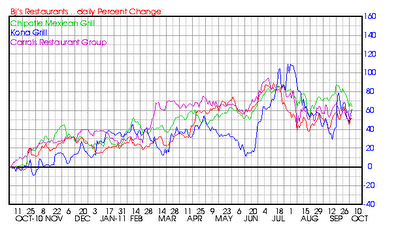 Summary: Buffalo Wild Wings is a low priced casual restaurant that has a sweet spot catering to the sports and college age crowd. I think this sector will recover far in advance of the rest of the industry. The double digit projections for both sales and earnings and the wide professional/individual investor following make this stock attractive for purchase on this temporary dip.
Disclosure: I have no positions in any stocks mentioned, and no plans to initiate any positions within the next 72 hours.