About two weeks ago I went looking for bargains in financials after nearly the entire sector was down to lows not seen since about 2009. Instead, I found technical indicators were neutral at best, bearish at worst. I then stepped back, looked at the financial sector as a whole, and found the same.
I decided to tackle bargain hunting a little differently this time around, and find cheap sectors as opposed to cheap stocks. I was more successful this way, finding a few performing decently, some poorly, and a couple surprises. Here are six sector ETFs that stood out to me, three bullish and three bearish.
I have also listed, for your convenience, the top holdings of these ETFs. I am not endorsing any of these individual companies' performances, merely how I believe the group of companies will perform. The volume listed in the charts is the 10-day moving average. I chose to use this because it helps smooth out the highs and lows and gives a better look at real volume trends.
Bullish Sectors:
The industrial sector seems to be the best-looking overall. Currently down 20.31% since July 22, its drastically rising average volume suggests to me that investors are seeking safety here. While this sector has taken a larger hit than the other two bullish-looking sectors, I believe the loss already taken sets it up for greater gains than its peers. Look for Caterpillar (NYSE:CAT), General Electric (NYSE:GE), 3M (NYSE:MMM), United Parcel Service (NYSE:UPS), and United Technologies Corporation (NYSE:UTX) to outperform the market.
Industrial Select Sector SPDR, XLI: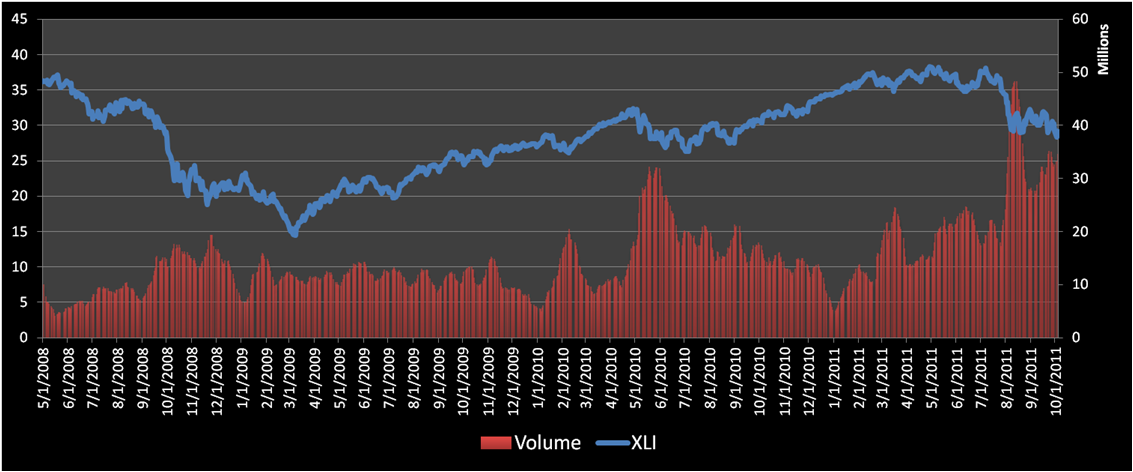 Not surprisingly, utilities also look strong. The sector is down only 2.45% since July 22, as investors continue to seek safety and a return of capital versus a return on capital. Look for Dominion Resources (NYSE:D), Duke Energy (NYSE:DUK), Exelon Corporation (NYSE:EXC), NextEra Energy (NYSE:NEE), and Southern Company (NYSE:SO) to outperform the market.
Utilities Select Sector SPDR, XLU: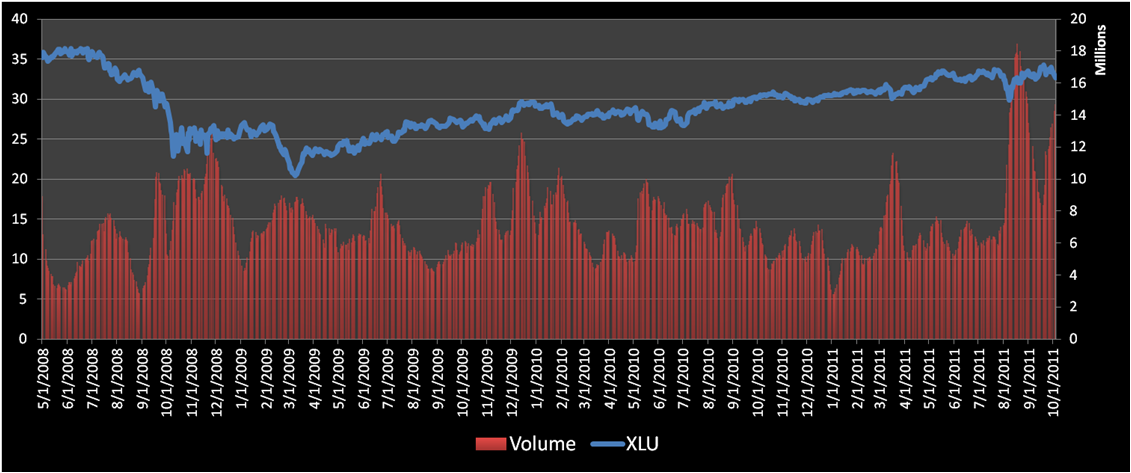 The surprise selection for bullishness is consumer discretionary. If the market is in a downtrend, I would expect these companies to fall in line with it. However, being down only 14.75% since July 22, they seem to be doing OK, and volume is starting to suggest that these companies will do well. Look for Amazon.com (NASDAQ:AMZN), Comcast (NASDAQ:CMCSA), The Walt Disney Company (NYSE:DIS), Home Depot (NYSE:HD), and McDonald's (NYSE:MCD) to outperform the market.
Consumer Discretionary Select Sector SPDR, XLY:
Bearish Sectors:
Basic Materials is looking to be the weakest of all sectors. Despite being down 29.93% since July 22, investors have yet to start piling in to what at first glance appears to be bargains. Look for Dupont (DD), Dow Chemicals (DOW), Freeport-McMoRan Copper & Gold (NYSE:FCX), Newmont Mining (NYSE:NEM), and Praxair (NYSE:PX) to underperform until the economy recovers.
iShares Dow Jones US Basic Materials, IYM: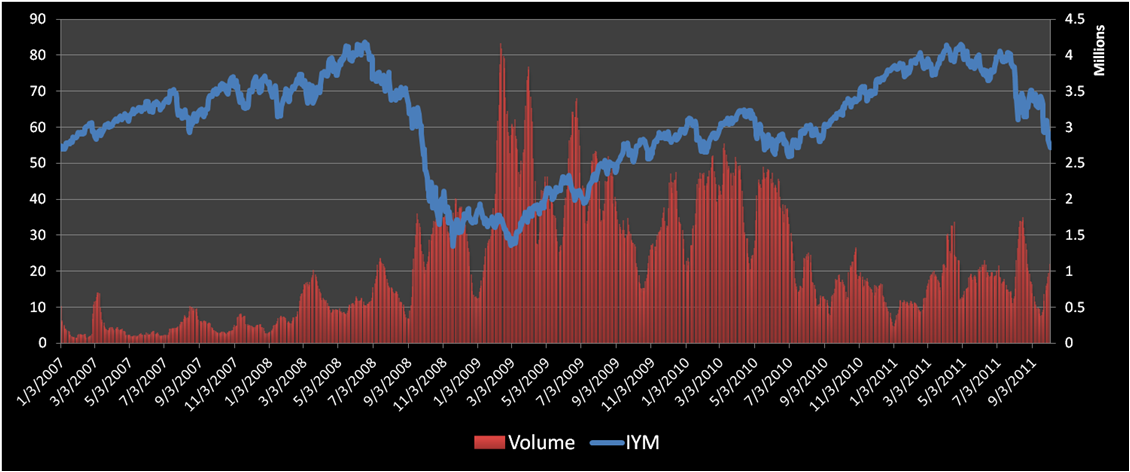 Real estate has fallen about 19.60% since July 22, but isn't receiving much attention yet. This leads me to believe two things: one, it has quite bit to go before it is a good value, and two, there is too much uncertainty in the market as property values across the board are questionable. Look for Equity Residential (NYSE:EQR), Annaly Capital Management (NYSE:NLY), Public Storage (NYSE:PSA), Simon Property Group (NYSE:SPG), and Vornado Realty Trust (NYSE:VNO) to underperform the market.
iShares Dow Jones US Real Estate, IYR: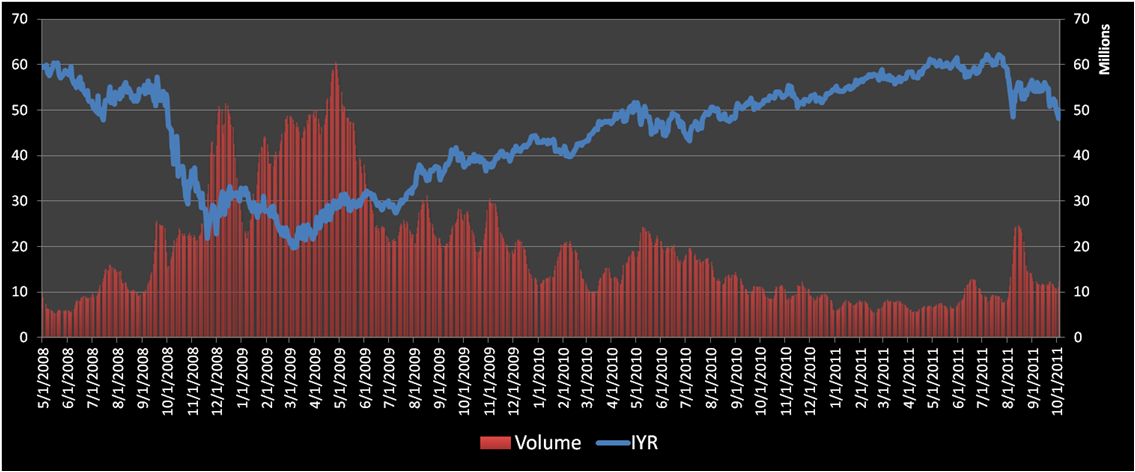 The least surprising choice in this list is financials, which is down 23.13% since July 22. Financials will continue to fall for as long as uncertainties continue in Europe. One day we hear Greece will default, the next day European banks are in trouble, and the next that they are all fine and will be propped up if anything should happen. From the mixed comments I hear, I'm not sure many people at all have a firm handle on the status of Europe.
As if that weren't enough, we have major banks facing lawsuits from the FHFA over mortgage losses. Until the future of both mortgages and Europe looks clearer, I think people will stay away from financials and all the risk they currently carry. Look for Bank of America Corporation (NYSE:BAC), Berkshire Hathaway (NYSE:BRK.A) (NYSE:BRK.B), Citigroup (NYSE:C), JPMorgan Chase (NYSE:JPM), and Wells Fargo & Company (NYSE:WFC) to underperform the market.
Financial Select Sector SPDR, XLF:
Overall, the market still looks questionable to me. For this reason I like the three bullish looking sectors above as part of a covered call strategy with strikes near or in the money. This should help limit losses if the market falls, or improve gains if the market trades sideways.
Disclosure: I am long XLI covered calls.