Exchange traded funds that track the basic materials sector have been hit hard in the market pullback the past few months, highlighting investor concerns over the global recovery.
Materials Select Sector SPDR (NYSEARCA:XLB) is down 27.6% over the last three months, iShares Dow Jones US Basic Materials (NYSEARCA:IYM) is down 31.5%, iShares S&P Global Materials (NYSEARCA:MXI) is down 29.9% and ProShares Ultra Basic Materials (NYSEARCA:UYM), a leveraged ETF, is down 55.7%.
In contrast, the ProShares UltraShort Basic Materials (NYSEArca: SMN) is up 82.25% over the last three months, although leveraged and inverse ETFs are designed as short-term trading vehicles rather than buy-and-hold investments.
Materials Select Sector SPDR is down 21.5% year to date, compared with a 9.3% loss for the S&P 500, according to Morningstar.
The chart below is a ratio of the materials ETF versus SPDR S&P 500 (NYSEARCA:SPY) that shows the sector's recent underperformance.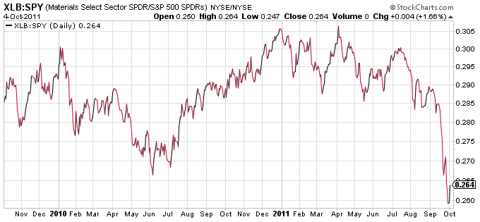 In a research note, Goldman Sachs analysts downwardly revised their base metals forecast, citing continued stress from the Eurozone financial sector and slowing economic growth.
"The market continues to focus on the risk of a new economic recession, triggered by the stress on the European financial and banking system," Goldman Sachs analysts wrote in a note, according to Reuters.
"Industrial metals and copper in particular have clearly borne the brunt of the growing pessimism about future economic and market conditions," Goldman Sachs added, WSJ.com reports. "We recognize that notwithstanding short relief rallies, sentiment is likely to remain poor in the near term, suggesting the need for caution."
Materials Select Sector SPDR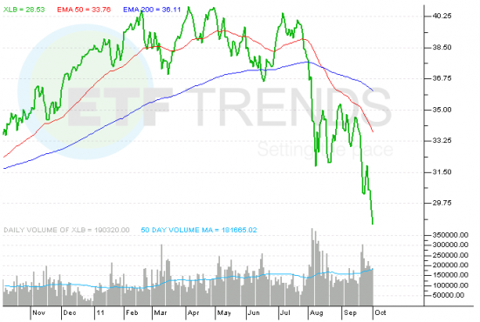 Max Chen contributed to this article.
Disclosure: None