Now that most of the leading stocks of the prior market cycle have topped, everyone is watching the king of all leaders, Apple, Inc. (NASDAQ:AAPL), to see whether it will finally succumb to the same fate. With the recent passing of Steve Jobs, investors will be ever vigilant to see what direction Apple takes.We know the stock market law that all stocks must eventually top — all of them. But Apple is an amazing innovator, the undisputed leader of its space, and its products are easy to use and undeniably cool. Wall Street opinions have put the stock at $500 and higher.
To gain some insight into Apple's potential fate, we pulled the stock chart to assess its technical action. That picture is not as positive as its fundamentals or innovation leadership. Apple's stock chart shows that although the uptrend is not yet broken, it may be beginning the topping process. After failing from a late (4th) stage base, it got hit with distribution and is now trading beneath its 50-day moving average. Take a look at the pattern and base properties being picked up by MarketSmith's Pattern Recognition program (.pdf) and how much resistance it gets hit with after breaking out.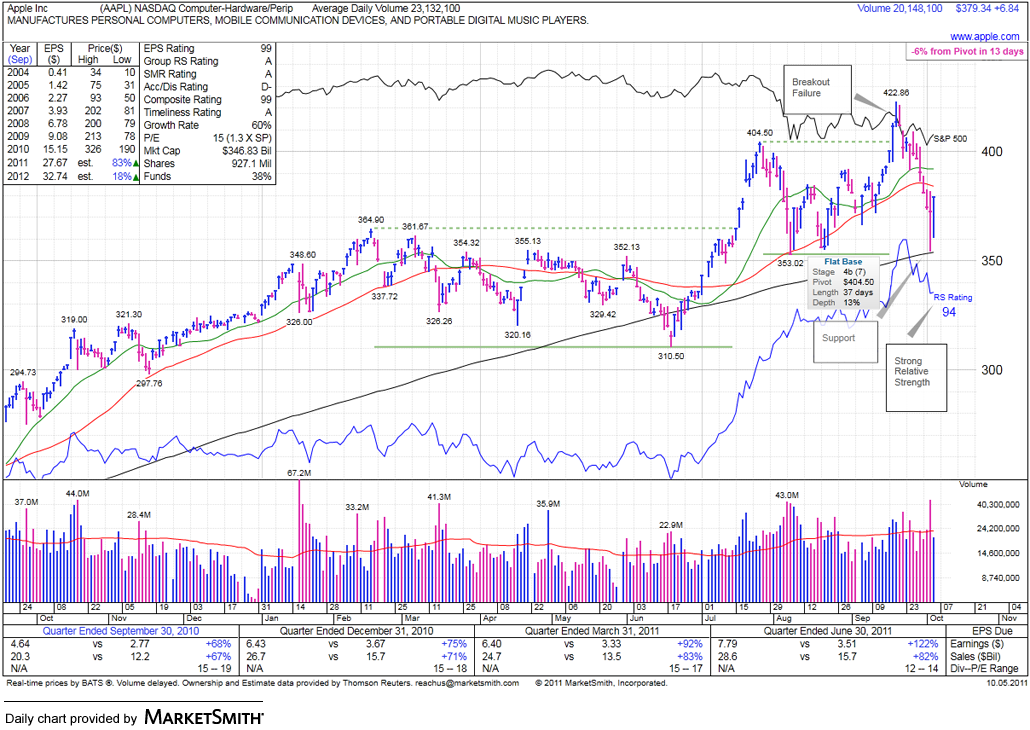 It will be interesting to watch what Apple does here, because on one hand it's right on the edge of completely breaking down. On the other hand, the stock is only 15% off its high and it's still outperforming 94% of all stocks in the market. It could be strong enough to bounce along and re-test the lows around 350. We saw it exhibit a similar reaction to the lows from April to June of this year.
Where most stocks in a bad market will "scare you out," Apple is more likely to "wear you out." At any rate, I wouldn't call it "broken" just yet. If it continues getting support down here in the low of the prior base, it may have a chance to continue its 2+ year run. But if it breaks the lows at $353.02 or the support of the 200-day moving average, its continued decline is more probable.
According to our studies of the greatest leading stocks, only one in eight is able to reassert its leadership in the subsequent market cycle. But if any company can do it, you have to think Apple can. In fact, it's done it before (1999, 2003, 2007, 2009). Our studies also show that those leaders able to reassert themselves will go down anywhere from 20% to 33% before completing a base.
That doesn't mean we will be buying there. Even with Apple's amazing underlying story, the historical precedent about reasserting leadership is not enough to convince us to buy at the bottom. Instead, we will be watching that base form so that when we see clear signs of the next opportunity on the stock chart, we can react quickly and get back in.
Disclosure: I have no positions in any stocks mentioned, and no plans to initiate any positions within the next 72 hours.
Additional disclosure: This information is compiled to assist you in your study of the securities; however, nothing contained herein is to be construed as a recommendation to buy or sell any securities. W. Scott O'Neil, and/or employees of MarketSmith, Incorporated, or its affiliates may now or in the future hold positions in the company discussed in this article.