In Part 1, we looked at the two giants in the international REIT space: the SPDR Dow Jones International Real Estate ETF (NYSEARCA:RWX) and the Vanguard Global ex-U.S. Real Estate ETF (NASDAQ:VNQI).
Three smaller funds in the mix are the WisdomTree Global ex-U.S. Real Estate ETF (NYSEARCA:DRW), the iShares International Developed Real Estate (NASDAQ:IFGL) and iShares International Developed Property ETF (NYSEARCA:WPS).
Index and Strategy
IFGL tracks the FTSE EPRA/NAREIT Developed Real Estate ex-U.S. Index. The fund tracks an index of real estate companies in developed markets. The eligibility criteria include at least 75 percent of EBITDA from real estate-related activities. Unrelated activities include financing, construction and property management, holding companies, commodities storage, gaming, theme parks, and infrastructure. Companies must provide an audited annual report in English. Holdings are market cap-weighted, adjusted based on free float and foreign ownership restrictions.
WPS is tracks the S&P Developed ex-US Property Index, a float-adjusted, market cap-weighted index covering nearly the same universe as IFGL. The big difference between the two is in the number of holdings; WPS has 377, IFGL has 188. The overlap between the two funds is large: as of March 3, 96.5 percent of IFGL and 78.7 percent of WPS were in the same 177 holdings.
DRW tracks the WisdomTree Global ex-U.S. Real Estate Index. The criteria for inclusion are a market capitalization greater than $1 billion, and that the firms must fall in the categories of real estate operating companies, diversified real estate investment trusts and development companies. The holdings are weighted by total cash dividends paid.
IFGL and WPS have very similar country exposure, which is, in fact, similar to the two funds that were covered in Part 1, RWX and VNQI. DRW's dividend approach yields a very different mix of country exposure, with only 6 percent in Japan and 7 percent in the United Kingdom. DRW increases exposure to Hong Kong, Singapore, Australia and France relative to the other funds.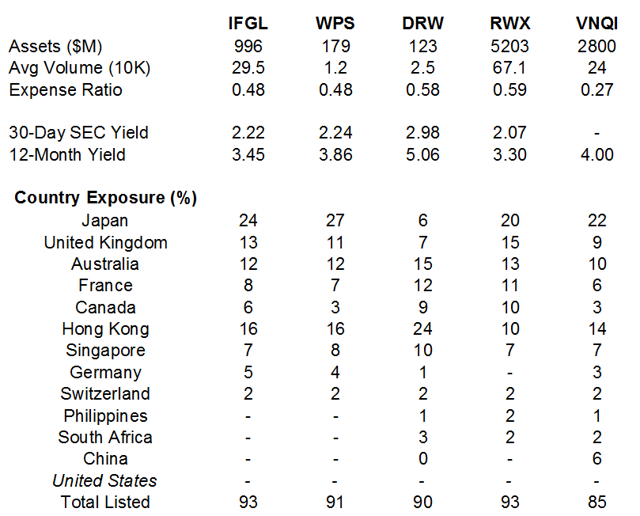 All data from provider websites.
Performance
Since inception, WPS has never underperformed IFGL. Below is the price ratio of the two funds - a rising line indicating WPS outperforming.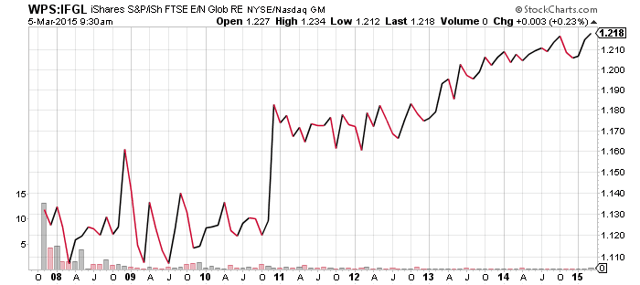 WPS has outperformed DRW as well, but the trend has not been as steady due to the greater differences in the portfolios.
The big difference between WPS and DRW comes from their Japan exposure. This is the same ratio chart, but with the iShares MSCI Japan ETF (NYSEARCA:EWJ) added in blue. As we would expect, Japan explains a significant amount of the difference in performance, though not all of it.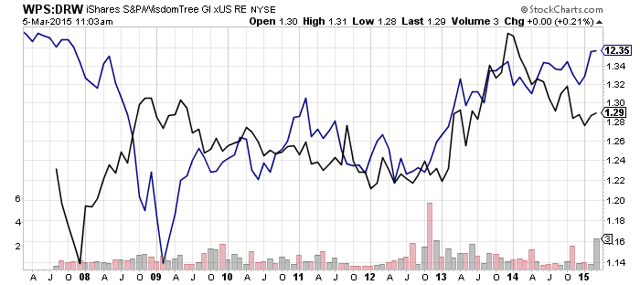 In terms of total return, these funds have been highly correlated since 2008, but the highly diversified WPS has come out ahead.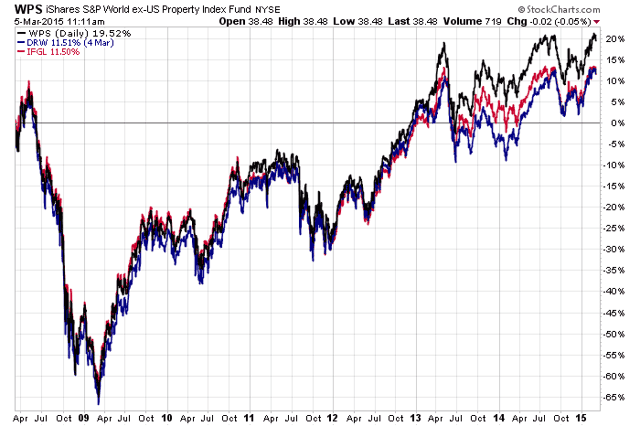 Expenses
WPS and IFGL both charge 0.48 percent in management fees; DRW is more expensive at 0.58 percent.
Income
DRW is the highest-yielding international REIT, with an edge of roughly 0.75 to 1.00 percent on the competition, depending on whether you measure by the 30-day SEC yield or 12-month yield. DRW has a 30-day SEC yield of 2.98 percent, versus 2.24 percent for WPS and 2.22 percent for IFGL.
In terms of consistency, WPS has seen the steadiest payout stream of the five international REIT ETFs we've covered.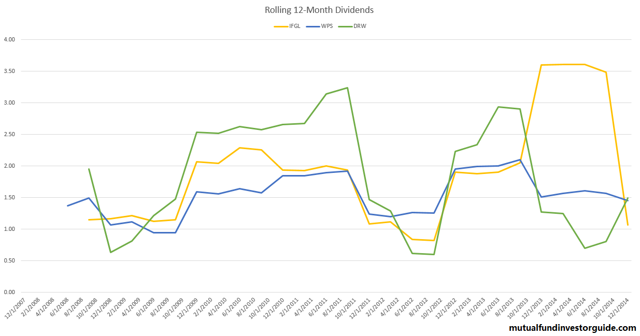 Risk and Reward
WPS, IFGL and DRW are highly correlated with the MSCI World Real Estate Index. Their 3-year betas are 0.99, 0.99 and 1.02, respectively.
IFGL has a standard deviation of 13.41, slightly lower than WPS at 13.44, while DRW is the most volatile, with a standard deviation of 13.98.
Over the past 5 years, the performance advantage held by WPS versus these two funds has come from its superior downside capture ratio. Both IFGL and DRW have captured 101 percent of downside moves in international real estate, but WPS has only captured 94 percent.
As international real estate funds, all of these ETFs will face a headwind during periods of broad U.S. dollar strength, such as we've seen since the summer of 2014. This will also affect the dividends.
WPS is the most exposed to Japan of the five funds we've reviewed, but it is the second-most diversified after VNQI.
Conclusion
DRW isn't our pick for best international REIT ETF, but it has a higher yield and a genuinely different portfolio due to the much smaller weight in Japan and overweighting of Hong Kong (and some of that HK exposure includes Chinese real estate companies). For investors who want what DRW offers, it works as a standalone fund. Thanks to its different exposure, DRW can also work as a pairing with one of the other funds - for instance, with VNQI - to give you broader exposure with a tilt towards the Greater China region.
Excluding DRW, the remaining four funds are very similar. Taking into account diversification, yield and expenses, the two most appealing are the ones with the most holdings and lower costs: WPS and VNQI.
VNQI is the cheapest of the group, with a 0.27 percent expense ratio; WPS is second at 0.48 percent.
Both funds are very well diversified: over 600 holdings in VNQI, over 300 in WPS. No other fund tops 200.
VNQI is the most diversified in terms of the number of countries it covers, including 6 percent in China.
WPS has outperformed VNQI since the inception of VNQI. Some of this is attributable to its larger weight in Japan.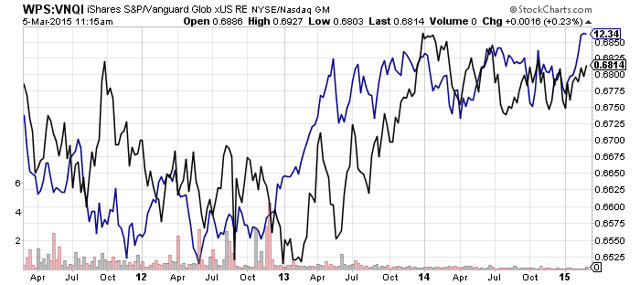 Total returns: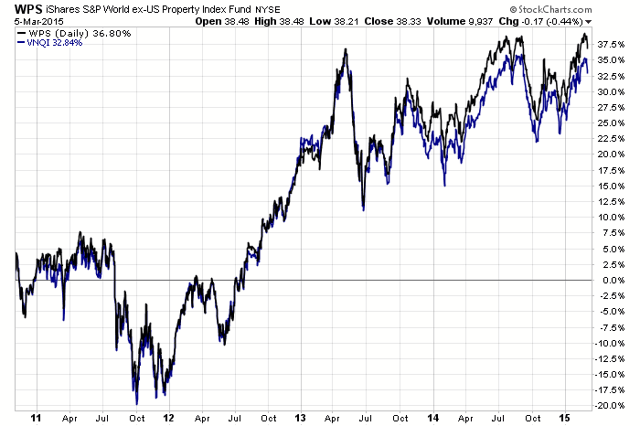 VNQI and WPS have identical beta and near-identical standard deviations.
VNQI has far more assets, $2.8 billion to less than $200 million for WPS, and VNQI trades roughly 240,000 shares per day, about 20 times as much as WPS.
Putting it all together, VNQI is the most attractive international REIT ETF, given its lower cost, greater diversification, ample liquidity and relatively high yield.
Disclosure: The author has no positions in any stocks mentioned, and no plans to initiate any positions within the next 72 hours.
The author wrote this article themselves, and it expresses their own opinions. The author is not receiving compensation for it (other than from Seeking Alpha). The author has no business relationship with any company whose stock is mentioned in this article.